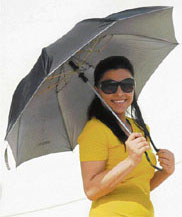 Dancing in the sun
Chinese umbrellas may be snazzier but their Indian counterparts promise protection against UV rays
THE fashion-forward umbrellas of protection are opening out to be all the more effective. Instead of just coming between you and the overhead sun, they are actually warding off Apollo's harmful ultraviolet rays. That's right folks. After sunscreens, hair creams and goggs, it's the turn of sun umbrellas to guard you from the "oh-so-darkening" and "damaging" UV rays. No wonder, they are enjoying their moment in the sun right here in the city.
Photo by Pradeep Tewari
Musically Yours
THE unheard, the unthinkable and the unique make his kind of music. Folk might run in his genes, but it's fusion he swears by. Be it an advertising jingle, a mobile ringtone, a background score or a filmy number, he has lent his beats to all. He may be studying the principles of management, but it's rhythm that's the pulse of his life. Meet Sujay Kar, second-year marketing student at UBS, Panjab University. All of 25, this manager-in-the-making shares notes with us.
New releases
Men on a Mission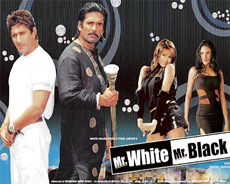 Starring: Suniel Shetty, Arshad Warsi, Sandhya Mridul, Upasna Singh, Vrajesh Hirjee
Director: Deepak Shivdasani
SIMPLETON Gopi (Suniel) arrives in Goa from Hoshiarpur. His mission – to hand over an incredibly tiny piece of land to his childhood friend Kishen, which was his father's last wish. Kishen (Arshad), now a conman, swindles people with a little help from his accomplice, Babu (Atul Kale), to earn enough money to educate his sibling Divya (Mahima Mehta) who's studying in London. Kishen, however, has managed to hide his profession from Anuradha (Rashmi Nigam) merely saying that it's Hari, his twin, who is the bad guy.
No laughing matter this!
Comedy king Fauzdar's passion is history, not jokes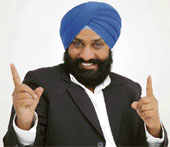 EVEN his website can make one laugh — there you can see him jogging on a stage with a real funny expression. Call him up on his cell, and the first thing he'll do is make a dig at you, despite the fact that he is busy driving in a crowded area in Lucknow. How did you get my number? When you reply 'through a common friend'. He says with a throaty laugh, "Every pretty girl in India now has my number, thanks to my friends." And when you join him by laughing, he stops and tells you "See I made you laugh early in the morning." He sure did, here's our interview with the funny man of Great Indian Laughter Challenge.
Rising Star
Courting Melody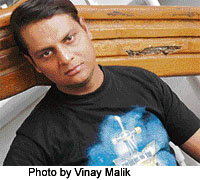 WAY back in 1997, as the annual Rafi Memorial Nite reached its inevitable climax at the jam-packed Tagore Theatre, celebrated music director and chief guest Usha Khanna invited anyone from the audience to render a duet with her. While many singers present on stage and in the audience couldn't muster enough courage to respond to the challenge, a shy gentleman went on to pair with Khanna for an immaculate rendition of the popular song Shayad Meri Shadi Ka Khyal Dil Mein Aya Hai. Amidst lofty applause, Usha Khanna blessed Dr Arun Kant, an Ayurveda practitioner and a music arranger and composer by passion.
Youth speak
Play it right


IT is said that cricket is a gentleman's game but players like Harbhajan Singh and S Sreesanth proved the contradictory in the recent IPL match. Harbhajan, captain Mumbai Indians, slapped Kings XI pace man Sreesanth, for the latter said something offensive to him. Unable to control his emotions, Sreesanth was found weeping as the entire country watched him.
Kiss from a Rose
This season roses are blooming in designers' dens
"The more, the better," said Elizabeth Taylor when asked to comment on this ravishing red, long-stemmed seduction. Poets have written paeans to its petal-soft beauty. Quote book indexes have more references to it than any other flower.

Photo by Pradeep Tewari; Wardrobe courtesy: Shelly's

Sidelanes
Girl in progress
THE little twelve-year-old sat under a tree by the edge of the icy stream-fed pond that mirrored the cold despair in her heart. She howled loud and long but nobody heard her. As the sun sank, she composed herself and walked home to be met by three younger brothers, the last of whom hardly understood what had befallen the family. The siblings and their swollen-eyed father keened softly as they thought of the beautiful woman who died giving birth to a fifth child. For Sangeeta, a family's shared laughter lay scattered like ashes from an old winter fire.
It's Original
City becomes the second destination for Adidas' lifestyle brand
Fashionistas can raise a toast to this! For, as you read these lines, a heady cocktail of fashion and lifestyle's getting concocted for you. We aren't referring Paris, London, or say Delhi or Mumbai. It's our city, flaunting the 'latest-latest' in the international fashion horizon. And don't mistake it for fashion shows, previews, product launches and newer models – all of which keep popping up off and on. This time, it's bigger and better, even iconic.

Little Tibet captured
TALK nature photography and the images that flash in the mind are that of the sparkling greenish blue water of Tsomoriri Lake in Ladakh. Not surprising. For, if one is a regular visitor at the city art galleries, chances are that one has seen it umpteen times. The various solo or group exhibitions have made us memorise little geographical details like latitude and altitudes of the place.

BROWN & BARREN: Ladakh in November
Stale Sculpting
Why are city sculptors not experimenting with fresh media & new colours? We find out
IT'S hard to miss this one. Eighteen-feet-tall, black and shiny, it comes with a clear-cut stamp of Shiv Singh. Made with hollow steel pipes, twisted in between, it is Singh's representation of Bhangra Dance, executed on the premises of Punjab Kala Bhawan. Spectacular indeed, but it does not come across as a fresh concept. And the first thought that strikes one is that why don't we have something similar in the Museum campus or for that matter at Leisure Valley?
Historical Moment
The Rotary Club Chandigarh completes 50 years on May 10 and the celebrations have already begun in a true Rotarian style. It started with a photo exhibition titled Golden Moments from the History of Good, showcasing a few historical moments of the club. The exhibits that include a few posters that come from the club's archives.
Behind the scenes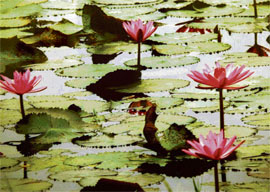 Even the most familiar flower looks exotic. When Dinesh Verma, an amateur photographer, clicks the beauties, he looks for a particular mood. So, it's not the shape or colour he clicks, but what lies hidden beneath the petals. The beauties he has captured in the past two and half years are laid out at Government Museum and Art Gallery. He started clicking flowers simply for their beauty . He didn't have to travel to far off places to capture the exotic, for he found them in his own garden and local nurseries.