Hyderabadís Harsh Realty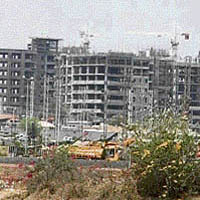 After having a dream run for the past few years the realty sector in Hyderabad seems to be hitting the harsh realty now. The real estate boom had been triggered as soon as the city was labelled the next IT destination of the country. As mega bucks flowed in via major multinational IT companies, the land prices soared. But correction seems to have finally set in as the astronomical prices of land in and around the capital of Andhra Pradesh appear to be mellowing down now due to a number of factors. There has been a sharp fall in land registrations and the auction of government land too has been evoking a lukewarm response from developers.
City IT park trips on housing front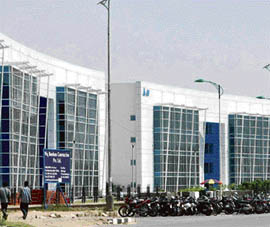 Jangveer Singh compares the Chandigarh IT Park with the one in Bangalore & finds that both have failed in providing affordable accommodation
The Chandigarh Administration seems to be falling into the same rut as the Karnataka government while planning its Integrated Technology Park even though it had studied the Bangalore model and vowed to learn from the mistakes committed there. The Administration had a golden opportunity to create a substantial housing facility in the Rajiv Gandhi Chandigarh Technology Park (RGCTP) but it preferred to go in for an elitist model which is set to deny entry to the very people for whom the Park is meant- the IT professionals.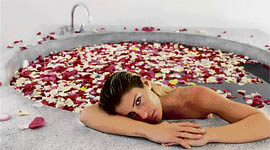 GROUND REALTY
Enjoy a luxurious bath
Fancy bathtubs, showers and shower cubicles add that extra zing to a bathroom, writes Jagvir Goyal
In the last few episodes, basic planning concepts for bathrooms and choice of best bathroom fittings were discussed. Here are a few more valuable guidelines on bathtubs, showers and bidets in view of their increasing use:
Real estate mutual funds
SEBI guidelines open new vistas for small investors
Developers also hope to exploit this new source of funds, writes S.C. Dhall
The notification issued by the Securities and Exchange Board of India (SEBI) of the amended guidelines for real estate mutual funds (REMF) has been hailed in the market, as it opens up doors of opportunity for the common investor to take advantage of the real estate market where otherwise only huge sums of money had to be invested through private equity.
Tax tips
Registration of property in motherís name
Q. My father purchased an MIG House in Sector 11, Panchkula in 1983. He expired on December 20, 2007. He was the holder of Power of Attorney against the property, as property was not registered till the time of his death. I want to register this property in my and my motherís name. The original allottee is ready to register the property in our name and I have already obtained a no objection certificate from the housing board.
Realty Bytes
Choice group to open 20 new hotels in two years
New Delhi: Budget hotel chain, Choice Hotels India, plans to open 20 new hotels adding about 1500 rooms across India, with an estimated budget of around Rs 600 crore in the next two years. The hotel chain has signed management contracts with real estate developers for opening 20 hotels across the country, taking the total to 45, Choice Hotels India (CHI) Chief Executive Officer Vilas Pawar told PTI.
INOX multiplex at Faridabad
IVR Prime to invest Rs 686 cr in residential projects