Turmoil in hockey
Renewed hunt for gold
The worst part about defeat in sports is that it tends to shoot down the morale of a team and its followers. But the positive side is that the shortcomings are highlighted and brought to the forefront. The on-going turmoil might be a blessing in disguise that Indian hockey had been
waiting for, writes Prabhjot Singh
When various TVchannels broke news of the Indian Olympic Association taking over the reins of the Indian Hockey Federation after removing its president Kanwarpal Singh Gill, one of them intriguingly ran a TV commercial with the punch line,"Daag Acchhe Hain" in between.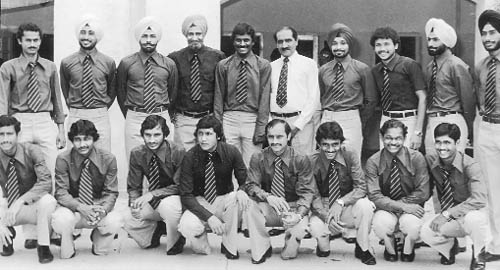 1980's olympic winners:

Hockey, the national sport gave India many golden moments, before its journey towards oblivion started. Remembering the 'golden days' should act as an inspiration to one and all as Indian hockey begins a journey to redeem itself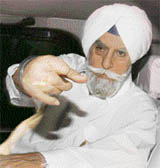 Gill era ends
The moment the Indian Men's Hockey team lost to Britain at Santiago, K.P. S. Gill probably knew that anyone who cared about the game would want him sacked. It wasn't great intuition on part of the ex-top cop, but something he was getting used to. For someone who had handled the sport for so long, he had little to show in terms of results. No wonder that the IOA's decision to suspend the Indian Hockey Federation (IHF) received complete backing from the sports minister M S Gill and former Olympians alike.
K.P. S. Gill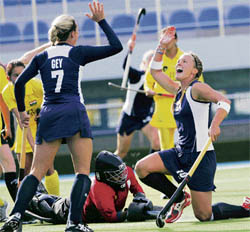 Missing bus to Beijing again
Vaibhav Sharma
When the Indian Men's national hockey team lost to Britain in the Olympic Qualifiers, all eyes at once turned towards the women's outfit. Although the women's team had only once qualified for the Olympics in the past, hopes were high that they might be up to the challenge (call it the Chak De effect).




Hype around the women's team was more 'reel' than real. The eves lost their way after a winning start and missed their chance to qualify for the Beijing Olympics. Photo: AFP



Premier performances

Retirement doesn't seem to have affected Shane Warne (Left) much as the legendary spinner has led the Rajasthan Royals with exception. Sri Lankan Kumar Sangakkara has proved that contemporary style of batting has its own place in the T20 format and technical stability is still the key to making good of your ability as a batsman. — Photos by PTI

Winner takes all

Rafael Nadal (Left) defeated Roger Federer to defend his title at the Monte Carlo Masters, thus reimposing his supremacy over other players on clay. Ferrari's Kimi Raikkonen took first place on the podium at the Spanish Grand Prix, adding to an impressive start to his defence of the Driver's Championship. — Photos by AFP