Born to fight
Leaving behind a six-decade-long trail of adversities and a life of poverty, 95-year-old World War II veteran Bachan Singh still wants to pick up his gun and serve India, writes Megha Mann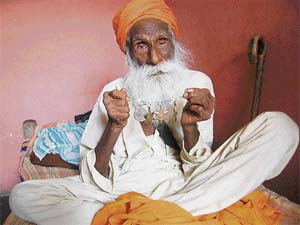 The indomitable gunner shows the medals he won in action during World War II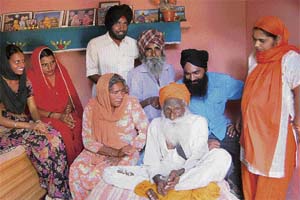 Bachan Singh with family members at his native village. — Photos by Vicky Gharu
THE 95-year-old former paathi of Khokhran village gurdwara has suddenly found a new identity. From being the old paathi of the gurdwara, Bachan Singh has become the much-revered World War II veteran—a gunner in the Royal Indian Artillery. Leaving behind a six-decade-long trail of adversities, a life of extreme penury and hardships after being discharged from the Army on medical grounds, Bachan Singh still wants to pick up his gun and serve his motherland India.
Age has started telling on his memory. He vaguely remembers the year he joined the Army. "I joined when freedom fighter Udham Singh had shot dead Michael O'Dwyer at Caxton Hall in London," says Bachan, trying to remember. As an athletic village youth, Bachan Singh got enrolled in the Army during a recruitment rally in neighbouring Raipur di Kothi, near present-day Chamkaur Sahib. All Bachan remembers now is the tough fight he gave to the Nazis 'somehwere' in Burma, getting admitted to a hospital and savouring the scenic beauty of Egypt while being in hospital there.
Records say that Bachan got enrolled as a gunner with 2nd Royal Indian Artillery in 1941 and served with Second Field Artillery in Libya during World War II. He got injured in North Africa, when a German shell fell on the vehicle he was moving in and was treated in a military hospital in Cairo. Despite physical disability (he lost function of his right hand), the British Army continued to take his services till India attained freedom in 1947.
In November, 1947, he was discharged from the Army on medical grounds with a disability pension of Rs 15 per month. A different fate awaited Bachan at his village. This war veteran returned home to penury. After two years, in 1949, the pension was abruptly discontinued by the Controller of Defence Accounts on the grounds that his disability had gone below 20 per cent. This despite the fact that a duly constituted medical board by the Army had confirmed a disability of 30 per cent. "For a week I had nothing to eat. Then I went to the village gurdwara, requesting help. There I was offered to perform duties of a paathi, and in lieu my family was given meals thrice a day," says Bachan with moistened eyes.
For years together Bachan performed these duties and brought up a family comprising his wife Chhoto and two daughters. He repeatedly wrote letters, requesting that his case for pension benefits be reconsidered. All pleas fell on deaf ears. With the passage of time, his family's economic condition became grimmer. In 1982, the floods washed away whatever was left. His house, clothes, utensils and his 'valorous photographs,' too, were washed away. He lost his soul mate Chhoto 30 years ago. His son-in-law Bhajan Singh has been fighting a battle for his pension.
With the help of an ex-serviceman from the village, whose father, too, was a World War II veteran, the family met Major Navdeep Singh, an advocate serving the Punjab and Haryana High Court, Chandigarh. Navdeep took up the matter with ex-Vice Chief of Army Staff, Gen Pattabhiraman, then GOC-in-C, Western Command. Bachan's case was taken up for reconsideration. A thorough medical examination of this 90-year-old soldier was carried out in 2005 at Command Hospital, Western Command, and the board opined that the disability could not have improved in any manner, and that it had remained static all these years since 1949.
Finally, his disability pension, with arrears, was sanctioned with effect from 1949. On April 20, Bachan got a letter announcing payment of arrears from the Controller of Defence Accounts (CDA). But Bachan is still waiting. His revised PPO (pension payment order) for his arrears with effect from 1949 was sent by the Principal Controller of Defence Accounts (Pension), Allahabad, to the Defence Pension Disbursing Officer, Ropar. But the DPDO says that it was to be sent to Punjab & Sind Bank, Behrampur Bet, directly by the PCDA and not to the DPDO.
Now the DPDO would be forwarding it to the bank. So even after grant of his dues, he has to deal with this degree of red-tapism. Despite having witnessed so many upheavals in life, Bachan still wishes to become a soldier in his next life to serve his country. "Je main mud sipahi paida hoya, dushmanan di chhuti kar deyanga (If I am born a soldier again, I'll crush down the enemy)," says Bachan, with his Africa Star, Burma Star and Defence of India Medal tinkling against one another in his hands.