Monsoon relief: City to get 6 rainwater harvesting plants
Jalandhar, May 6
City residents have a reason to cheer in the monsoons ahead as the municipal corporation has decided to set up six plants for rainwater harvesting along the roads that remain heavily clogged during the rainy season.
Do away with death penalty, govt urged
Jalandhar, May 6
The Shiromani Sikh Council International had urged the union government to scrap the death penalty as had been done in many countries across the world.
Dining Den
You'll be Lucky if you find a seat here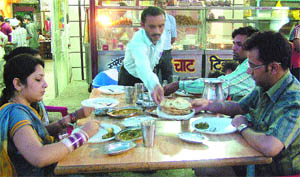 Jalandhar, May 6
Are you fond of tempting and mouthwatering Punjabi food? Perhaps your longing for a perfect eating joint would surely end up at Lucky Dhaba, a name famous for its sumptuous treats and typical Punjabi melange. The USP of the place is its vegetarian menu, 24x7 timing and irresistible Punjabi food, which make it all the more acceptable among the great Punjabi foodies.
A family savours Punjabi food at Lucky Dhaba. — Photo by S.S. Chopra

Cantt Board Elections
Development is the key issue in Ward 4
Jalandhar, May 6
The Cantonment Board elections are round the corner and the candidates are busy seeking votes in the name of promissory changes and development in every sphere. Covering an estimated population of nearly 3,000 voters, Ward 4 includes candidates who have contested the elections in the previous terms as well.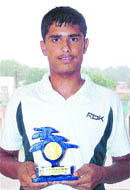 PAU series winner idolises Federer
Jalandhar, May 6
Fourteen-year-old Thakur Ajay Singh is on cloud nine these days. He has a reason to cheer. The budding tennis player from the city won the all-India talent series held at Punjab Agricultural University (PAU), Ludhiana. The city boy aims to make it big some day in life and like his idol Roger Federer and wants to earn a name for himself in the sport. For the championship, which was held from April 28 to May 1 at PAU, Ludhiana, he says, "It was a tough game.
Thakur Ajay Singh
Young World
Students put their best foot forward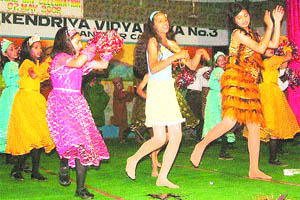 Jalandhar, May 6
An inter-house dance competition at the Mayor World School left the spectators spellbound. Students performed on various classical and folk numbers. The winners of the classical solo contest were Nishita and Vaishali. Eshani and Jaspreet won the folk dance duet.


Students of Kendriya Vidyalaya-3 perform during the annual day function in Jalandhar. — Photo by S.S. Chopra

Annual day
Plant visit
New institute

Office-bearers
Job offers
Bazm-e-Rukhsat
n Letters
Locality sans basic facilities