40 die as bus falls into Chenab river
Tribune News Service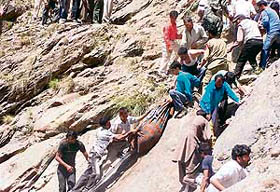 Rescue workers haul the body of a victim up the side of a ravine after a bus plunged into the Chenab in Kishtwar district on Thursday. — AFP
Udhampur, May 8
At least 40 persons, including six of a family, were feared killed and five others injured when an overloaded video coach rolled down the river Chenab at Wardha village, about 15 km from Kishtwar town, this afternoon. So far 35 bodies have been retrieved by rescue teams of the Jammu and Kashmir Police and the Army till this evening and it is believed that some passengers might have been washed way in strong currents of the river. 29 bodies have been identified.
Four critically injured persons were airlifted to the Government Medical College and Hospital, Jammu, for advanced treatment while three passengers have been admitted to a Kishtwar hospital.
Although cranes and divers of the Army swung into action to locate the bodies, rescue teams were finding it difficult to continue their operations due to the strong currents of the Chenab. Wreckage of bus has been completely submerged in the river and some bodies are believed to be trapped in the badly mangled vehicle.
The bus bearing registration number 2236-JK02N and belonging to a local transport company, was on the way to Kishtwar. The bus left Jammu at 5.30 am and met with an accident at 12.15 pm at Wardha village in Thatri tehsil of Kishtwar district.
The bus rolled down about 800 feet and turned turtle in the river.
"Rescue operations have been continuing on a war footing and divers of the Army have been called to locate the bodies believed to be trapped in the wreckage of the ill-fated vehicle," the Deputy Inspector General (DIG) Doda-Ramban Range Hemant Kumar Lohia told The Tribune. Mr Lohia, who is supervising the rescue operations, said some bodies, which were washed away in the currents of the water, were recovered from Thatri, about 10 km from the spot. "It is difficult to say how many passengers were travelling in bus as many people boarded the bus on the way," the DIG said.
The injured admitted to a Kishtwar hospital told the media that there was not more than 20 passengers when the ill-fated vehicle left Jammu this morning. The vehicle became overloaded after crossing Pul Doda, Thathari and Drabshalla as large number of passengers boarded the bus at these places.
Some of the survivors told the police that the 42-seater bus was packed to capacity and some of the passengers were standing, thus giving a hint that the bus might be carrying 45 to 48 passengers.
Seven fortunate passengers, who fell outside while the vehicle was rolling down the river, were immediately shifted to a hospital by the locals. In the meantime cops also rushed to the spot.