Electronic fog
Dr S.S. Verma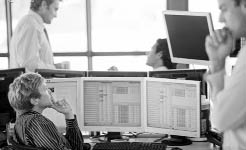 When efforts are directed to control the occurence of smog by reducing its casuses i.e., emission of pollutants, due to growing electromagnetism all around is causing another problem called "electronic fog/smog". This electromagnetism is manmade magnetism, including alternating current electricity that we use everyday and a myriad of other unnatural "currents" from microwave ovens to computer terminals. Thus, our environment is full of electromagnetism. Humans can handle a little of this electronic smog.
The curse of the electronic age will be a Electronic Smog. The evidence - which is being taken seriously by national and international bodies and authorities - suggests that almost everyone is being exposed to a new form of pollution with countless sources in daily use in every home. Around every home there are countless gadgets whose electrical fields, scientists now warn, are linked to depression, miscarriage and cancer.
The ill effects of electromagnetism are just beginning to be understood and discussed openly. These are grounds for great concern. The electronic smog gets into us. Too much causes our biofield (body's electric field) to become unbalanced, to slow down, to darken in spots, to stagnate; sickness and premature death result.
Invisible "smog", created by the electricity that powers our civilisation, is giving children cancer, causing miscarriages and suicides and making some people allergic to modern life, new scientific evidence reveals.
Campaigners have long been worried about exposure to fields from lines carried by electric pylons and a study concluded that children living close to the lines are more likely to get leukaemia. The discovery is causing a large-scale reappraisal of the hazards of the smog.
Wiring creates electrical fields, one component of the smog, even when nothing is turned on. And all electrical equipment - from TVs to toasters - give off another one, magnetic fields. The fields rapidly decrease with distance but appliances such as hair dryers and electric shavers, used close to the head, can give high exposures.
Electric blankets and clock radios near beds produce even higher doses because people are exposed to them for many hours while sleeping. Radio frequency fields - yet another component - are emitted by microwave ovens, TV and radio transmitters, mobile phone masts and phones themselves, also used close to the head. Electronics smog exposure is likely to cause up to 30 per cent of all childhood cancers, adult leukaemia, brain cancers and possibly breast cancer and could be responsible for a 10th of all miscarriages.
The UN's World Health Organisation (WHO) calls the electronic smog "one of the most common and fastest growing environmental influences" and stresses that it takes concerns about the health effects seriously. It adds that "everyone in the world" is exposed to it and that "levels will continue to increase as technology advances". WHO says that the smog could interfere with the tiny natural electrical currents that help to drive the human body. Nerves relay signals by transmitting electric impulses, for example, while the use of electrocardiograms testifies to the electrical activity of the heart.
The International Agency for Research on Cancer - part of the WHO and the leading international organisation on the disease - classes the smog as a "possible human carcinogen". Perhaps strangest of all, there is increasing evidence that the smog causes some people to become allergic to electricity, leading to nausea, pain, dizziness, depression and difficulties in sleeping and concentrating when they use electrical appliances or go near mobile phone masts. Some are so badly affected that they have to change their lifestyles.
Resonance - the current or voltage in phase with the applied current or voltage - is an excellent word to use to describe the electronic fog. Unlike any known fog, this fog contains electronic energy capable of becoming resonant with an aircraft, a vessel and maybe even a person. Electronic fog has played a starring role in countless horror and science fiction films.