Tall wonders
It's a happy world up there. City's tall girls can't help but smile about their lives on higher planes. Shopping is cumbersome though, they tell


SHE was always the backbencher, not really by choice. Her closet boasts of simple kohlapuris, comfy sneakers and ballerinas. Her co-players would fight to have her in their team because she never missed a basket. Nobody ever called her cute or dainty. Her friends thought she had very high dreams about a perfect date. And what's more, she sent her entire clan looking for a companion who could match up to her. Well, meet the tall girl, the one who has towered over a lot more than merely the jealousy of classmates, the pride of basketball players, the envy of boyfriends or the tension of parents.
Jasmine Bhatty
Tribune photos
Of melody & mysticism
IT started as a means of image makeover for the Punjab Police way back in 2003, but then Sufism can never be limited to a particular segment. So, later the Sufi Foundation of India decided to disseminate the teachings of Sufi saints to the masses by organising conferences and cultural programmes at regular intervals. As a result of which, we will be treated to a daylong seminar on 'Mystical Dimensions of the Religions in India Peace Through Sufism' at Hotel Mountview on May 10. On this occasion a book on Sufism by Dr Akhterul Wasey and SFI's first newsletter will also be released.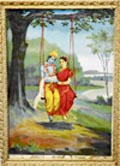 Divine Treat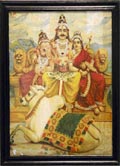 Raja Ravi Varma's oleographs on display
Parbina Rashid
THIS is as close as you can get to Raja Ravi Varma's creations! His paintings are out of reach and so are his original prints ever since his Ravi Varma Press Malavi at Lunvla was gutted by a fire in 1930. So, the exhibition A Devine Palette organised by the People for Animals, Chandigarh, at Government Museum and Art Gallery, indeed came as a divine treat. After all, it's not everyday that one gets to see so many original prints by this legendary artist whose depiction of Dushyanta and Shakuntala, Nala and Damayanti and characters from the Mahabharata are part of our imagination when we talk about these epics. Photos by Manoj Mahajan

youth speak
On the job
Gaurav Johri
WE do a lot more than window-shopping, chilling out at coffee shops or blowing up parents' hard-earned money on clubbing. Come summers and we set to first earn and then spend money. Summer jobs are a lot more than money though, they teach us about the hard truth of life, enhance our working skills and serve as a lesson on the value of time.
New releases
New kids on the block
Adios denim woes!
Difficult to resist and hard to find, here's how to zero in on the perfect pair of jeans. Once you find one, hoard, suggests
Purva Grover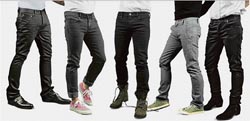 IT'S the holy grail of fashion, doesn't wear out for years and is a staple in everybody's wardrobe, irrespective of age, class or fashion knowledge. It looks good with a rugged tee, a formal shirt, a flowing kurti or a basic ganji. It has been around for ages. We're talking of the good ol' pair of jeans. And acquiring the pair that accentuates the plus points and hides flaws is no mean task.

Sidelanes
The deodar retreat
Joyshri Lobo
CHAIL has always been associated with maharajahs, beautiful women and awe-inspiring, deodhar forests. Follow any narrow woodland trail and you can breathe pure ozone-laced air with fresh resin. You are also certain not to meet any one else.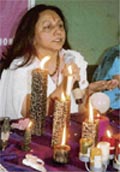 Crystal clear
Scientific & divine, her crystal ball can help you deal with stress & conflict
Parbina Rashid
THE crystal ball on the table brings back the memories of the days when one used to hum Crystal ball on my table, showing the future and past…along with Cliff Richard. Well, the title of the song was The Devil Woman. But, the person we see sitting behind the table is not a devil woman, but a Shaman witch. Well, if you are not familiar with the terminology, Shaman means healer and Renu Mathur, India's first Shaman witch, claims to be just that.
Photo Parvesh Chauhan

Little Interview
When folksy turned filmy
Parbina Rashid
THE Jodha Akbar hangover still persists. After all, you do not get an opportunity to play such a challenging role as Mahamanga everyday! And when you get that chance, it saps you out of your energy.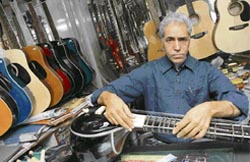 The Braveheart
Mohinder Singh of Shimla Music House is synonymous with courage & melody
S.D. Sharma
HIS musician father and guru Jawala Singh oft uttered the dictum Swar hi ishwar hai. And the extraordinary son Mohinder Singh made it the mantra of his life. Musician and master tuner, the Singh's Shimla Music House-27 has been synonymous with music and fine musical instruments for decades now.
Photo Manoj Mahajan
Creative Zone
Man of many talents


HE'S been there, done that — ramp shows, teleserials. But what finally hooked his interest was writing poetry and here he is — Amit Sufi, the poet, who recently got two of his anthologies published. Ask this young man who had been a familiar face in local ramp shows during the 90s and then moved into Punjabi television through serials like Tuta Walan Khuh and Rano, what made him turn to verses, his immediate reply is life and the experiences it has brought over the years. First came Yadeen in 2006, which was followed by