Door-to-door drive to ensure farmers don't burn stubble
Amritsar, May 9
To make peasants aware of harmful effects of burning stubble, the district administration has launched a special door-to-door campaign.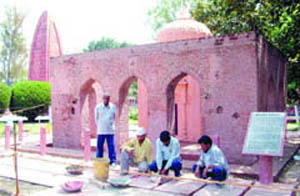 Jallianwala Bagh revamp going on war footing
Amritsar, May 9
The renovation and modernisation of the historic Jallianwala Bagh is going on a war footing as the restoration of bullet marks on the three walls of the bagh, flooring of the "samadhi" and construction of the plaza at the entrance have almost been completed.

Men at work
Round-the-world cruise for peace
Amritsar, May 9
This man with the mission of world peace is doing it for the third time. Bangalore-based B.V. Narayana is once again on a world tour, but this time on a specially modified motorbike.
Taking Bike For A Ride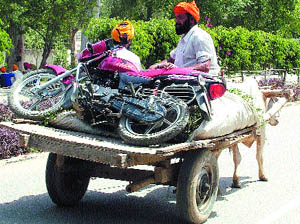 A biker prefers to hitch a ride on a bullock cart in Amritsar. — Photo by Vishal Kumar
Bid to kidnap key witness in murder case
Amritsar, May 9
Several unidentified persons allegedly tried to abduct Jallupur Khera village resident Balbir Singh, who is a key witness in a murder case.In his complaint lodged at the Beas police, Balbir stated that the accused barged into his house when was having his meal in the evening and started thrashing him. They also dragged him out of the house. It was only when his neighbour Kashmir Singh came out for his help, the accused fled after leaving him there.
SGHPS honours toppers of religious contests

Tarn Taran, May 9
Students of Sri Guru Harkishan Public School (SGHPS), who stood first in the recently conducted religious competitions, were honoured in a special function organised on the school premises today.


Students of Sri Guru Harkishan Public School pose for a photograph after the felicitation ceremony. — A Tribune photograph
Barbora visits Rajasansi air base
Amritsar, May 9 Air Marshal PK Barbora, Air Officer Commanding-in-Chief, Western Air Command (WAC), IAF today visited the Rajasansi Air Force Station to familiarise with the front line operational units. This was his first visit since he took over the reins of WAC in January
Man donates land worth Rs 15 crore to Red Cross
Amritsar, May 9
On the occasion of World Red Cross Day, social worker Praful Chand Thakur was honoured by the district civil authorities for donating five acres of land worth Rs 15 crore to the Red Cross Society.
Int'l NGO opens branch in city
Amritsar, May 9 An international NGO Round Table, India, working for providing education to the economically weaker children opened its branch at Amritsar. Organisation's national president Ajay Handa inaugurated the branch during a function held here.
Biz Buzz
Auscan comes to holy city
Amritsar, May 9
Indian aspirants who wish to study in Australia should apply for visa with valid documents rather than submitting fake documents to seek work permit.
Special literacy drive for children
Amritsar, May 9
The district authorities have launched a special campaign under "Parro Punjab" to literate the children under the Sarv Shikhia Abhiyan up to 14 years of age.