PUNJABI ANTENNA
All about good anchoring
Randeep Wadehra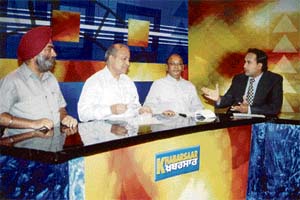 The appeal in Zee Punjabi's Khabarsaar lies in the smooth conduct of its proceedings by Ritesh Lakhi
ONE often wonders at the reasons behind the longevity of certain shows. Is it because they have unique content? Perhaps their presentation makes them addictive for certain sections of viewers. Maybe the anchors of such shows have hit it off with couch potatoes to such an extent that they have become household names.
Take a look at Zee Punjabi's Khabarsaar, the popular talk-show telecast on Wednesday nights. It takes up current burning issues that are discussed by reasonably well-informed and experienced persons from relevant fields. Even contentious issues are debated without resorting to high decibel acrimony. Perhaps the show's appeal lies in the smooth conduct of its proceedings by Ritesh Lakhi.
Moreover, the contents are middlebrow—something that makes it acceptable to audiences. Its topicality is an added attraction. However, Pyar Naal is going strong despite the change in its anchors. The reason for this is not difficult to guess. Viewers' participation through letters, and telecasting of popular songs on demand, guarantees a loyal and enthusiastic viewership.
Similar formula has ensured Dial-e-Punjab's success. It does not have a specific anchor; its different episodes are compered by different artistes. Yet it has gone from strength to strength. Live interaction between its anchors and viewers from across the world is the reason for its popularity.
Although DD's Geet Masala, which has a similar format and discusses weighty issues with its viewers, is popular, too, it loses out on the glamour quotient. Imagine pitting good but unglamorous presenters against Punjabi entertainment industry's stars like Gurpreet Ghuggi, Bhagwant Mann, Satinder Satti, Jasmine Bhatti et al!
Excuse Me Please is another show that has survived the change of guard. Rana Ranbir's friendly joviality more than makes up for the loss of the show's former host Satti's gregariousness-in-verse. So, the message is keep the proceedings light and glitzy.
This belief gets reinforced while watching Meriyaan Gallan Mere Geet. An invited star—generally a singer or composer—presents the show. He retails trivia pertaining to his life while showcasing his work and achievements. TV junkies lap it up.
But Phulkari does not depend upon glamour or music for its success. It targets female audiences from different walks of life and provides relevant info on such issues as fashion, health, hygiene and house-keeping. It provides useful beauty-tips too. Often problems facing women in different situations are addressed. No wonder this show has scored well with televiewers.
Anchor Mallika adds charm to the proceedings. Her dress sense and conversation style go well with the tone, tenor and content of this family magazine.
On the other hand, Pardesan Wich Punjabi owes its durability and popularity to entirely different factors. It targets NRIs and their desi relations. So, on the one hand there are clippings of happenings related to Punjabis living in the West and, on the other, there is an exchange of greetings with their kin living in India on different occasions.