One for the future
With the IPL, money, fame and glamour have added to cricket's attraction. Far from the cheering crowds, in the quiet valley of Dehra Dun, the National School of Cricket, with the aid of World Cup winner Roger Binny, is trying to ensure that the talent keeps flowing in, writes Umesh Dewan
IN India, where Cricket is considered to be a religion and youngsters wish to become future cricket icons, the opening of a National School of Cricket (NSC) in Dehra Dun, has certainly given a great opportunity to budding cricketers. Getting groomed at an international standard cricket stadium, under the guidance of expert coaches, with availability of every requisite cricketing infrastructure; what more can an aspiring cricketer ask for?
Champion's fall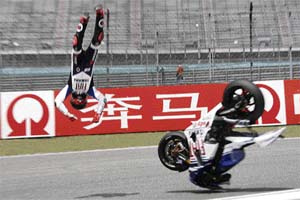 Spain's Jorge Lorenzo was thrown from his Yamaha during a free practice for the MotoGP Grand Prix of China at the Shanghai International Circuit. Lorenzo, the 2007 250cc World Champion and the MotoGP championship co-leader, suffered a chipped bone in his left ankle.
The claymate
Ivninderpal Singh
IF Rafael Nadal is playing on clay, the sequences keep on running. In April this year, Nadal became the first player since New Zealand's Anthony Wilding, in 1914, to win four successive titles on the red clay of Monte Carlo. It was also the third year in a row that Roger Federer had finished runner-up at the first major warm-up event for the French Open.
So hail Tanveer
FROM rural Pakistan to the riches of the IPL; Sohail Tanveer's journey has been a remarkable one. The left arm swing bowler is international cricket's only wrong-footed bowler. But it wasn't his peculiar action that had the Chennai Superkings' batsmen hopping all over the place.