The ghost story
Films on supernatural themes have a peculiar fascination, writes M. L. Dhawan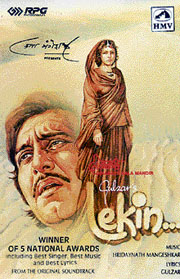 In Lekin, Vinod Khanna liberates the ghost of Dimple Kapadia

Some landmark films in the Hindi cinema had storylines derived from the realm of the supernatural, especially spirits and ghosts.
The recent Bhootnath by B.R. Chopra Films falls in this genre. The story is about a ghost but it is not a horror film. Bhootnath (Amitabh Bachchan) is a ghost but there is nothing scary or supernatural about him. Bhootnath is an emotional spirit who learns to bond because of his young friend Banku (Aman Siddiqui). Banku moves into his new home with his parents (Shahrukh Khan and Juhi Chawla). Bhootnath, who inhabits the house, sees the new family as intruders. To scare them away, he makes his presence felt but ends up becoming Bankuís friend. He finds a grandson in Banku. Bankuís rival at school, Jojo (Tejas) is envious of this unusual friendship and makes attempts to destroy it. Banku finally helps his ghost friend to attain salvation. Amol Palekarís Paheli, which was Indiaís entry to the Oscars in 2005, is a romantic comedy featuring Shahrukh Khan as a ghost. Parsimonious Bhanwarilal is a bania who has two sons Sunderlal and Kishanlal. When Sunderlal loses the annual camel race to the Thakur, he leaves his home for good. Kishanlal (Shahrukh Khan) is married to Lachchi (Rani Mukerji). A day after his marriage, he leaves for Jamnagar to attend to business and is to return after five years. He returns within a few days and informs his father that a sage had instructed him to return as he will find five gold coins every morning.
After four years in the camel race, Bhanwarilalís camel wins, much to the chagrin of the Thakur who suspects witchcraft. Lachchi gets pregnant. On the day of delivery, a look-alike of Kishanlal comes to the village and claims to be Lachchiís husband. The family and the people of the town are unable to make out the real from the unreal.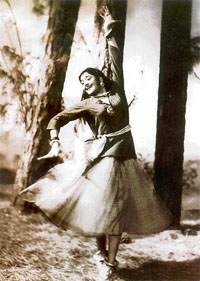 Vyjyantimala in Madhumati.
In Rajiv Mehraís Chamatkar while wandering in an old Christian cemetry, Sunder (Shahrukh Khan) strikes a tombstone at an old grave and the ghost of Amar Kumar, alias Marco (Naseeruddin Shah) who was killed 20 years back, arises from his grave. Marco seeks Sunderís help in getting even with his killers. Marco manages to get Sunder a post in a school for a sports teacher run by his father-in-law. Everyone develops a liking for the sports teacher, including Marcoís daughter (Urmila Matondkar). When Kunta (Tinu Anand) kidnaps Sunder, Marcoís daughter and Marcoís father-in-law, and tries to bury them alive, Marco rescues them. Finally, Sunder marries Marcoís daughter and Marco ascends to heaven.
Lata Mangeshkarís Lekin was the story of an unhappy ghost Rewa (Dimple Kapadia) who haunts the palace of Raja Param Singh of Jasod. When architect Samir (Vinod Khanna) arrives to salvage the valuables in the sealed palace, he is drawn to this beauty. Samir is determined to liberate her even at the risk of his own life. Rewa is liberated when, with his help, she completes the journey through the desert that claimed her life.
In Bimal Royís Madhumati (1958) based on the screenplay by Ritwik Ghatak, Devendra (Dilip Kumar) takes shelter during a storm in an abandoned house. Here he discovers a painting of the owner of the house Raja Ugranarayan (Pran) painted by him in his previous life when as Anand he worked as a foreman on a plantation of Raja Ugranarayan. Devendra had been in love with Madhumati (Vyjyantimala). She had committed suicide while trying to save herself from Ugranarayanís advances. Madhumatiís ghost finally takes revenge on Ugranarayan.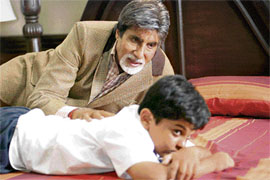 Amitabh Bachchan and Aman Siddiqui in Bhootnath
In Hemant Kumarís Bees Saal Baad (1962), Kumar (Biswajeet) returns to his abandoned ancestral manor where his father was mysteriously killed after he was rumoured to have been lured into the fields by the sound of anklets and crying of a woman who had been raped and killed by Kumarís ancestor. Kumar falls for the local belle Radha (Waheeda Rehman). Ultimately, it is found that Radhaís guardian (Manmohan Krishan), father of the woman killed 20 years ago, had murdered Kumarís father.
Kamal Amrohiís Mahal (1949) was a complicated ghost story. When Shankar (Ashok Kumar) moves into an abandoned mansion, he notices his resemblance to a portrait of the mansionís former owner and sees the ghost of the maní mistress Kamini (Madhubala) who tells him that he must either marry her reincarnation, the gardnerís daughter Asha (Madhubala) or die if they are to be united. His friend Shrinath (Kanu Roy) tries to break the obsession by arranging Shankarís marriage to Ranjana (Vijaylakshmi). As Shankarís obsession continues to the distress of his wife, Ranjana commits suicide, accusing Shankar of the deed. In the courtroom, truth comes out when the gardenerís daughter admits to having masqueraded as the ghost.