Mom, I love you!
Mom, few in the world may know you or what you do, but I would recommend the Nobel for motherhood for you. You are my shining star, my mentor and my friend…Purva Grover echoes the common sentiment this Mother's Day
THINK this: Rooms resembling nappy manufacturing units. Fortnightly parent-teachers' meet, making science projects. Overlooking the "extra-talkative" remark in the report card, making piggy tails, solving sibling rivalry. Helping overcome the first heartbreak, packing up bags for the hostel, experiencing pride on convocation day. Reheating the dishes, sitting through re-runs of Friends.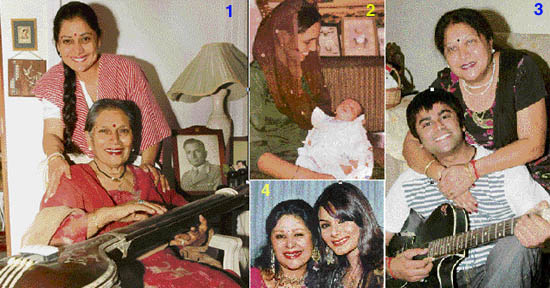 (1) Nandita & mom Primila share a rock solid bond; (2) Few months old Ishmeet with mom Amrit (3) Chak De! RJ Anubhav with mom Manju (4) Anchal with her stylist mom Sharan. — Photos by Parvesh Chauhan
n My Miss Universe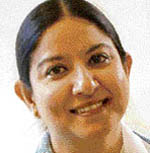 The chosen one
Intense, yet simple, empowered, yet down-to-earth, vivacious yet dignified — that's Zila Khan for you — uncut! But then that's to be expected from someone who comes from a lineage that has names like Vilayat Khan and Inayat Khan to boast of. So when she tells you with a fiery glint in her eyes and in an emotion-laced voice 'if I had not seen greatness, I wouldn't have known what I am,' it reaffirms your belief that your perception about this sufi singer has been right all along.
first day first show
A total family treat
Bhoothnath : Watchable
HAVE audio-visual assaults of Tashan and Mr White Mr Black hurt you badly? Want to be left alone to lick your wounds? Think again. Some relief may be there in the form of Bhoothnath. Stupefied ? No, it's not a scary movie. Horror is not in the scheme of things of debutant director Vivek Sharma. Comedy is.
Zest for life


After losing his sight, this engineer turned masseur
He was like any other hotshot executive, climbing up the success ladder in the corporate sector till he had an attack of optic vein paralysis way back in 1996. And it robbed him of his eyesight. A sad enough story. But the misfortune could not rob Gulzar Ahmed Quersh of his zest for life. The dog-eat-dog corporate sector was out, and in came a career in muscle therapy.

at lifestyletribune@gmail.com or Life Style, The Tribune, Sector 29-C, Chd
I am a 32 with two kids aged nine and seven. My husband is extremely short tempered and my life has been a living hell for the past 10 years. He is affectionate but the moment you refute anything, he looses his temper. My children are terrified of him.

Punjabiyat rocks!
Desi roots, Punjabi zindadilli and an international touch. Meet Urban Desi Honey Singh & Hindi rapper Badshah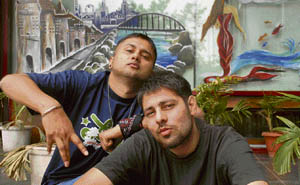 WHEN Punjabiyat rules your heart and soul, then the beats and rhythms you create are bound to be in true blue Punjabi ishytle! And this is what best explains the music of the trio Raj Brar, Honey Singh, and Badshah. International touch to a desi soul, the trio was at Score-8 on Saturday to promote the album Rebirth as a part of Master Moments Nite-Life.
Photo by Pradeep Tewari
Body Art
Are you ready for a fashionable prick?
WANT to make a bold style statement? Like having the imprint of a tiger on your arm or a colourful dragon on your back? Well, it is possible right here in the city. All you have to do is devote a few hours at the renovated Tattoo Studio of Wavelength-26 and yes, endure a little pain. And the expert team there will give you, your dream motif, and a brand-new attitude!
Acts of Imitation


The region's funny men would rather mimic common people than big stars
A COMMENT by a Celine Dion look-alike and sing-alike in one of the episodes of The Next Best Thing on Zee Café got us thinking. Is it actually possible to make a living by looking and behaving like someone else? It defies logic as why, but then we do love watching people impersonating others.
Namesake
If you are Indian and want to show that you care, you must address your dear or even not-so-dear ones by their nicknames!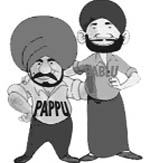 IF ever there were to be a poll to identify the most loving and affectionate people in the world, we Indians would definitely top the list. We can't imagine life without a jhappi, extended to one and all, friends or foe. Or, for that matter overstuffing our guests with ghee-dripping delicacies, just to show how much we care. And then how can we forget the oh-choo-chweet names by which we call the dear, not-so-dear, near, not-so-near, individuals, we know or don't know! That explains why the Sharma aunty in the neighbourhood becomes Bobby aunty or the 40-year-old CEO of a company is still our Pappu!
Little Interview
(Fan)tastic!


WHEN you get a chance to pay tribute to none other than Kishore Kumar, then you overlook the fact that the platform is yet another reality show. Instead, you absorb yourself in beats, rhythms and chords, and make sure that the tribute is an earnest one. And that's what Arnab Chakraborty did, and made it as the champion of K for Kishore. Arnab made his debut as one of the singers of the title track of Yeh Kya Ho Raha Hai.
Matka Chowk
Remote Directions
REMOTELY receiving instructions is such an integral part of Chandigarh now that I wonder how did we ever mange without cell phones. Every where you go, instructions are being dispensed over the cell phone more than often to inattentive kids, reluctant peons, resigned husbands and perplexed drivers.