M A I N N E W S

Panchayat Polls


Violence rocks Punjab, 3 killed
SAD workers injure three senior BJP leaders;
repoll in 17 constituencies
Tribune News Service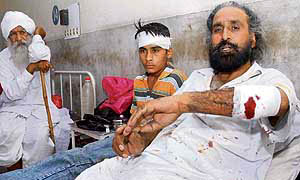 An injured Baljinder Singh Mann of Ghagga village, lying in the Civil Hospital,Gidderbaha, in Muktsar district on Monday. He was allegedly beaten up by SAD activists. — Tribune photo by Malkiat Singh
Chandigarh, May 12
A spate of violent incidents marked polling for the panchayat samitis and zila parishads in Punjab today, with the alliance partners — Shiromani Akali Dal and Bharatiya Janata Party — literally crossing swords with each other. Repoll has been ordered in 17 constituencies. The poll process left three persons dead and more than 100 injured.
In a major embarrassment for the SAD — BJP government, SAD workers seriously injured three senior BJP leaders, including one having the status of a minister of state, at Burj Gill in the Rampura Phul constituency of Bathinda district.
Recently appointed vice-chairman of the Small Traders Boad D.P. Chandan who has been given the status of a minister of state, party district general secretary Navin Singla and Amanpreet Singh Robin were seriously injured. All of them have been admitted to the local Civil Hospital with serious head injuries.
The incident took place when more than 300 persons, led by Rampura Truck Union president Bhura Singh, surrounded the BJP workers and attacked them with sticks and swords.
Others who were beaten up by SAD workers in the incident included party state executive member Mohit Gupta, Mahila Morcha vice-president Sunita Gautam, Rampura Mandal general secretary Bhushan Jain and party youth wing district president Vinod Garg.
Senior BJP leader and minister for local government, while visiting the injured in the hospital, said he would apprise party president Rajnath Singh and senior leader L.K. Advani about the incident, which he described as "murder of democracy".
He added that the future course of action would be decided at the meeting of the core group of the party at Chandigarh tomorrow.
In another incident of SAD - BJP rivalry, a firing incident took place between SAD legislator Harmeet Singh Sandhu and Tarn Taran BJP mandal president Prabhjot Singh Rattol at Daburji in the district.
Nine BJP workers, including its legislator Anil Joshi, were injured. Four SAD workers were also injured in the incident. The car of the BJP leader was burnt in the melee, while nine other vehicles were damaged. SAD - BJP workers also clashed in the Beas constituency, with large-scale rigging reports coming from Dhulka and Kaleke booths.
In the border belt of Ajnala, a dozen workers of both the SAD and the BJP were injured at the time of polling. Health minister Laxmi Kanta Chawla said the incident had been engineered by Akali legislator Amarpal Singh Bonny.
In Khadoor Sahib, a Congress worker, identified as Gurjant Singh (40), was killed, while three others were injured when Akali workers, including SAD block samiti candidate Ranjit Singh, allegedly attacked them with sharp-edged weapons.
Poll-related violence was also reported from the villages of Bhalojla, Thathian, Mahanta, Dhotian, Alawalpur and Kot Dasondhi Mal.
In Moga district, Congress leader Jaswinder Singh 'Kuku', a former sarpanch, shot a SAD worker in the chest after entering the polling station at Fatehgarh Kortana along with his supporters. The victim, Gursewak Singh, who has been admitted to the civil hospital at Moga, is in a serious condition. In another incident, a group of SAD workers, who allegedly came in a convoy of 10 to 12 vehicles equipped with firearms, attacked Congress workers outside the polling station at Kot-ise-Khan.
A Congress candidate, Sukhdev Singh, was arrested along with his supporters while distributing cash to people to purchase their votes. A sum of Rs 11,000 was recovered from their possession.
One person was killed in poll-related violence at Doom Cherri in Ropar district. According to reports, the incident happened when SAD block samiti candidate Harminder Singh Dimpy objected to some alleged wrong procedure which was objected to by the Congress workers who started beating him.
One 65-year-old SAD worker Shamsher Singh, who intervened to save Dimpy, was beaten up severely and fell unconscious. He was rushed to the Morinder civil hospital, where he was declared brought dead.
SSP P.K. Sinha disclosed that three persons had been arrested on charges of culpable homicide. Senior Congress leader Jagmohan Singh Kang sat on dharna and blocked traffic to protest against the arrest of a Congress worker who was released after a few hours.
In another case, a Congress worker Bahadur Singh was killed at Bhagwanpura village in Patiala district. The incident happened when an Akali worker Dhanwant Singh fired at him.
Unruly scenes were also witnessed at Tohra village where hundreds of SAD workers resorted to booth-capturing. Rigging was also reported from Sahiwal village in Tohra zone where Harinderpal Siongh Tohra, son of former minister Harmail Tohram, was fighting the elections on the SAD ticket.
There was also a clash between Akalis and followers of Dera Sachha Sauda at Pakho Kalan village near Tapa in Barnala. The incident happened after the polling was over. It is alleged that some Akali workers stoned houses of the dera supporters and also beat them up severely. Congressmen led by Dhanaula legislator Kuldeep Bhattal staged a dharna on the Barnala - Mansa road and blocked traffic demanding action against the guilty.
Meanwhile, the Punjab police reported that in Mansa district, a clash had occurred at Ahlupur village in which a half a dozen people were injured. The report said in another incident, three unknown persons fired at one Rajan at Behniwal block samiti.
The report said in Gurdaspur village, a case had been registered against Congress candidate Sukhdev Singh who had fired from his double-barrel gun and injured three persons. It said in Ferozepur district, a clash between SAD and Congress workers left five persons injured. It also disclosed that some Congress workers forcibly entered the polling station at Sultanpur village in Patiala and took away two ballot boxes. At Bhaura Khurd the SDM locked a booth and took away the election material when Akali workers started casting votes forcibly.

Khangura booked for interfering in poll official's duty
Mahesh Sharma
Mandi Ahmedgarh, May 12
The Dehlon police has booked the MLA from Kila Raipur, Jasbir Singh Khangura, and his associates for allegedly interfering in the duty of the returning officer at the Butahri polling booth near here today.
The police booked them under Sections 353, 186, 294, 323, 148 and 149 of the IPC. Khangura, on the other hand, terming the incident as mob fury, accused the police of falsely implicating him at the instance of SAD leaders.
In the FIR, RO Faquir Singh alleged that the Congress MLA, along with about 24 activists of his party, illegally entered the collection centre set up at Government Senior Secondary School, Dehlon, and assaulted him.
Investigations by the police revealed that the Congress activists entered the collection centre and created ruckus at the venue.
Led by Khangura, the activists allegedly assaulted the RO and tried to stop him from depositing the ballot boxes at the counter of the collection centre.
The activists were alleging that the RO had tampered with the ballot box by carrying it in his private car.
Khangura termed the protest by his activists as "mob fury" and said that the police was falsely implicating him in the incident.

EC orders repoll in 17 booths
Jangveer Singh
Tribune News Service
Chandigarh, May 12
The Punjab State Election Commission today claimed that the election process for the panchayat samitis and zila parishads was conducted in "a free, fair and smooth manner despite some minor incidents", even though the elections saw violent incidents at many places in the state.
The Commission ordered a repoll in only 17 polling stations across the state even though reports indicated that violence and booth-capturing were spread over many polling stations.
Violent incidents and reports of booth-capturing at many places seem to have escaped the notice of the Commission.
The Punjab State Commission, while ordering repoll in 17 polling stations, said only minor incidents like snatching and tearing of ballot papers had occurred.
The polling in these stations will now be held on May 26, said Yashwir Mahajan, secretary to the State Election Commissioner.
The panchayat elections today saw 65 per cent of the 1.50 crore voters exercising their franchise to 320 seats from 20 zila parishads and 2,728 seats from 141 panchayat samitis. Earlier on the directions of the Punjab and Haryana High Court, elections to four zones of three zila parishads and one each in 15 samitis had been postponed to May 26.
According to the Commission here, the maximum percentage of votes had been polled in Patiala, which has recorded a poll percentage of 70 and the minimum in Faridkot with 56 per cent. The maximum number of repoll has been ordered in Sangrur district, where polling was countermanded in seven stations of polling station 57 and 57-A Janal in Rogala panchayat samiti zone, polling station number 134 and 134-A - Samura, also in Rogala samiti zone, station number 3 in Bahamniwala, station number 30 in Mahasinghwala and booth number 48 - Bhulan. Next was Patiala where a repoll has been ordered in four stations.
In Ferozepur, polling was reordered in booth number 133 - Rukna Bodla in Gurharsahai samiti zone and booth number 25 and 26 - Basti Sarupsinghwala, also in Guruharsahai. In Amritsar district, a repoll was ordered in Kalika and Dhulka stations in Baba Bakala zone. In Mohali district, polling was reordered in Zone 17 of Lalru in Dera Bassi samiti zone. In Gurdaspur, repelling will be conducted in both number 85 - Keeri Afghana in Kahnuwan samiti zone and in Faridkot in polling station 32-A in Dulhkot samiti zone.