Businessman drives himself, family to death
Megha Mann
Tribune News Service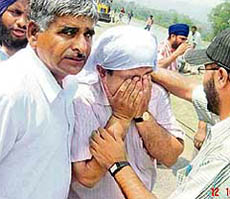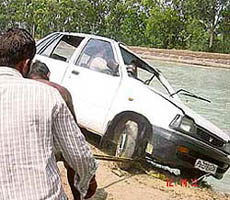 Grieving relatives of the deceased; (below) the ill-fated Maruti car being fished out of the Bhakra waters on Monday.
Anandpur Sahib, May 12
A businessman from Ropar plunged to death with his wife and two daughters in the waters of the Bhakra canal late last night.
While the bodies of Gurcharan Singh (49) and wife Jaswant Kaur (44) were fished out by 2 pm, a team of divers from Ropar was still looking for the bodies of the two daughters, Kamaldeep Kaur (22) and Keema (19). Kamaldeep was working as an airhostess in Delhi and had come to meet her parents.
Yesterday Gurcharan had taken his family to Anandpur Sahib to pay obeisance at Kesgarh Sahib Gurdwara. At around 8 pm, he called up his brother Swaran Singh and uncle Didar Singh and said he might never return. He asked his brother to look for him near Lamlehri village, 3 km from here.
Thereafter, Swaran and Didar called up Gurcharan again, but received no response. At night they left for Lamlehri with a team of divers from Ropar.
The search for the bodies began at 8 am and by 2 pm only Gurcharan and his wifeís bodies had been fished out, along with the car. Gurcharan had driven his Maruti car (PB 23 B 6206) into the waters of the Bhakra canal, killing himself and his family.
Swaran told the police that his brother had committed suicide due to a man called Aman from Ambala. He alleged that Aman had called Gurcharan and said he had married his (Gurcharanís) daughter Kamaldeep. Aman would threaten that if Kamaldeep was not allowed to come with him, he would commit suicide. However, Kamaldeep denied having married Aman.
The Anandpur Sahib police has also recovered a suicide note tucked in the wallet of the deceased. The suicide note stated that he was going to commit suicide with his family. The family is survived by Harpreet Kaur and Paramjeet Kaur, Gurcharanís two elder daughters who are married.
No arrest has been made so far. The police is investigating the case.