'Gurgaddi Divas': London academy to celebrate bigtime
Amritsar, May 13
Members of the Raj Academy, London, in coordination with Thames Valley University, London, have decided to celebrate "Gurgaddi Divas" of Sri Guru Granth Sahib in October on a large scale.
Educate masses on social evils: Tarlochan tells teachers
Amritsar, May 13
Expressing serious concern over the present state of affairs of the Indian education system, Tarlochan Singh, member of Rajya Sabha and former chairman of the Minority Commission, said the teaching community had a great role in taking the country forward on the path of development. He called upon them to come out from their classrooms and make the general masses aware of the various social problems faced by society.
Hans against vulgarity in Punjabi songs
Amritsar, May 13
The present day Punjabi singers should avoid vulgarity in songs as it was ruining the rich culture and heritage, said Hans Raj Hans, who was in the city to pay obeisance after being honored with the Padam Shri.
Sufi singer Hans Raj Hans, who recently received the Padam Shri, pays obeisance at the Golden Temple.

Finding meaning of human existence through poems
Amritsar, May 13
"Neelkanth", a compilation of poems by Manmohan, is an attempt to find answers to the complex issue of human existence. He, while accepting the significance of words, points towards their limitations as they cannot transform human eternal and natural realisation entirely. The book connects relations of different aspects of life with philosophical realisation. In the opening poem "Vapsi" like all inverted behaviours of reality language also is in search of its misplaced roots.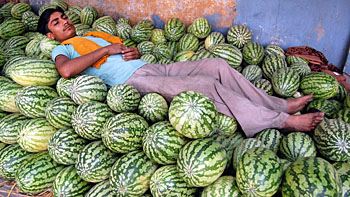 Playing It Cool:

A fruit-seller in the holy city takes a break from his mundane routine. Photo by Vishal Kumar

Declaring former jathedar tankhaiya wrong : SAD body
Amritsar, May 13
Terming Takht Patna Sahib Jathedar Giani Iqbal Singh's decision of declaring former Akal Takht Jathedar Darshan Singh as "tankhaiya" (guilty of religious misconduct) as wrong and irresponsible, the Shiromani Akali Dal (Presidium) said such decisions were dividing the community.
Youth Pulse
Dancers deliver their best shot
Amritsar, May 13
Students from 16 schools participated in a dance contest, "Kuch Kar Dhikaye," at Gurukul Institute here on Saturday. Arshpreet of Sacred Heart School stood first. While Harnoor of Sri Guru Harkrishan Senior Secondary School was second, Rhythm of DAV School came third. Lakshya of the Voice of India fame and artiste Pawandeep Singh were the judges.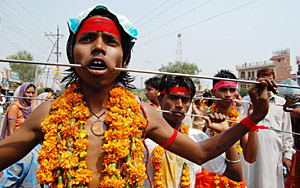 Power Of Belief: Devotees celebrate festival of 'Maa Kaali' in Amritsar. Photo by Vishal Kumar

Blind murder solved, 1 arrested
Amritsar, May 13
With the arrest of one person, the district police claims to have solved the blind murder case of an immigrant from Nasopur who was found killed on April 25. The accused has been identified as Kamlesh Kumar, resident of Mauja Hasanpur, Uttar Pradesh.
Devp Projects
Bathinda, Muktsar show Badal bias: Cong
Amritsar, May 13
By initiating various development projects in Muktsar and Bathinda Chief Minister Parkash Singh Badal was ignoring the interests of the people residing in other parts of the state.