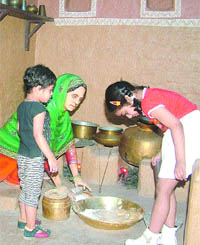 Punjab on a platter
Jalandhar, May 13
Just imagine a land where conventional Punjabi sights and scenes await you, where traditional villages are brought alive with every single detail, ranging from the "mitti de bhande" to the street side magician. Details which had been pushed into the far corner of your memory but come flooding back as soon as you took a peek into the place in question. The place is called "Rangla Punjab".




Young kids get the taste of Punjabi culture at 'Rangla Punjab' in Jalandhar. — Photo by S.S. Chopra

Collision at unmanned crossing leaves 3 injured
Jalandhar, May 13
In a mishap at an unmanned level crossing, three persons of a family sustained serious injuries as a Tata Sumo vehicle collided with a Jalandhar-bound DMU train at Dhadde village here today.
Young World
Perils of polybags: Tiny tots drive the point home
Jalandhar, May 13
Tiny tots of Delhi Public School visited Subzi Mandi to create awareness on cleanliness. They carried placards with messages like "Say no to polybags", "Clean Jalandhar, green Jalandhar", "Preserve nature, protect life" and "Live well and live green". People at the mandi were amused to see the little ones telling them about not to use polybags.
| | |
| --- | --- |
| | |
| DPS honours its shining stars. — A Tribune photograph | A talent show was organised at the Darshan Academy in Jalandhar. — A Tribune photograph |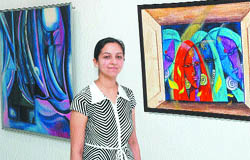 Celebrating womanhood
Jalandhar, May 13
Varinder (24), a Mumbai-based painter is in the city with a collection of her paintings displayed at the Satya Paul Art Gallery at Virsa Vihar here. Spirituality, the hoards of emotions that women undergo in their lives and experiments with all kinds of media, are what her paintings largely comprise.
Mumbai-based painter Varinder's collection can be seen at Virsa Vihar. — Tribune photo by Pawan Sharma

Cantt Board Poll
Know your candidates from Ward 6
Jalandhar, May 13
With just four days to go for the cantonment board poll, the environment in the area has turned completely political. Ward 6, which is reserved for SC/ST candidates, has a strength of approximately 4,000 votes and includes areas like Mohallas 30, 31, 32, BI Bazaar, Nirman Vihar, KV 1, Residential quarters, Nalwa Road officers quarters, employees residential quarters, Ajeet Road residential quarters and Hardyal Road quarters.
Kapurthala man dies as truck rams into bike
Jalandhar, May 13
One person was killed and another injured when a truck hit the motorcycle they were riding near the leather complex on the Jalandhar-Kapurthala road on Monday evening.