To make 'dharti' green is Dhesi's dream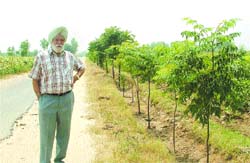 Jalandhar, May 15
Talk about the NGO, Savi Dharti Punjab, and the first name that comes to mind is that of Ram Singh Dhesi, the England-based NRI who has been working as a crusader in this part of the region with his plantation drive.

Ram Singh Dhesi, an England-based NRI, with trees planted by him on the Cheeti-Rasoolpur road near Jalandhar. —Photo by S.S. Chopra

Time to dragoon Women Reservation Bill
The fracas created at the presentation of the Women Reservation Bill in the Rajya Sabha was utterly ludicrous. Scuffling and brawling among the supporters and the opponents presented a lamentable sight.
Jalandhar Big FM is year old
align="left">Jalandhar, May 15
The Jalandhar station of Big 92.7 FM completed its one year of operation in the city. The station celebrated the first anniversary here last week-end. Mayor Rakesh Rathore was the chief guest on the ioccasion who inaugurated the celebration function.
Young World
Police DAV Public School holds talent hunt
Jalandhar, May 15
A talent hunt competition, "Budding blooms," was organised at Police DAV Public School for classes III to V. Hundred students gave their performance on classical dance, folk dance, music instrumental and music (vocal).
Cantonment Board Elections
Know your candidates from Ward 7
Jalandhar, May 15
In the last phase of the cantonment board elections, the candidates are slugging it out to win the maximum support of residents.
Hans goes Sufi in hometown
Jalandhar, May 15
The Hind Samachar group of publications observed "shaheedi divas" of its founder Ramesh Chander on Monday. To pay tributes to the founder of the group, the Ramesh Chander Memorial Society organised a "ruhani and Sufi evening", a musical function. The star singer of the evening was none other than Hans Raj Hans.
Watch 'Just TV Punjabi' from mid-June
Jalandhar, May 15
Channel Guide India Limited would launch its channel "Just TV Punjabi" in mid June. The channel aims at promoting Punjabi culture through a wide spectrum of shows, including daily soaps, reality shows, movies, comedy and horror shows. Addressing mediapersons, managing partner and CEO Manish Vashisht said, "It is a channel of the Punjabis, for the Punjabis and by the Punjabis across the world".