India sets a world space record
Radhakrishna Rao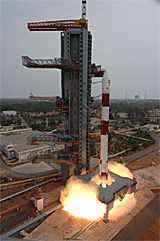 In a dramatic breakthrough, India's four-stage space workhorse PSLV(Polar Satellite Launch Vehicle), after a smooth takeoff from the Satish Dhawan Space Centre(SDSC) in Sriahri-kota island on the sunny morning of April 28 successfully placed in orbit as many as 10 satellites in one go and in the process created a sort of world space record.
Though sometime last year, a Russian launch vehicle had launched as many as 13 satellites in one mission, no one is sure as to how many of them went in the right orbit. Moreover, the total weight of the satellite payloads delivered by the Russian space vehicle was a mere 295 kg. In distinct contrast PSLV had launched satellite payloads weighing 823 kg, including eight nano satellites from abroad.
As it is, in just about 15 minutes after the blastoff the core alone version of the PSLV weighing 230 tonnes managed to orbit all the 10 satellites in a textbook precise manner. Of course, this is not the first time that PSLV had accomplished multiple launches. On earlier three occasions, PSLV had carried out multiple launches involving both the Indian and foreign satellites.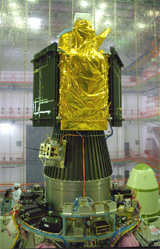 The 690-kg Cartosat-2A featuring an imaging system with a resolution of better than one metre was the major payload onboard this 13th flight of PSLV. In addition, PSLV launched an Indian experimental remote sensing satellite IMS-1 along with eight nano satellites belonging to the foreign universities.
According to ISRO, the launch of PSLV was a milestone for ISRO as it again proved the versatility and reliability of the launch vehicles and its ability to put multiple payloads into a variety of orbits. Moments after the launch, a beaming ISRO Chairman, G.Madha-van Nair had observed: "This is a memorable occasion for ISRO and India. We have set a record for launching 10 satellites into orbit using a single vehicle. Very few countries have done it. Russia launched 13 satellites at a time. We do not know the result. We have shown the world that we can do multiple launches in a precise manner".
By all means this was a complex and challenging mission since the launch vehicle was required to deliver all the satellites in orbit in a sequential fashion to avoid collision. However, this is for the third time that ISRO had deployed a core-alone version of PSLV weighing 230 tonnes as against the standard PSLV configuration weight of 295 kg. In the core-alone version, the PSLV is without its usual six strap-on motors attached to its first stage. Significantly, an augmented version of PSLV will be used to launch India's first lunar mission Chandra-yaan-1 in July 2008.
The Indian-made advanced mapping satellite Cartosat-2A weighing 690 kg was the major payload on board PSLV. Cartosat-2A built for a lifespan of five years is designed to provide data for use in the development of urban infrastructure, rural roads, ring roads and human settlements. Indian defence forces have also evinced a keen interest in the potentials of Cartosat-2A.
The 83-kg IMS-1 formerly known as the third-world satellite is the other Indian payload launched by PSLV. Data from IMS-1 described as an experimental remote sensing satellite will be made available free of cost to the users in the third world countries.
The eight nano satellites built by universities in Canada, Denmark, Germany and Netherlands were launched as part of a commercial contract bagged by Antrix Corp, the Bangalore -based commercial arm of the Indian space programme. This is the fifth time that PSLV has launched satellites of foreign customers.