M A I N N E W S
India offers economic help to Bhutan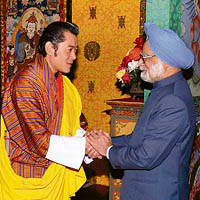 Prime Minister Manmohan Singh with Bhutan King Jigme Keshar Namgyal Wangchuck during a meeting in Thimphu on Friday. — PTI
Thimphu, May 16
Making his first-ever visit to Bhutan close on the heels of its transition to democracy, Prime Minister Manmohan Singh today offered a package of economic assistance that includes building a railway line and doubling power generation from its hydel projects.
Singh, who became the first international leader to visit Bhutan after it entered the club of democratic nations in March, met his Bhutanese counterpart Jigme Thinley and King Jigme Khesar Namgyal Wangchuck and made the offer.
"India is committed to building a railway line to Bhutan to improve connectivity and to help the two economies to grow together, "foreign secretary Shivshankar Menon told reporters after the high-level meetings.
"India has prepared a detailed project report and a link will be from Hashimara in West Bengal to Phuntsholing in Bhutan. The details of the project would be worked out later," he said.
Singh, the first Prime Minister to visit the Himalayan state after late P.V. Narasimha Rao's visit in 1993, instructed officials to double the targets of hydro-electricity to be generated in Bhutan by 2020. The earlier target of 5,000 MW was to be raised to 10,000 MW by that year as per the new instructions.
India's contribution to Bhutan's 10th five-year plan will also be discussed with the new government, Menon said. So far, the two sides have held two rounds of meeting on the same subject.
Earlier in the day, Singh received a warm welcome from the Bhutanese people, who turned out in their traditional and colourful costumes to greet him at the formal reception ceremony. — PTI