audio scan
Mudgal scales new heights
The Awakening (Times Music)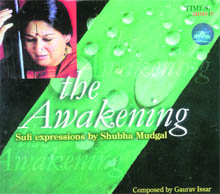 This CD costs nearly twice as much as a normal one. Buying it may pinch one's pocket hard. But once you have heard it, the pain will more than vanish because you may have never heard Shubha Mudgal sing quite so mesmerisingly.
The stage is set by the opening number itself, Main sutti rahiyan. Shubha's voice comes cascading as if it has crossed hundreds of mountains. The music is also befitting. You are hopelessly sucked into these Sufi expressions.
The treat does not stop there. The same height is reached by another number, Har mahak vich Rabb hai vasda, kar sajda sajda, sajda.
Other eight songs don't reach the same level of ecstasy but are a pleasure still. Lyrics are by Gaurav Issar, Shyaam Anuragi and Ekhlas. The album has been conceptualised, composed, arranged and produced by Gaurav Issar.
Bhoothnath (T Series)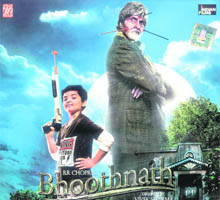 Things just seem to happen for Amitabh Bachchan. Not just his acting but also his singing gets him many fans. But he has been rather careful in choosing his songs.
They are either folk songs like Rang barse bheege chunar wali or those meant for children, like Mera paas aao mere dosto. Yes, there have been some serious ones too like Mein yahan tu kahan but they are few and far between.
Here too he has crooned a song meant for children called Mere buddy sun jara. It is a fun song and easy to hum. That is why it is gaining quite a bit of popularity.
The filmmakers know it when they have a rocking number on hand. So, this particular song figures repeatedly with minor changes here and there. In two of them Arman Mallik is with Amitabh. Chalo jaane do where Amitabh shares the mike with Juhi Chawla is only a variation on that.
But overall, the compositions of Vishal-Shekhar are a disappointment. Even Javed Akhtar's lyrics have not helped much.
Aarogya Mantra (Times Music)
Those who believe in the power of mantras think that these can endow one with good health and well-being. Aarogya mantra (Om Namo Bhagwate Vasudevai Dhanwantaraye Amritkalashastay, sarvamay vinashay, Trelokaya Rakshakaya, Shri Mahavishnu Namah) is an excerpt from Shrimad Bhagwatam in praise of Lord Vishnu and Dhanwantri. It has been sung and composed by Jagjit Singh.
Even if you have no faith in its spiritual efficacy, it makes a soothing listening experience. — ASC