INTERVIEW
ĎThere is no formula for successí
TV actor Rajeev Khandelwal, talks to Swati R Chaudhary about his debut film Aamir, a psychological thriller
How would you describe your debut film Aamir?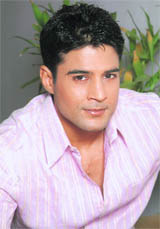 Rajeev Khandelwal
Aamir is a complete Bollywood commercial thriller. It is not one of those run-of-the-mill thrillers. You would be forced to think. Itís a battle of ideologies. Itís a psychological thriller. There are no superstars, larger than life locations or supporting cast to sell the film. Aamir is the story of an average middle class Indian.
What is your role in the film?
The film is about the problems average Indians face. Itís the story of Aamir Ali who lands in Mumbai and is oblivious to the trap that is awaiting him. He is sucked deeper and deeper into it but eventually fights his way out. Aamir is an ordinary guy caught in extraordinary circumstances. He is no hero but becomes a hero.
How did Aamir happen?
After I quit my last television show, Left Right Left, I was offered Aamir. The script completely floored me. I think I was born to play Aamir. I have more than 25 bound scripts with me none of them excited me enough. I was not asked for any auditions or screen tests. Anurag Kashyap and his team showed a lot of confidence.
Chor bazaar, Nagpada, Crawford market, mutton market`85Why was the film shot at such congested locations?
The film is very real in terms of story telling. There are no larger than life portrayals in Aamir. To make it authentic, it was important for the film to be shot realistically. Mumbai is an integral part of the story line.
A first-time director (Rajkumar Gupta), no heroine, no item numbers, no exotic locales`85Why this chancy debut?
There is only one item in the film and thatís me. (Laughs). My first film has to leave an impact and prove that I can deliver as an actor. Being an outsider, I knew no one would launch me in a Rs 35-cr magnum opus. Nobody would make a Saawariya with me. I know I have to make it on my own. As far as making a romantic, conventional debut is concerned, tell me which is the safest debut? There is no fixed formula to success. How many actors, who have made a romantic debut, have managed to stay back? There is no way to device a safe launch vehicle.
In retrospective, what do you feel about your decision of quitting television?
I was unhappy with the way things were happening. I am not much bothered about the zeroes on my paychecks than the script. Television was becoming mundane and unexciting. Besides, when is the right time to quit? When the show shuts down or people get bored of the show? The love and adulation is tempting but I believe you should leave things when youíre at the helm of it. It takes a lot to detach and walk away at that peak time. But I have always believed in my decisions. It was difficult for me to walk out on the streets with everyone looking at me, smiling, blowing kisses especially when I knew I wasnít doing anything in the show (Kahinn to Hoga). I was doing something that was making absolutely no sense to me. Thatís when I decided to quit. I thought I wasnít worthy of all that adulation. I had to deliver. So I chose to walk out.
Any big banners or production houses lining up?
Big banners like YRF and Karan Johar havenít approached me. But some people who make a difference to the industry have approached me. I am just holding myself back. I am just doing another romantic film with UTV presently. I wonít sign any more films until Aamir releases. I want people to see my work first.
Do people connect to you as ĎSujalí or Rajeev Khandelwal?
I am recognised more as Rajeev Khandelwal though Sujal is an intrinsic part of my life. When I walk out today, there are a lot of women who call me Sujal. There are plenty of people who call me Capt. Rajveer Shekhawat from Left Right Left. I feel very humbled. Itís amazing feeling because every time someone walks up to me, I feel that they have decided to give me a couple of minutes out of their lives without expecting anything in return so the least I can do is make them feel special.
Apart from acting, what else are you passionate about?
I am passionate about life. I like cooking and love outdoor sports like mountaineering and river rafting. I like meeting people. My nariyal pani wala and the girl living down the slums are the most interesting people in my life. Whenever I return her smile, she blushes which makes me happy.
Your final take on Aamir?
I am proud of Aamir. I was destined to play Aamir. It had to happen to me. As far as the box office success of the film is concerned, I canít anything about it. ó TWF