TELEVISTA
Week of calamities
Amita Malik

Considering that television is the last resort of people who cannot go out of the house for entertainment, the last week has been one of the most gloomy in months. The Myanmar natural disaster has been aggravated by the refusal of the dictators who run the country to accept international aid. Even the most-shunned US aid was being reluctantly accepted. But those endless images on TV of shattered human habitations and thousands of homeless people wandering around the place keep on haunting us.
Now, days later, we have disaster striking China. Over 900 children have been buried as a devastating earthquake hits that country. In all these disasters, and we had our own tragedies in the Gujarat earthquake, it is children who seem to suffer the most. Partly because hundreds seems herded together in school when a disaster strikes. Also because little children are the least equipped mentally or physically to run for their lives. With them perish dedicated teachers who do their best but fail pathetically because there are too many to save.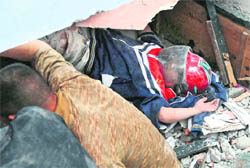 Children suffered the most in the devastating earthquake that rocked China
As usual, human rights also dominate the news. The appeal by 20 Nobel laureates to the President, Prime Minister and others to allow Dr Binayak Sen to go to Washington to receive a prestigious human rights international award brings home the fact that those who advocate human rights most strongly are sometimes the ones who suffer most on that account. The relief accorded to MF Hussain just days earlier raises hopes that other eminent and distinguished people who have contributed to the country's achievements will not have to depend only on international pressure to get justice.
The TV priorities of politics, sport and cinema are again dominating the small screen. Big B is getting ample space to air his thoughts on about everything. Then the politics of Pakistan, struggling hard to sustain its new-found democracy, makes for very interesting viewing. One cannot help but notice that Pakistan's TV has enjoyed comparative freedom throughout these difficult days.
Aneesa, the spirited daughter of human rights activist Asma Jehangir, keeps on sending exciting news to NDTV, while other channels also have active reporters across the border. But again it is sports which is hitting us all round. Charu Sharma is under intense fire by Vijay Mallya, who has kept on reminding us in interviews that sport, and in this case cricket, is a corporate affair and not there only for pleasure. People with no direct experience of sport bidding for players as if they were cattle has not lifted our spirits either.
In the middle of all this gloom there had to be some relief somewhere. We had it in the wedding of the daughter of President Bush. Together with the bridegroom, who is the grandson of a governor, the bride refused to have a White House wedding like former President Nixon's daughter, and had a private wedding, with all the publicity required, at the President's ranch.
Of course, the biggest comedy on the small screen remains that immortal classic, The Father of the Bride. No matter how many times it is shown, it remains a prime favourite with all of us.
Talking of dynasties in show business, one must admit that all channels are giving full publicity to the emerging son Mimoh of our very own disco dancer Mithun Chakraborty. A question being put to the second generation with boring monotony is whether it is an advantage or a disadvantage to be the son or daughter of a famous personality. In this case, one does not have to guess.
I am glad that I had predicted only last week that Kya Aap Paanchvi Pass Se Tez Hain? was not exactly going to be a hit. Clearly, the simple approach of Kaun Banega Crorepati was one of its strongest points. By cluttering up Paanchvi Pass`85with too many complications, even Shah Rukh Khan's bonhomie has failed to rescue it.