As two English giants, Manchester United and Chelsea, meet in the Champions League final, a rich footballing experience is on offer. The final will also decide if United get their double or Chelsea their revenge, writes Vaibhav Sharma
When Ryan Giggs scored the winner at the JJB, the veteran scripted the perfect tale of triumph for his one and only club, Manchester United. Meanwhile, away in London, Chelsea had the wind knocked out of their sales as Bolton had managed to score and equalise, thereby helping crown United champions by two points.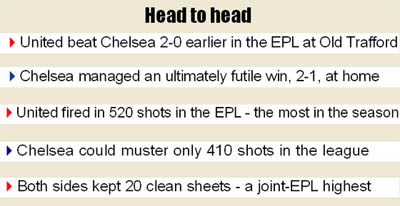 Now, the rivalry resumes, but the stage shifts to Moscow where the two English giants meet for the Champions League final, their first ever encounter in the European tournament. The stage is set for United to get a double, a rarity these days. Even for Chelsea, this is the only chance to win silverware this season, after they had lost to Tottenham in the Carling Cup final, and bowed out of the run for the league title on the last day.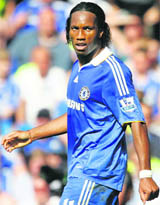 Didier Drogba
Sir Alex has seen many ups and downs in his more than illustrious career, from a treble, to seasons without silverware, but the Mancunia have never given up their belief. Fergie braved Arsene Wenger's Invincibles as well as the Special One's cash-rich buys. His team this year brushed aside outfits like Roma and the mighty Barcelona on their way to the final and have every reason to believe that this is their year. It has to be the culmnination of all the hardwork and magic that they have displayed throughout the season. A Champions League winners medal has eluded many greats, but this United outfit have a rare chance of moulding their part in greatness. History lies in front of them, and is for the making, the only obstacle is a London-based club, who have perhaps have an even stronger Moscow connection.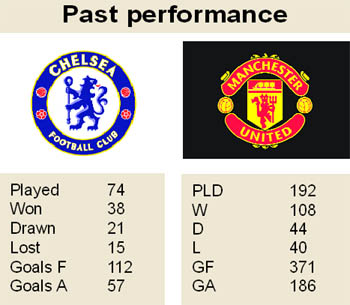 Avram Grant, the unassuming Israeli was a direct Roman Abramovich appointment at Chelsea. Only he can say what it was like to have worked under the constant and ever-looming shadow of English footbal's most colourful manager in recent times, Jose Mourinho. Grant initially got a lot of flak from the press, the fans and even his own players. Some people even raised questions on his qualifications. But gradually he became the best thing to have happened to a club being dubbed as a billionare's toy team. He has achieved what Mourinho could never reach; a Champions League final. After seeing their boogey team Liverpool of in a sensational semi-final, Grant will be quietly confident of outwitting english footballs grand old man to do perform, not just a turnaround, but also a miracle in his first year at the helm.
All in all the first all-English final of the Champions League is bound to break the monotony of Italian and Spanish clubs pipping their English counterparts in Europe's elite competition in the last decade. Although, on current form, United start as favourites for lifitng the trophy, they definitely kow better than underestimating Chelsea's potential.
This might be the begining of a new era of footballing might for the EPL, which is looking all set to add on-the-field superiority to its vast financial muscle.