Tales of wacky titles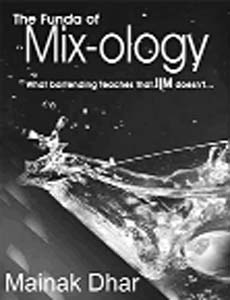 WACKY titles and contents may sound interesting but such books have spawned more imitative work and might not entice readers who mostly like to gel with the protagonist's actual life or share his or her dreams, feel some authors while for others they do make an impact.
"Topics may be at the discretion of the authors but at the end of it, books that connect to the readers sell," says Singapore-based Mainak Dhar, who wrote The Funda of Mix-Ology, a novel dealing with the contemporary issues facing Indian youth.
"At times, relatively new authors find difficulty in getting publishers. Then the topic and title may come handy," says Dhar. His book is about a young IIM graduate working in an MNC who finds nothing can prepare him for the stress and drudgery of day-to-day-life. Then he learns mixology, the art of making a good cocktail, and suddenly he discovers he can live a fuller life.
"Thus the title, as the protagonist learns to live a fuller life through the fundas of mix-ology," says Dhar.
Journalist-writer Shinie Antony, who recently released her book of short stories Sance on A Sunday Afternoon, says: "Wacky topics are great for non-fiction or humour books. Some, of course, have done very well like Freakonomics' but such books have spawned more imitative work.
"With wacky, it is important to be original and deep. And there is that much more pressure on the author to keep up the wackiness till the end and not to waver in that wackiness anywhere in between."
On the title of her book, she says: "Sance is a calling out to spirits more living than dead here. And on a Sunday afternoon because Sunday is a day of leisure when one can wake up late and lazily evoke spirits. The caller, the medium, the spirit, all can get cosy." She says her publishers Rupa helped her in selecting the title.
According to V.K Karthika, publisher and chief editor of HarperCollins India, title is what makes the first impression on a reader.
"So yes, an out-of-the-way title would make an impact.
Writing about a subject not, or less, written about would make for more interest, unless it's such a niche subject that there would be few takers for it," she says.
To her, both publishers and authors are equally involved in choosing a title. "Sometimes, the title comes from the author, sometimes editors and authors brainstorm to come up with a mutually acceptable one. So yes, there's equal involvement," Karthika says.
Another striking title is Soma Das' Sumthing of a Mocktail: at JNU where kurta fell in love with jeans.
The book talks about three girls who step into Jawaharlal Nehru University to discover an unofficial dress code of kurta-chappal-jhola' and a mini-India that fast arranges itself into regional subgroups.
Roswitha Joshi, a German writer based in Delhi, says she has encountered two types of readers. "One are genuinely busy people who love to read but lack time. They have a short attention span and prefer short self-contained stories and books, which are easy to read 'in between'.
"The second category consists of people with plenty of time, who like to escape into a world unlike their own to 'loiter' in it mentally. A segment of these people might prefer wackier topics for the sheer thrill of these," she says.
According to her wackier topics can only make it big if publishers promote these books forcefully as a 'must read' for those with a special taste -- either advanced or the opposite.
"Otherwise, I do not think they are of advantage, because readers like to gel with the protagonist's life and share his or her dreams," she claims. — PTI