Hollywood hues
This comedy fails to tickle
Meet the Spartans holds little promise, says Ervell E. Menezes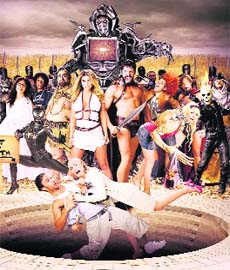 Meet the Spartans is a spoof on the box-office hit 300
JASON Friedberg and Aaron Seltzer have put together a number of movies and its movies with a capital M, like Scary Movie, Date Movie and Epic Movie are comedies of varying success. Most of their humour is corny, punny and slapstick, giving little or no stimulation to the grey cells.
But in Meet the Spartans, which professes to be a spoof on "stylised and oh-so-cool" box-office hit 300, they have surely exceeded themselves by coming out with a real dude. Everything you didnít want to know and didnít want to ask anyone is virtually shoved down your throat till you choke.
The heroic Leonides (Sean Maguire), born with a beard, a real tough guy but unarmed, vows to fight back the Persians whose ranks include Ghost Rider, Rocky Balboa and believe-it-or-not a hunchbacked Paris Hilton. These modern Spartans greet their men with kisses and women with high-fives and give even more evidence of their being neither here nor there.
Claiming to be a non-stop assault on our media-blitzed pop culture, it takes a swipe at the blockbuster films like Shrek, Casino Royale and TV reality shows like American Idol and Dancing With the Stars. For starters, it seems to work and Happy Feet with an unhappy twist may be mildly funny. But the 13 Spartans that include Captain (Kevin Sorbo) soon begin to jar. Queen Margoís (Carmen Electra) oomph, cleavage et al may raise a few sighs but not for long, they could turn into yawns. The heroics of the 13 Spartans are anything but heroic and in Xerxes (Ken Devitan) you have another obnoxious character.
So between breaking wind, which seems to a national pastime with Hollywood, and boob-talk, below-the-belt humour and a perverse logic Meet the Spartans chugs along with little promise and even less fulfilment making it quite apparent that Hollywood is indeed scraping the bottom of the barrel.