Benazirís India link
In his latest book, Goodbye Shahzadi, Shyam Bhatia traverses the highs and lows of a 34-year-long friendship with Benazir Bhutto to present a personal account of the woman and her politics. In the course of many candid conversations with the author, Benazir spoke about her family and Pakistan's defence and foreign policies. In this book Bhatia reveals, for the first time, details of conversations that remained confidential during her lifetime. Excerpts: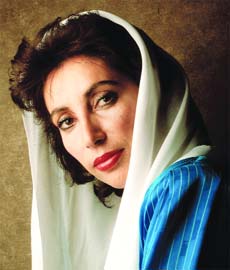 Although America had provided much of Islamabadís military hardware and been the major source of foreign economic aid, any suggestion that a Pakistani ruler was prepared to get overly close to the US was bound to be viewed with suspicion on the Pakistani street. The link with Delhi was more complex. India had been Pakistanís traditional adversary from the time of Independence, and the two countries have engaged in three major wars in 1947Ė48, 1965, and 1971. Therefore, any notion of a Pakistani prime minister seeking the aid of the enemy to sort out their domestic problems was bound to be controversial.
However, elected civilian prime ministers like Benazir also needed to be on at least moderately friendly talking terms with Delhi to avoid the kind of Indian military build-up along the border that would provide the Pakistan army with an excuse to strengthen its grip at home. Achieving the right balance is a difficult and sensitive exercise. Standing aloof from India invited the risk of allowing an unchecked flare-up of tensions to develop into something more serious. Being too obviously friendly with India risked being called an Indian or Hindu Ďagentí. Where India was concerned, it could be argued the dice was loaded against her long before she became prime minister.
It did not help that Indira Gandhi, ostensibly Pakistanís and the Bhutto familyís foe, was one of the first international leaders to make repeated pleas for clemency for Zulfikar Ali Bhutto after he was sentenced to death. It was the same Indira Gandhi, then in Opposition, who twice received Benazirís brothers, Murtaza and Shahnawaz, at her Delhi residence following their fatherís execution.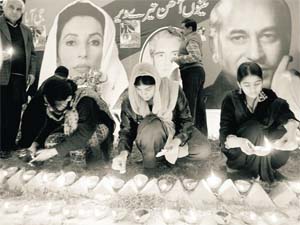 Supporters of the Pakistan Peopleís Party hold a candlelight vigil in Lahore after Benazirís assassination in December 2007. ó Photo by AFP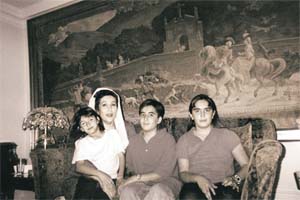 MULTI-FACETED WOMAN: Benazir with her children and (right) as a vivacious young woman just out of Oxford
It was during that first meeting with Indira Gandhi in 1979 that Murtaza suggested dividing Pakistan into four parts as a way of permanently blocking a future role for the generals. His controversial proposal for the dismemberment of Pakistan is recorded by his erstwhile colleague, Raja Anwar, in his book entitled The Terrorist Prince. Benazirís first personal exposure to the politics and conflicts that kept Pakistan and India at each otherís throats, came during the 1965 IndiaĖPakistan war. She and her sister Sanam were at boarding school in Murree, close to the Kashmir border, when war broke out and the nuns in charge of the school made the girls participate in air-raid practices and blackouts. Six years later, as a college undergraduate at Harvard, Benazir was more directly involved when war broke out again, this time over the emerging nation of Bangladesh, and she was summoned by her father to New York to help him as he prepared his brief for the United Nations Security Council. It was while she was managing the telephones at her fatherís New York hotel suite and simultaneously acting as hostess for the delegations calling on him that Zulfikar gave Benazir her first lesson in international diplomacy.
When peace talks with India began the following year in S[h]imla, Benazir was once again at her fatherís side. This time she was personally introduced to Indira Gandhi and other Indian dignitaries, but it was her experiences at the mass level that made the greater impression. Her autobiography and other contemporary accounts record the ecstatic reception she received whenever she ventured out into the streets of S[h]imla, with traffic-jams and small mobs of enthusiastic Indians craning their necks to get a better view of her. One local newspaper carried the iconic headline, ĎBenazir is benazirí.
Many years later, when Benazir was Prime Minister of Pakistan in her own right, she hosted a visit to Islamabad by Prime Minister Rajiv Gandhi. The occasion was a regional summit of South Asian countries, and Benazir used it to try and forge a better personal rapport with Rajiv and Sonia, who were invited to a private dinner with Benazir and her husband during the course of the three-day visit. Six months later Rajiv was back in Islamabad, this time on a purely bilateral visit. The two visits led to a series of mutual confidence-building measures, including force reductions along the borders and an agreement that India and Pakistan would not attack each otherís nuclear installations. Benazir would also claim many years later, shortly before she died, that she choked off assistance to militant Indian Sikhs who had been afforded refuge in Pakistan by General Zia. It was the termination of this support, she implied, that finished off militant Sikh demands for an independent homeland carved out of Indiaís Punjab state.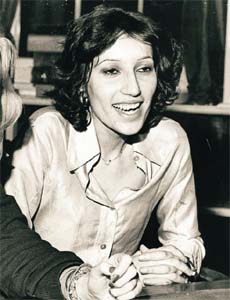 ó Photo by Evening Standard/Getty Images
Benazirís Indian critics charge her with being two-faced when it came to India. They compare her covert fostering of the Taliban under Major General Nasirullah Babar, later her Interior Minister, with her rallying cry to anti-Indian jihadi militants across both sides of the ceasefire line when she shouted ĎAzadi, azadi `85í (freedom, freedom`85). Evidence that she was secretly and violently anti-Indian has been deduced from her television images of 1990 where she was seen inciting Kashmiri militants to take action against Indiaís then Governor of Kashmir, Jagmohan. Still remembered is the shocking cutting gesture she made at that time in 1990, her right hand striking the open palm of her left, as she intoned, ĎJag, jag, mo-mo, han-haní. In her speech aimed at stoking the fury of the jihadis, she said:
"The people of Kashmir do not fear death because they are Muslims. The Kashmiris have the blood of the mujahideen because Kashmiris are the heirs of Prophet Mohammed, Hazrat Ali, and Hazrat Omar. And the brave women of Kashmir?
They know how to fight and also to live. And when they live, they do so with dignity. From every village only one voice will emerge: freedom; from every school only one voice will emerge: freedom; every child will shout, "freedom, freedom, freedom".
French journalist Fran`E7ois Gautier sensed the same hard line emanating from Benazir when he interviewed her in 1993 and asked her about Kashmir. She responded by telling him: "You have to understand the Pakistani point of view on Kashmir ... that for long the Hindu Pandits in Kashmir exploited and dominated the Muslims who are getting back at them today". Asked whether that was the only reason Pakistan was helping Kashmiris in their fight for self-determination, she replied: "It should be clear also that Pakistan never forgot the humiliating loss of Bangladesh at the hands of India," before adding, "Zia did one right thing. He started the whole policy of proxy war by supporting the separatist movements in Punjab and Kashmir as a way of getting back at India."
Benazir never attempted to justify her jihadi speech or the cutting gesture, but shortly before she was assassinated she claimed credit for reining in the Sikh extremists who had been given sanctuary across the border within Pakistan before she became prime minister.
Benazirís Sikh connection was revealed in December, 2007, after Indiaís National Security Adviser M.K. Narayanan publicly questioned her track record as "not necessarily something which will make us believe that she would follow to the letter what she has saidóI think even if she wishes to". A furious Benazir lashed back in an interview with Indiaís Outlook magazine:
"Does anyone remember that it was I who kept my promise to Prime Minister Rajiv Gandhi when we met and he appealed to me for help in tackling the Sikhs? Has India forgotten December, 1988? Have they forgotten the results of that meeting and how I helped curb the Sikh militancy?
If anyone kept her word, it was me, not Rajiv. He went back to India and then called me on his way to the Commonwealth to say he could not keep his promise to withdraw from Siachen (the disputed glacier in northern Kashmir) and that he would do it only after the elections."
I had heard of Benazirís azadi speech, as well as some of her other reported virulent comments about IndiaĖPakistan relations, and wanted to see for myself just how much she had changed from the time we first met at Oxford. An occasion to talk to her freely and in depth arose when she invited me to visit her in Dubai in 2003. We had spoken over the telephone a few months earlier, and before that also briefly met in London. It was then that she and I agreed to get together for a heart-to-heart, somewhere private and away from the glare of television cameras.
One of the first questions I put to her before we sat down for dinner in Dubai was about Kashmir; how did she see Kashmir and was it a subject for negotiation? "Its for negotiation and when I was Prime Minister, the Indian Government had agreed to put Kashmir as an independent agenda item," Benazir replied:
"We had two agenda items. One of the agenda items was Kashmir and the second agenda item was IndiaĖPak and we said we must not let lack of progress on one issue impede progress on the other. The second thing is that if we disagree over the territorial unity of Kashmir, we can still work for the social unity of Kashmir by working for safe and open borders. Because if we have safe and open borders, then people can travel, they can trade and then, ultimately, I feel we must ask ourselves that with a population of over a billion people and high rates of poverty amid islands of affluence, what do we do to pick ourselves out of this mess for the future? And l see the only way forward for us is to try and see what the European Union did and to try and have a kind of tariff in a common market that will enable people."
This sounded to me like sensible reasoning, at the very least sharply different from the kinds of sentiment associated with the "azadi, goli chalao" politician of a decade earlier. This new look, or rather a return to the old Benazir, had enhanced her reputation for expressing views that projected her both as sober and positive when it came to India. I, in fact, sensed something fundamental had changed. Speaking to her that day it seemed to me that Benazir had come round to the view that a nuclear armed Pakistan, one of the worldís seven nuclear weapons powers, and India could no longer risk head-on confrontations. As she explained; "After India and Pakistan went nuclear in 1998, the PPP had a reappraisal and we said we donít want to follow tit-for-tat with India. Just because India does something, we should not copy it. We should identify our core interests and follow our core interests, but not copy India".
Many in India still do not appreciate the importance of this changed thinking. In effect, Benazir had come around to the same point of view as the US and Soviet Union in their time after they had tested nuclear weapons following the end of the World War II.
Benazir felt that what made sense for India and Pakistan was to strengthen economic ties. "You know what makes economies move?" she asked me rhetorically:
"In my view economies move through the service sector, through creativity. So if we open up, people will come and visit Pakistan; our hotels will be full; more hotels will be built; more labour will get jobs. Same in your country. All the visitors who come will want to have kebab and tikka and nihari and all the shops that make all the kebab and tikka and nihari will go up. People will want to buy; they will want to spend; they will want to go to museums; they will want to sight-see. Itís the flow of money that strengthens our economy and thatís what we all needóNepal or Bangladesh or Sri Lanka or India, or Pakistan; we all need that."
Encouraged by what I had heard thus far, I focused more sharply on bilateral relations, asking Benazir if the bitterness among some Pakistanis was associated with their fear of Indians trying to reclaim the properties they had abandoned at the time of Partition. "There is the older generation; they fear that, but I donít think there is any such thing among the younger generation," she replied.
"I have met people who are very bitter about India and I am sure you have similar people on your side who have witnessed massacres. People who witnessed massacres, itís very difficult for them to let go.
"But, generally speaking, those who did not witness massacres, they all want to talk about their homes in India which they leftóand even Indians do the same. I met (former Prime Minister) Mr I.K. Gujral and he told me he had been in Jhelum his whole life. I have met (former Deputy Prime Minister) Mr Advani and he told me about Karachi and Hyderabad.
"Itís all about diversity, America is about diversity, Britain is about diversity; itís all about unity through diversity."
I pressed on to ask if Pakistanis looked at Indians in a specific way. Did Pakistanis dislike Indians as such, anyone who held an Indian passport, or was it just the Hindus who were most intensely disliked? "Well it changes from times of tension to times of less tension," Benazir explained.
"When there is tension and troops at the borders, then people hate anyone who is Indian, irrespective of whether they are Muslim or Hindu. They say, "They want to attack us and kill us, they want to destroy us and our country."
"But when there is no tension, people really welcome Indians. I mean Indian films are very popular in Pakistan. Indian goods are smuggled across Pakistan all the time, people are desperate to get Indian visas and travel to India to go and visit their families, and go and see the Taj Mahal and the Mughal heritage of those days. And overseas, in America, I must have travelled to all the states where the Indians and Pakistanis and Bangladeshis see themselves as South Asians. They feel their interests are the same. They work together, they socialize together, there is no hatred at all.
You leave it to the people and they all want to be friends. Sometimes I think that your country and my country, our militaries need a war so that they can go on buying weapons. I donít know. But as far as the people level is concerned, there is a lot of love and affection."
I deliberately kept my most provocative question for the last, and when I put it to Benazir, she almost choked over the cup of tea in her hand. Looking her straight in the face I asked, "As a Pakistani did you ever wake up in the morning and think, "Oh God I wish I could nuke a few thousand Indians?"
Benazirís response was unequivocal:
"For Godís sake, never for a moment have I woken up with such a thoughtóbecause I know that nuking any Indianóif I was mad enough to think thatówould end up nuking my own people. And this is sometimes what I donít understand because neither India can use the nuke, nor can Pakistan. Because whatever country is throwing that nuke knows there is not enough time space to avoid retaliation and is going to get it back. No."
Excerpted with permission from Goodbye Shahzadi by Shyam Bhatia. Published by Roli Books. Pages 130. Price Rs 295
In 2003 and 2004 she agreed to a series of searingly honest interviews on the record with me about herself, her family, and her political life. At the time I did publish some, but not all the material from the tapes of those interviews. Some tapes containing much of the unpublished material, including her revelations about Pakistanís nuclear programme, remained locked away in my filing cabinet. They only came to light by chance soon after she was assassinated when I was scouring through my personal papers. I realised then that the tapes contained exclusive information about contemporary issues that had never before been revealed.
ó Shyam Bhatia