Tales from the tiger trail
Lalit Mohan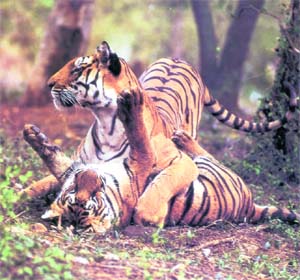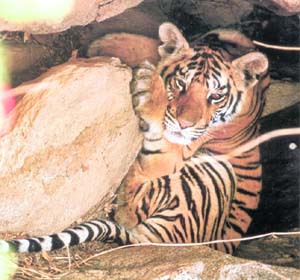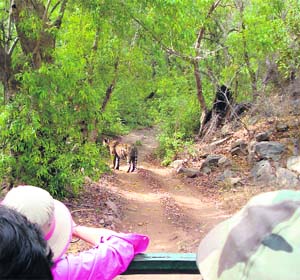 ó Photos by writer
IN the Ranthambhore Forest Reserve you have to carry your luck along with the usual paraphernalia needed for tiger spotting. There are five routes into this vast sanctuary from the direction of Sawai Madhopur. But all visitors are not allowed to crowd onto any one route which, based on the last rumour, is rated as the big catís favourite at that moment. So the trails or routes are assigned by draw of lots. If lady luck smiles on you, one tiger, or may be several, will make a cameo appearance at the very moment you are passing by.
The weather also counts. We visited the tiger reserve in mid-April.Ranthambhore is located on the eastern edge of the Thar dessert, about 160 km from Jaipur. The forest is deciduous. In this hot, parched season, the trees shed their leaves almost completely. The grass, too, is dry and flattened. Without the foliage cover the animals are easier to spot.
Besides, in the summer, thirst makes them visit the water holes more often. That is one place you are likely to meet them, sooner or later.
Travel to Madhopur by train is very convenient and most hotels or inns can organise the forest safari. Four of us chose an afternoon trip and groaned in unison when we were told that we had been assigned route 4, on which two days earlier some other friends had drawn a blank. With no further choice in the matter we braced ourselves for what was described to us as a terrible ride. Herds of deer, langoors, a wild boar, a crocodile and other animals are easy to spot. Our vehicle was an ancient Canter-bus in which the sides and the top had been removed seat level upwards. It groaned, wheezed and rattled for about 45 minutes before, going around a bend, we suddenly saw this majestic animal.
He was walking in front, barely 6 metres away. Our driver Riaz Mohammed put a finger on is lips telling us to hush up, as we followed the beast. I donít think that with the noise the Canter was making, it would have mattered. But the gesture captured the drama of the moment.
We were driving along a long narrow creek. After a few minutes he stopped. We did, too. Then he moved again. And so did we. This carried on till he decided to veer off and immerse himself in the water.
The creek must have been very muddy because when he emerged from his toilette, his derriere was almost black. Once again we were behind him. Then, for the first time, he turned back to look at us and gave an angry snarl, before crossing the water body to the other side. He then entered a clump of trees. As we resumed our drive, we saw, further up, a herd of spotted deer slaking their thirst at the same ditch. The tiger was close by, but still unseen. Suddenly, the relaxed herd tensed, all staring in the direction of the predator. Moments later, one of them gave a call like a loud bugle note, and the entire herd scampered up the hill.
That is, all except one. A young fawn just couldnít move. He seemed rooted to spot in fear, his stare transfixed in the direction of the beast, whom we could now see crouching for the final charge for his supper. Fortunately for the fawn, the grass was low and the distance between them over 60 metres. It was then that the could-be prey spotted him, snapped out of his stupor, and bolted. The tiger did not even attempt the chase.
Our safari moved on. Once more the Canter bumped and swayed until we came to a spot where Riaz, once again with the hushed finger sign, pointed right towards a huge Banyan-like tree with multiple trunks. In front of it sprawled the magnificent beast. Another hid behind it.
They were about 50 metres away. We waited for about 30 minutes in total silence. Then one of the animals stirred, stretched and started moving in our direction. He came and stood next to our Canter. Riaz whispered, "He wants to cross the road right here. We need to move back."
In the jungle the beast is the boss. We reversed a short distance. Sure, enough, the tiger crossed the road just at the spot where we had stood. Soon the other followed, claimed the same right of way, and went and sat down barely 4 metres from where we were. He kept sitting there, staring at us. Both obviously had their bellies full.
This pair was of probably adolescent brothers, because once they become adults, two males never stick together.
It was now getting dark. We had spotted three tigers at fairly close range and it seemed unwise to push our luck further. So we started back, wondering how the same beast, which looks so ferocious and angry behind the bars of a zooís cage, can be so well-behaved and relaxed in the familiar environment of his natural habitat. That, really, is where he belongs and should always be.
FACT FILE
Best time to visit : November to February.
Best time to explore: March, April and May - increases the tiger sighting chances
Closed - July to September
Opens - October to June
Getting there : Air : Nearest airport is Jaipur - 145 km away, from there it takes about 3 hours.
Rail : Sawai Madhopur Railway Station is the nearest one, lying at a distance of 11km.
Road : routes to Ranthambore : Buses ply on regular basis to all the major destinations in Rajasthan and India. NH - 8 to Jaipur, NH - 11 to Dausa, NH- 12 to Tonk.
Inside tip : Never get down of Jeeps or Elephants while in the Forest. Listen to the instructions of the Guide while on your Jungle Expeditions.
Important distances : 15 km NE of Sawai Madhopur, 201 km SE of Jaipur, 457 km SW of Delhi, Agra - 277 km, Mumbai - 1077 km.
Staying options : Vanya Vilas, Aman-i-Khas Resort, Sawai Madhopur Lodge, Castle Jhoomar Baori, Ranthambore Bagh, Hotel Vinayak.