Reel funk
Film music has moved to a stage where lyric writers fit words to pre-composed tunes,
writes Derek Bose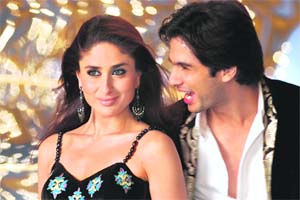 Kareena Kapoor and Shahid Kapoor in Jab We Met. The heady number Mauja-hi Mauja comes at the end of the film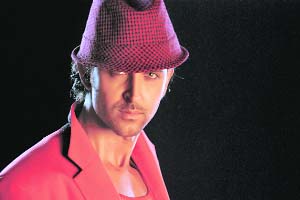 The item song in Krazzy4 featuring Hrithik Roshan pops out of nowhere
HINDI film music is no longer what it used to be. From radio and television, it has spilled on to the fashion ramp, promotional events, cricket field, cell phones, computer games. It is just about everywhere. And the funny part is there is no getting away from its spell. Unconsciously, you'd find yourself humming the same tune you had detested some time back. Bollywood music has become so very infectious.
Traditionally, the film song has served as a device to "link" two dramatic scenes and raise the emotional temperature of a plot or story. More specifically, it is supposed to take a narrative forward. Today, no filmmaker needs any such excuse as a song can be introduced at any point of the film, even at the end — as in the case of "Mauja-hi Mauja" in Jab We Met. It can pop out of nowhere as in the case of the item songs featuring Shahrukh Khan, Hrithik Roshan and Rakhi Sawant in Krazzy4. Significantly, nobody takes a "loo break" when these numbers come up, as they used to in the past. The audience sits goggle-eyed for so long as the spectacle is played, no matter how irrelevant it might be.
Furthermore, the Hindi film song has nothing to do with good, soul-stirring poetry or soft, lilting tunes as in the past. Today, you can forget language, lyrics, melody and name of the film. Even the singer and composer do not matter any longer. What matters is what you see, hear and feel — whether the experience gives you an adrenalin rush for that transient two minutes. A successful (read hit) number is supposed to take you on such a heady, all-consuming, multi-sensory trip in the name of entertainment.
Making such music is by no means easy. R.D.Burman and Bappi Lahiri had spent the best part of their careers trying to produce this sort of robust, funky pop, but ended up Indianising Western tunes. That was, of course, another time, another age. And Hindi cinema had a place for their kind of music. Those composers brought about a revolution in live entertainment, particularly with the help of their mascot Kishore Kumar. He was by far the greatest impresario of that era. In stage shows, unlike other popular singers like Mohammad Rafi, Mukesh and Manna De (not to mention Lata Mangeshkar and Asha Bhosle) who used to stay put tamely at one spot playing a harmonium, Kishore Kumar was all over the place with a hand-held mike going boompity-boom, boompity-boom, boom boom boom... The public simply freaked out.
The craziest part is that from a time when music used to be based on lyrics, we have moved to a stage when lyric writers "fit words" to pre-composed tunes (take any song by Javed Akhtar). Audiences are unable to detect the disconnect because they are already conditioned to disruptions in the narrative flow ever since item numbers became a norm. So, whether it is Shankar-Ehsan-Loy or Pritam Chakraborty or even A. R. Rahman, every composer in the business holds a bank of such stand-alone numbers, dished out on demand and on a first-come-first-serve basis. Most of the songs ruling the airwaves owe their origin to this one-size-fits-all dispensation. And many, many films, including Dhoom 2, Om Shanti Om and Race have simply been woven around songs booked by the producers in advance.
In that off chance, a pre-booked song cannot be placed in a film, it is used for the promos, as Ram Gopal Varma did in Bhoot (which turned out to be a songless film). After all, songs serve as the first point of contact for a filmmaker with the public, long before a film is released. Recording companies, satellite television, FM radio and certain paid sites on the Net are all dependent on Bollywood music. So also are cellphone companies for running their ringtone and caller-tune services. And then, there is the live-entertainment sector which is going through an unprecedented boom.
Nobody can afford to ignore the enormous revenues these channels bring into Bollywood. If present-day film songs sound bizarre, incoherent, disjointed, or out-of-context, the reasons lie here. In time, the market players would turn more demanding and music will be composed and shot entirely for their benefit. Films shall then become mere delivery platforms for songs.