SOCIETY
Positive way of life
Keen to do something for HIV-positive women and children, Sushila has formed a network of 325 women—most of them widows from across Rajasthan—to rehabilitate those infected,
writes Renu Rakesh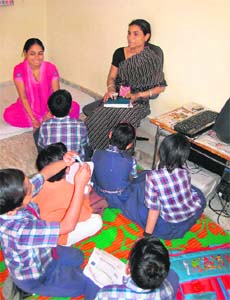 Sushila (right) with HIV orphans at her home in Jaipur. — Photo by WFS
THIS is the tale of a woman who has persevered for over two years to be able to become the foster mother of 10 HIV-positive children. Sushila and her husband, Buti Ram, are neither people living with HIV/AIDS nor a childless couple.
So why has Sushila waged a lonely battle against stigma and discrimination for the sake of children orphaned by HIV/AIDS? She has even welcomed them into her two-room house in Jaipur. Perhaps the answer lies in her heart, particularly when the orphans call out to her, saying 'Ma'.
A former accountant and counsellor with the Rajasthan Network for People Living with HIV/AIDS (RNPLWHA), Sushila realised that women living with this dreaded infection got a raw deal. "People term infected women as wanton—if they get the infection and also when their spouses get it. When the husband dies due to AIDS, the in-laws throw the widow out of the house. Such women either return to their parents or live on their own but become vulnerable," she explains.
Keen to do something for the HIV-positive women she had come in contact with—90 per cent of whom were widowed—Sushila formed a separate network, along with several RNPLWHA women members, using her home as the network's office. While the new network was for positive women and of positive women, many of the beneficiaries and network workers would bring along their children, simply because there was no one to leave them with.
This meant that when Rama died last year, her sons Bhavesh and Rohit stayed on in Sushila's house. Undeterred by what society had to say and by the lack of resources to take care of their health, medication, education and upbringing, Sushila decided that she would welcome more orphans into her home.
Last year she resolved that her 10 'children' would go to school. Easier said than done, she realised. "I must have gone to at least 10 schools. Some plainly refused to admit positive children; others advised me to hide their identity. Still others were scared the infection would spread to other students. Some even suggested I open a school for them," she recalls.
However, the principal of Rawat Senior Secondary School understood Sushila's concerns for the children
but requested her not to disclose their HIV status where not required. "But," says Sushila, "the children don't listen. For instance, Bhavesh is now 13. He knows his status and tells his classmates that he is HIV-positive."
The reason for Bhavesh's openness could be that Sushila and her family has made the children feel quite at home. "There is no discrimination in the house," says Santosh, a positive woman, who helps Sushila looking after the children.
Hrithik, Sushila's six-year-old son, is negative but mingles with ease with the children like Yogesh, who is going on five and is the youngest. Only four of the children have one surviving parent.
Sushila's husband Buti Ram, fondly called 'Sirji', has been her inspiration. It was Ram who encouraged Sushila to "pursue a master's degree in sociology and then plunge into social service". Ram runs Eye India, an NGO that claims to have reunited 4,000 runaway kids with their parents. His organisation has adopted two children from Sushila's 'family' and bears their expenses.
Sushila's dedication is certainly infectious. Some organsiations have now stepped forward to help the orphans. Faith Institute takes care of the school fees of half of the children. FXB provides for lunch for all of them; and Khejdi Trust bears their medical and local transport expenses. Plus, there is support coming in from neighbours, several of whom donate milk and other nutritious items.
Knowing Sushila, this means that she is ready to expand her 'family'—eager to look after more children, to enrol them in schools, to take them to hospital when needed and to arrange for their medicines. In short to play 'Ma' to them.
Of course, she hasn't lost sight of her prime concern—service to positive women through the network she formed with 20-odd members. She now has 325 women from across the state working for her, most of them widows who have lost their savings trying to treat their positive spouses. — WFS