Television
Hep Hepburn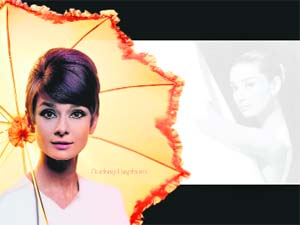 THE movie Audrey Hepburn Story, on May 25 at 8 pm on the History Channel re-visits the life and times of Hollywood's greatest actresses Audrey Hepburn. Hepburn is one of the few all-time great actors, who won all major awards in her lifetime, including the Oscar and Golden Globe for her 1954 film Roman Holiday, and the Grammy Award for her 1993 Best Spoken Word an album for children.
Besides she was a fashion icon and humanitarian, who served as the UNICEF Goodwill Ambassador. In 1999 the American Film Institute ranked her among the three greatest actors of all times.
Spanning her early childhood to the 1960's it details her life as a Dutch overachieving ballerina coming to grips with her parents' divorce and enduring five years of living in Nazi-occupied Holland during World War II.
The film also follows her life in the US where in the fifties and sixties decade she became a living legend having acted in films like Breakfast At Tiffany's, War And Peace and My Fair Lady and onto her philanthropic work with the UNICEF in Somalia and finally her sudden death by cancer in 1993.
On the run
TOUGH shooting sequences can yield the unlikeliest of results. Ek Packet Umeed (Tuesdays at 8.30 pm) on NDTV-Imagine has an all-woman crime-fighting gang comprising mainly Rupali Ganguly, Neena Kulkarni and Suhas Joshi, who are constantly shown chasing thieves and sundry fraudsters.
The ladies well in their middle ages---apart from Ganguly---initially found the constant running quite tiring and exhausting. But now they seem to be doing it ever so happily as it has resulted in their losing a considerable amount of weight! And all of a sudden they are feeling very upbeat and motivated.
Says serial maker J.D. Majethia, "When we began shooting everyone was fretting and fuming. Now that the scales are dropping---quite literally---there is a renewed enthusiasm as they have achieved what they always wanted to." — NF