Ulta Pulta
Trite slap
Jaspal Bhatti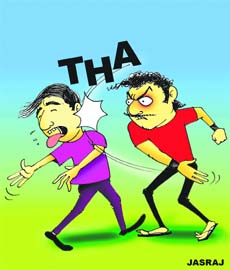 AN aspirant actor was auditioning for a film "Ek macchar insaan ko hijda bana deta hai" The director grumbled that the dialogue is quite trite. "Koi doosra phenk." The actor immediately mouthed, "Ek thappad insaan ko cricket bhula deta hai." True, a tight slap on anyone's face can change his or her life. But surprisingly some times the person who delivers the slap bears the brunt of his own slap. Harbhajan's slap has cost him more than Rs 3 crore.
I switched on a filmy channel and a character was heard mouthing, "Yeh thappad tujhe bahut mehnga padega thakur!" My son came running, "Who has Harbhajan slapped now?" There were times when teachers slapped students to discipline them. But now they prefer indiscipline rather than raising their hands and losing their job.
Now the point is where should you go if you have the flair for slapping. The best field to join is the police department. If you are in a police station even to lodge a complaint, you shouldn't wonder if you also get slapped as a part of the introductory process. Take it as an acclimatisation process.
Roadside Romeos also get slapped while on duty to chase girls. But in the long run they end up marrying the same girl and in the process get much more severe punishment throughout their life.
If Harbhajan gets a life ban then he is left with no option than to offer his service as professional who gives slaps on behalf of less courageous people. My friend Ghuggi was heard threatening his child, "Sit down and study or I will call Harbhajan uncle to give you a tight slap."