ICSE/ISCE Results

Stephenian tops tricity with 96.6 pc
G. S. Paul
Tribune News Service
Chandigarh, May 20
Regularity with classwork was the key to success this examination season, if one goes by the mantra revealed by toppers of the ICSE Class X examination. The examination, administered by the Council for Indian School Certificate Examination, declared the results this evening.
With most students vouching that it was the revision of classroom teaching all through the year that helped them fare well in the examination. Tuitions had no role to play in the performance and complete faith in themselves and their alma mater was the guiding force till the end.
"I was regular in my studies and focussed on the schedule prepared by my mother. My goal is to be an IAS officer. — Pranshu Sharma

Pranshu Sharma of St Stephen's School, Sector 45, topped the tricity and the region by scoring 96.6 per cent marks. He opined that the focussed study after school for a couple of hours is more than enough for a good percentage. "I focused on the schedule prepared by my mother. I want to go in for IIM but my ultimate goal is to be an IAS officer," said Pranshu. Actually, it was his late grandfather Tek Chand Sharma's dream that he should be an administrative officer, which he has vowed to fulfil, said V.K. Sharma, his father.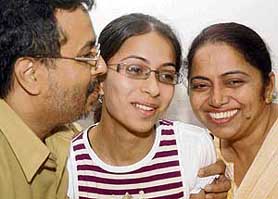 Bableen Kaur Bedi, who topped the Class XII ISCE board exam, with her parents in Chandigarh on Tuesday. Tribune photo by Parvesh Chauhan

"Studying by heart is my mantra of success. My teachers and parents have played a very important role in my achievement. — Bableen Bedi

Another Chandigarh-based girl Divyaleen Kochhar brought laurels to the city by being just close to the local topper but emerged top in the entire Hoshiarpur region. Divyaleen, a student of St Joseph' Convent School, Hoshiarpur, scored 96.3 per cent marks. Not advocating tuitions or extra coaching to gain good success, she said the consistency with hard work is key to be on the top. "You should be able to keep up in class all through the year. It is not just a matter of a few weeks. Besides, focus on exhaustive training on ways of attempting papers will be helpful".
Nishant Sharma of St Stephen's School, with 95.9 per cent who occupied the third place in the region and second in the tricity, said "Classroom teaching provides a compact learning environment and competition among classmates encourages one to study harder. Tuitions hardly serve any purpose other than burning holes in the pocket."
Nishant has scored 99 marks in environment application and wants to pursue his career in engineering. Nishant's father Dr Vinod Sharma is a lecturer with Panjab University while mother Sunita Sharma is with the research department at PEC, Sector 12, Chandigarh.
Not lagging much behind was Himmat Singh Brar of Yadavindra Public School, Mohali, who scored 95.8 per cent marks. "This achievement is no more a surprise for me as I was already expecting this much because I had put in a lot of hard work." He said he would take up medical stream and keen to join AIIMS.
Karan Gupta of St Stephen's School, Sector 45, scored 95.6 per cent marks. With 95.4 per cent, Ishan Sood from Little Flower School bagged the first position in Panchkula. ''The credit for my success goes to my parents and teachers," said Ishan Sood, who aspires to be an aeronautical engineer.
St Stephen's School achieved 100 per cent results and there were 278 students who scored first divisions in the examinations.
At St Kabir Public School, Sector 26, all 102 students, who appeared for the examination, have been passed. As many as 21 students have scored between 90 per cent and 94.1 per cent. Harsimran topped the charts with 94.1 per cent, closely followed by Gargi Gupta with 94 per cent, Isha with 93.29 per cent, Abha Kapoor with 93.29 per cent and Vanya Aggarwal with 93 per cent.
Aditi Bansal from Tender Heart School, Sector 33, got 94 per cent marks followed by Deepak Uppal 93.1 per cent marks.
Mohali: Jaikar Singh Punian bagged the second position in the town by getting 95 per cent marks. Though he had worked hard for the board examination, he liked to give more credit to his parents and teachers for his success. Ravina Nain stood third by getting 94.33 per cent marks. Two students Himmat Partap Gill and Navtej Singh secured 93.17 per cent each while Simran got 93.16 per cent marks.
Two students of St Xavier's School, Sector 71, here got more than 90 per cent marks in Class X. They are Ujjal Didar Singh (93.14) and Sakshi Rauthan (92.57).
Panchkula: All Panchkula ICSE schools achieved the 100 per cent success in class X exam. Out of 178 students, most have secured first division and 12 have got 90 per cent or more.
The Little Flower School squad Kanika, Shravan, Aayush and Ishani, scored 94.42 per cent, 94.14, 94 and 92.71 marks, respectively. Besides, seven students secured 90 per cent marks.