Playing Saif
Suave and stylish Saif Ali Khan is in the league of top Bollywood heroes, bagging meaty roles and dishing out hits. Derek Bose recounts the transformation of 'Chhote Nawab' from a fumbling hero to a confident and bankable actor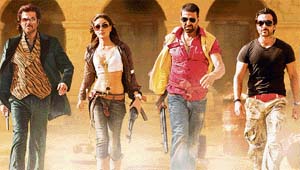 VERSATILTY IS HIS FORTE: Saif (first from right) dons a different look in his latest release Tashan
Vijay Krishna Acharya's much-hyped Tashan may not have exactly set the box-office on fire, but the business that it continues to generate overseas and through the sales of non-theatrical rights, has irrevocably altered Bollywood's power equation at the top. Shah Rukh Khan still leads the pack, but he does not have Aamir Khan and Salman Khan snapping at his heels any longer. The race to the top now is not among the Khan trinity, but among a quartet comprising Hrithik Roshan, Akshay Kumar, Saif Ali Khan and of course, Shah Rukh The dark horse in this grouping is Saif.
Many may, however, feel otherwise. After Dil Chahta Hai in 2001, Saif's career has been on the upswing and to emerge among the frontrunners in Bollywood is clearly a natural progression from a phenomenal track record.
Several of his films - from Ek Haseena Thi and Hum Tum to Parineeta, Salaam Namaste, Being Cyrus and Omkara - have firmly established that he has matured, both as an actor of substance and as a bankable star. A Race or a Tashan has merely consolidated Saif's position as a safe box-office bet.
On the other hand, it may be argued that Saif desperately needed these two big-budget releases at this stage of his career and he has got lucky to some extent. He is 38 now and has for far too long been part of a crowd, usually functioning (to quote him) as the "third wheel in love triangles".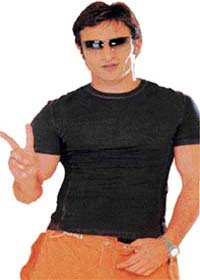 Like most of his films, Race was a multi-starrer, but it was his spirited portrayal of a ruthlessly greedy and scheming brother that stood out against a rather laidback Akshaye Khanna and a jaded Anil Kapoor.
Similarly in Tashan, it is the crackling onscreen chemistry he shares as a no-brainer with Kareena Kapoor that has been the talk of town and in many ways, proved more of a crowd-puller than the combined presence of Akshay Kumar, Anil Kapoor and others.
These back-to-back releases hold added significance because, barring Kunal Kohli's upcoming kiddy caper Thoda Pyaar Thoda Magic, Saif does not have a major film in the near future. So this was clearly his last chance to match the score of Bollywood's other blue-eyed boys - Shah Rukh (Chak De, India and Om Shanti Om), Hrithik (Dhoom 2 and Jodhaa Akbar) and Akshay (Heyy Baby and Welcome). As for people like Aamir Khan (Taare Zameen Par) and Ajay Devgan (U, Me Aur Hum), it will be quite sometime before they would be able to measure up to the double whammy of these stars.
No wonder that Saif is today in a position to turn down a Rs 30-crore offer on the ground that he does not sign a film without going through its bound script. It has taken Saif 16 long years to reach this stage where he is able to take a stand and call the shots. Even when he was not as demanding, many filmmakers accused him of being arrogant and of having an attitude problem - an obvious reference to his princely background.
Rahul Rawail almost sabotaged his career by dropping him from what was supposed to be his debut film, Bekhudi (with Kajol) in 1992. Most people did not take him seriously because he came across as a blue-blooded brat who did not really require a career to survive. Marrying young and being the dutiful husband and father of two did not change this perception. The fact is, far from acting pricey, Saif had to actually labour hard for more than a decade just to be accepted in Bollywood.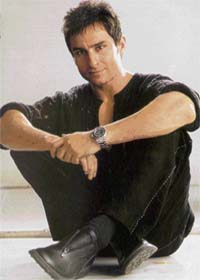 To make matters worse, when he started out, there was absolutely nothing about him to mark him out as hero material. At 22, standing a little above five-and-half feet and looking pale and skinny, he did not have hope in hell to take on the likes of Sunny Deol and Sanjay Dutt, the then ruling hunks of Bollywood. His Hindi was anglicised (an obvious hangover from his Winchester College days in England) and he spoke with a pronounced rasp, faintly close to the baritone of his father, the legendary Nawab Mansoor Ali Khan of Pataudi. From his mother, Sharmila Tagore, he inherited a face that made him the butt of many Bollywood jokes. It looked as though Sharmila's face had been pasted on his. A woman editor, who wrote derisively about the resemblance, got the furniture in her office smashed by an angry Saif, who barged in allegedly to "assault" her. The incident became a court case and after that the media politely started calling him the "man with a funny face".
Nevertheless, there were a few patronising filmmakers like Umesh Mehra (Aashiq Awara), Ravindra Peepat (Aao Pyar Karein) and Harry Baweja (Imtihaan), who, out of respect towards the family, stood by Saif and gave him work during those initial years. But there is a limit to being over-indulgent, especially when all these solo-starrers were bombing at the box-office. Mehra, in fact, persisted with him for a second time with Yaar Gaddar, opposite Somy Ali. Lawrence D'Souza also tried him twice with Dil Tera Deewana and Aarzoo. But nothing seemed to work. From routine romances, Saif switched to doing comedy (Vikram Bhatt's Bambai Ka Babu) and socials (Kundan Shah's Kya Kehna). But somehow he seemed plain incapable of carrying a film on his slender shoulders.
Simultaneously, a strange thing happened. All films, in which he was paired with another hero as the second or third lead, started doing remarkably well. Yash Chopra figured this out early on when he pitched Saif against Aamir Khan in Parampara in 1993. The very same year, Umesh Mehra pulled off another hit, Pehchan with Saif and Sunil Shetty. Then came the Saif-Akshay Kumar series, beginning with Naresh Malhotra's Yeh Dillagi, Sameer Malkan's Main Khiladi Tu Anaari, Guddu Dhanoa's Tu Chor Main Sipaahi. In between, Milan Luthria paired him with Ajay Devgan to produce another hit, Kachche Dhaage while Sooraj Barjatya got Salman Khan to share screen space with him in Hum Saath Saath Hain. In fact, looking back now, it would be hard to identify a single mainstream hero (or heroine) with whom Saif has not worked.
The double-hero films in which Saif acted in the 1990s were as inconsequential as his solo starrers, except that they fared well commercially. If he played a prankster in one, he was a crook in another, a loser-in-love in the third, a smart aleck in yet another. There was really nothing about them to distinguish him and all he was left with was to bask in the reflected glory of their success.
The credit, of course, was hogged by the first lead and by immediate extension, the heroine. The odd part is that Saif did not ever grudge being relegated to playing a second fiddle to the main hero. He was either too laidback to strategise (the way Shah Rukh and Akshay Kumar do) on the career front or else, had reconciled to appear as a glorified sidekick. Somehow, he displayed a complete absence of motivation and this showed in the way he hammed his way through films like Yeh Pyar Hi To Hai, Love Ke Liye Kuch Bhi Karega and Rehna Hai Tere Dil Mein.
The turning point came in 2001 when Farhan Akhtar's Dil Chahta Hai brought about a dramatic change in Saif's approach to work and confidence level. Much as it was also a multi-starrer, the way he stood up to the equally high-powered performances by Aamir Khan and Akshaye Khanna, revealed a new resolve in him at proving himself as a serious actor. From then onwards, every character that he played has been strongly etched and fleshed out, be it the spooky hotel guest with a penchant for cigarettes in Darna Mana Hai or Preity Zinta's bumbling suitor in Kal Ho Na Ho, the manipulative conman who betrays his girl in Ek Hasina Thi or the carefree, flirtatious cartoonist in Hum Tum. There were some disappointments also, such as Line Of Control (LoC) and Eklavya, but those were few and far between.
By 2005, when he played a cool and refined Shekhar Roy (opposite Sanjay Dutt) in Parineeta, he was on a strong footing and thereafter, it became clear that he was anxious to extend his repertoire with a variety of offbeat roles. Films as diverse as Being Cyrus, Omkara, Salaam Namaste and Tashan bear testimony to a healthy appetite for taking risks and more importantly, his in-born talent that has remained untapped for so long.
Today, if Saif is in so much demand, it is for these reasons. He has come to be regarded as the most visible face of a resurgent Bollywood, a cinema that is at once bold, exuberant and bursting with raw energy. For a young and restless generation, he is the ultimate dude - cool and sexy. He represents quality and class, something none of the other top ranking heroes can match. But more than anything else, here is one mainline actor who is constantly experimenting, reinventing himself, breaking new ground. For by now, pushing the bar has become a habit with him.
His best is yet to come.

"I cannot speak about Saif because I am biased towards him. For me, he's the best. He has proved his credentials as a superb actor. Need I say more?"
— Kareena Kapoor, actor

"I have a very old relationship with Saif, starting with my first film Kachche Dhaage and then Kya Kehna. He is a very spontaneous actor - my favourite all the way. Success hasn't affected him at all. He was this sweet, down-to-earth boy I knew and today too, he is the same."
— Ramesh Taurani, producer

"Saif has always been like a kid brother to me. He does all his stunts, except the love scenes - he calls me for them. He never takes life too seriously and he's the kind of guy you want around, no matter what scene or song or show you're doing. He's got quite an addictive personality."
— Akshay Kumar, actor

"We both got a huge boost with Hum Tum. All of us looked at him as a metrosexual, cool, urbane dude, a comic actor, whereas he is capable of so much versatility. He is a super-actor. Now that he has tasted blood, he'd be raring to go. But he shouldn't be repeating himself."
— Kunal Kohli, director

"Saif has really worked very hard to reach where he is today. As a parent, I am not overly concerned about his career because he has, of late, become very focused and his choice of movies shows that."
— Sharmila Tagore, mother