SOCIETY
The gorgeous dupatta
That colourful swathe of cloth thrown around the shoulders can sometimes be the most important element in a salwar-kameez or churidar-kurta ensemble, says Banalata Bipani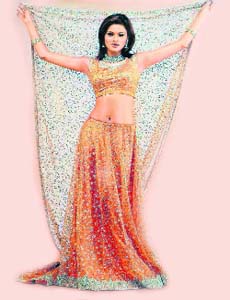 Dupatta is a favourite with all designers as an accessory to enhance a bridal outfit
HAVE you seen the way a really attractive woman sometimes leaves or enters a room? With a swish and a swirl of her beautiful dupatta? That colourful swathe of cloth thrown around the shoulders can sometimes be the most important element in a salwar-kameez or churidar-kurta ensemble. Whether it is studded with swarovski crystals, or is humble bandhini, plain cotton, or a strip of crushed golden tissue, dupattas do add a certain something to the whole look of an ethnic ensemble, especially when it comes to bridal dupattas.
Heavy bridal dupattas have never gone out of fashion. The exclusive designer wear at established boutiques can go anything up to a few thousands. The improvisation has been a gradual process. Differently labelled—chunari (in Gujarat), leharia (in Rajasthan), dhathu (in Himachal Pradesh) and the chador (in Assam)—ace designer Ritu Kumar's exclusive bridal dupattas are any bride's lifelong possession. If chickan-kari is the offering of Lucknow's craftsmen to the field of fashion, kantha work finds roots in West Bengal. Not to forget the Punjabi community where chunni
charana is a very special wedding ceremony.
In fact dupatta is a favourite with all designers as an accessory to enhance a bridal outfit. At the Sanjana Patel's design studio you can find crinkled muslin dupattas in vibrant and pastel colours (Rs 550 each), antique brocade odhnis (Rs 6000 each) and two- coloured georgette dupattas with sequins (Rs 4,500 each).
But it is in the traditional standing dupatta of Hyderabad that the bridal dupatta has come into its full beauty. Mughal Empress Noor Jehan called Persian and Turkish craftsmen to India in the 17th century, and they passed the secret art of crafting royal dupatta dresses only to their descendants. Later the begums of Nizams of Deccan adapted the original Mughal style, especially in the form of khada dupattas.
In the newly renovated Chowmahalla palace in Hyderabad, a gallery displays a tableau on the life of the begums. Quite a few don the khada dupattas—a four-piece ensemble that includes a trailing dupatta. There is one khada dupatta adorned with intricate zari work that weighs 17 kg.
The khada dupatta is a traditional outfit composed of a kurta, chooridaar and six-yard dupatta, and is traditionally worn by Hyderabad brides.
This is an elaborate outfit where the dupatta is almost the length of the saree and is draped in a certain style. The other components of the traditional khada dupatta are also equally gorgeous. The kurti is a two-piece ensemble with an inner blouse and a sleeveless tunic.
This is decorated with a heavy lace called the masala. Traditional neckline in Hyderabadi style is with embellishment of a golden zari border on neckline, armholes, half sleeves and entire flare.The neckline has delicate golden chords for tie-up. Sometimes the kurta is sleeveless and worn over a koti resembling a choli.
The churidar pyjamas are straight pants but the churis are lot less than in regular outfits. Brocade fabric of churidar pyjamas is made exclusively to complement border on kurta and dupatta. The brocade has intricate golden zari floral pattern. All pyjamas have snap button at ankles and finished with pre-stitched elastic belt/chord as specified.
The dupatta is the largest part of the outfit and is made of tissue material. Today, however, brides opt for net and even Banarasi dupattas since tissue does not fall gracefully. The colours preferred are usually golden yellow/red/ green. These traditional Hyderabadi khada dupattas are exemplary creations. The silk tissue is hand- crushed and reduced to width of half metre. The border is adorned with hand work of dabka, beads, mirrors, kundan and tikkis. Golden trimmings on both sides of the borders give an antique touch to the royal ensemble. Front and back panels are embellished by handmade borders which are adorned with zardozi embroidery.
But it is not easy to swathe yourself in this special dupatta as you do with ordinary ones. Like wearing a sari, there are ways of doing it. As a senior begum in Hyderabad told me, tuck the very top part of the middle of the dupatta into the back of the churidaar.
Make accordion pleats with both ends of the dupatta. Adjust both sides of the dupatta on the left shoulder. Keep them in place with a brooch. Bring the free ends of the dupatta under the right shoulder and over the inside of the right elbow.
As an exclusive couture mainly meant for Muslim brides, khada dupatta has not yet appeared in the general fashion. But of late fashion designers are turning to this exotic dupatta to make the bridal outfit gorgeous. — MF