Take to nanotech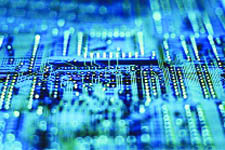 Vishal Gulati
With India being one of the fastest-developing economies in the world, its reputation as a centre of scientific excellence is growing too. This means that career options in research and development (R&D) are increasing manifold. One such field that is gaining popularity is nanotechnology. With the international market for nanotech products and applications projected to grow in the next decade to over $600 billion annually, India is poised for a bright future in R&D.
Smart Skills
Raising the Bar, virtually


Usha Albuquerque
A cyber lawyer handles crimes like hacking or credit card frauds and safeguards e-commerce on the Net
Hacking of Internet sites, cyber virus contamination, credit card frauds are the new-age crimes of the technology age. With the phenomenal growth of the IT world, known as cyberspace, more and more work, business transactions, and data in text, video or audio format are being recorded and transmitted in electronic format.


Careercature
Sandeep Joshi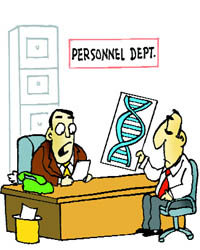 No need to show me your DNA report as proof of your loyalty, honesty and efficiency.

Career Hotline
Going places
Pervin Malhotra
Q. After doing my Bachelorís in English, I did my Masterís in Tourism and even worked for a couple of years in the field. But now this work no longer interests me. Unlike most people I canít seem to fix a goal or sustain it. I am very confused, nothing makes sense.
Sea your way
USual craze
Indian Popular Line
Oh dear, fat salaries eating into IT cos' margins
Leave alone the adverse effects of economic slowdown, the Indian IT industry is fearing that fattening pay packets for employees could cut down their profit margins.
UK unplugged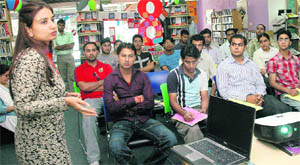 Seminar focuses on study prospects
The British Library, Chandigarh, recently organised a seminar on ďStudy Opportunities in the UKĒ. To conduct the seminar, the library invited education expert Aprajita Kalra, manager, Education UK, British Council, New Delhi, to update the interested candidates with first-hand information.
Students participate in a seminar on education opportunities in the UK held in the British Library at Chandigarh recently. ó Photo by Manoj Mahajan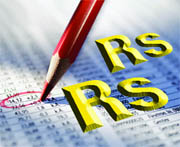 Added focus on finance courses
In order to impart knowledge of the financial sector to school students, the Central Board of Secondary Education (CBSE) and National Stock Exchange (NSE) have signed a memorandum of understanding. To begin with, plus two students will be groomed in financial market management, giving them the option to take it up as a career or just make them savvy enough to take care of their investment decisions in future.
Aditya Birla Group on hiring spree for financial services
The Aditya Birla Group has embarked on a major hiring spree for its financial services businesses with over a dozen recruitments taking place in the top executive levels in the recent months.