Encroachments Galore
Milap Road commuters' nightmare
Jalandhar, May 29
Call it a lackadaisical attitude of the municipal corporation or irresponsible approach of the masses, encroachments are aplenty along Milap Road leading from Milap Chowk to Central Town.
Mystery shrouds school fire incident
Jalandhar May 29
In a fire ignited in a mysterious manner, answer sheets of the students of the local St Joseph's Convent School were burnt.
Fruit vendors protest by burning rehris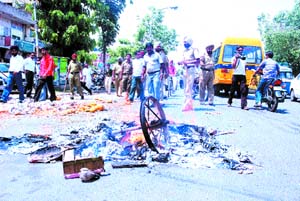 Jalandhar, May 29
Fruit vendors squatting around Masand Chowk in Model Town today resorted to a protest by blocking the traffic and setting their own rehris on fire when a team of the municipal corporation officials reached the spot asking them to vacate the encroached roadsides.

Vendors burn their rehris to protest against the anti-encroachment drive of the municipal corporation at Masand Chowk in Model Town, Jalandhar, on Thursday. —Tribune photo by Pawan Sharma
Biz Buzz
Innova - going strong
Jalandhar: Punjabis have a penchant for MUVs and SUVs and Innova from Toyota Kirloskar Motors has proved it with a 51 per cent growth rate in the state.
Brig Hariz new sub-area cdr
Jalandhar, May 29
Jalandhar Cantonment Sub-Area Commander Brig B.B. Patil handed over the charge of 91 Sub-Area to Brig P.M. Hariz here on Wednesday. The ceremony was attended by a large number of soldiers, ex-servicemen and civilian employees. rigadier Patil, during his tenure performed multifarious duties in Jalandhar Cantonment which include the Station Commander, the president of the Cantonment Board and the chairman of Kendriya Vidyalayas.
New political party launched
Jalandhar, May 29
A new political outfit, People's Party, was launched here on Wednesday.While addressing a press conference, party president Joginder Singh Mattoo said the party would work for providing basic amenities to the downtrodden of society. The party would soon release its 11-point programme in the public, he added.
Bike torched, car vandalised
Phagwara, May 29
Unidentified miscreants torched a motorcycle and vandalised a car here on Wednesday night.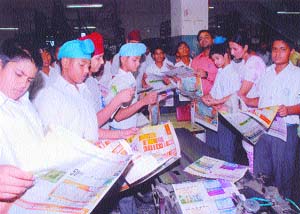 Young World
CT students visit Tribune press
Jalandhar, May 29
CT Public School organised an education tour for its students to The Tribune printing press, Jalandhar. The students were apprised of different techniques used in printing, including plate making. They enjoyed seeing the printing process and many of them expressed the desire to join the print media.

Students of CT Public School during their visit to the printing press of The Tribune in Jalandhar.
Ex-servicemen, widows get financial aid
Jalandhar, May 29
A function was organised at the District Sainik Welfare Office here for the distribution of financial assistance among ex-servicemen and widows. A sum of Rs 2,21,700 was disbursed under various welfare schemes.
Letters
Dog menace