Merchant of dreams
Buddhadeb Dasgupta was honoured with the lifetime achievement award at the Spain International Film Festival in Madrid on May 27. Shoma A. Chatterji traces the journey of this poet-director whose films have moved audiences the world over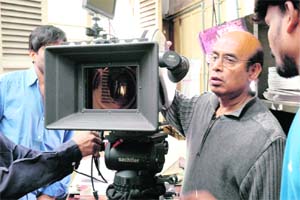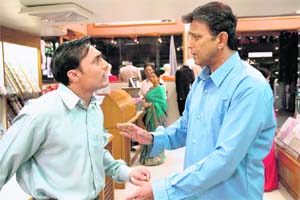 Buddhadeb Dasgupta's Kaalpurush, that had won a National Award, was recently released in West Bengal and got rave reviews
MANY people dream but only a few have the courage and drive to follow their dreams with conviction and turn them into reality. Dreams of ordinary men and women— that is the stuff Buddhadeb Dasgupta's films are made of and that is what gives them their global appeal.
In Buddhadeb's Kaalpurush Ashwini Banerjee (Mithun Chakraborty), a small town doctor, sees a picture of a beautiful place and christens this utopian discovery, Kusumpur. Unable to cope with the isolation forced on him by his once-loving wife Putul (Laboni Sarkar) and growing son, due to a misunderstanding over his interaction with old flame Abha (Sudipta Chakraborty), he leaves for Kusumpur, never to return. Years later, his son Sumanto (Rahul Bose) feels a similar urge to go in search of Kusumpur.
This quest epitomises the hunger of every human being for finding his niche in the world, Buddhadeb Dasgupta has found his niche in world cinema.
He was honoured with the Lifetime Achievement Award at the Spain International Film Festival on May 27. A retrospective of six of his films: Charachar, Bagh Bahadur, Mondo Meyer Upakhyan, Kaalpurush and Lal Darja, was also a part of the film festival.
However, this dream merchant remains unfazed by all this attention and acclaim. On being asked how he felt on getting the lifetime achievement award, a rare feat for an Indian filmmaker, Buddhadeb said, "I am really happy and overjoyed with the Madrid award. It is very good news, true. But I don't keep my awards in either my mindspace or my house." On the personal request of the Chief Minister of West Bengal, Buddhadeb has taken up the chairpersonship of the Satyajit Ray Film and Television Institute. He has also been made the Chairperson of the feature films' jury for the National Awards this year and will be chairing the panel that selects films for the Indian Panorama for the next FTII.
His new film The Voyeurs is the only Indian film which evoked the interest of buyers at the Cannes market. The film, which has had "one market screening in Cannes, has commercial prospects according to some critics. The buyers, mostly Europeans, were interested in the art-house genre. Variety gave the film a good write-up when it was screened at the Toronto International Film Festival last year," said Rohit Sharma, sales agent of the film.
Buddhadeb's romance with the camera began during his college days when his association with the film society opened his eyes to the world of cinema as a form of self-expression through images and poetry. His membership of the Calcutta Film Society exposed him to the films of Charlie Chaplin, Ingmar Bergman, Akira Kurosawa, Vittorio De Sica, Roberto Rossellini and Antonioni, triggering within him, a secret dream to make films himself.
One of a handful of filmmakers who still represent the new wave of Indian cinema, Buddhadeb has consistently tried to define and re-define the significance of the auteur in cinema. From Dooratwa in 1978 to The Voyeurs in 2007, the stamp of his individuality is marked cinematographically and through his choice of his literary source.
"It began with a 10-minute documentary in 1968 titled The Continent of Love. My King of Drums (1974) won the Best Documentary Award," he informs. "I learnt my craft from watching films, reading about them and listening to people talking about them," he says. In 1978, he made his first full-length feature film, Dooratwa (Distance.) Based on a short story by noted Bengali litt`E9rateur Sirsendu Mukhopadhyay, the film was completed in just 16 shooting days on an incredibly low budget, exposing just 20,000 feet of film.
The third of nine children, Buddhadeb was born in February 1944 in Anara near Purulia in South Bengal. "I am not a city boy. I am grateful for having spent my childhood in the proximity of nature and simple rustic folk. Dasgupta's father, Taranath, was a railway doctor who traveled frequently from one village to another, and the family moved with him too. Dasgupta was brought up in an enlightened, liberal and middle-class environment. His father's emotional moorings lay in the ideology of Mahatma Gandhi and later, in the post-Independence period, in Marxism. His mother used to sing Brahmo hymns and Tagore songs and read out to her children from the Puranas, the Upanishads and the Bhagvadagita. This helped them develop a deep sensibility towards music and a feel for tradition.
Buddhadeb studied economics at Calcutta's Scottish Church College and Calcutta University. He taught the subject at the Shyamsunder College in Burdwan followed by one more stint at the then City College in Calcutta till 1976.
The gap between the economic theory that he taught and the actual socio-political reality he perceived made him quit teaching and take to film making.
Young Buddhadeb was sensitive to the beauty and richness of the life around him, which spoke to him through images. "I used to think in terms of images. I kept storing them in my mind's hard disk. I can recall and translate them into the idiom of cinema whenever I wish. These images keep coming back in my films," says Buddhadeb. A simple childhood mantra of chhoti moti pipra boti, lal darwaza khol de came back in little Navin's fists in Lal Darja. The Telugu performers found a voice in Bagh Bahadur and the village magician turned up in Tahader Katha. "My fondness for films was a natural offspring of my passion for poetry and painting," he says.
Buddhadeb's cinema is also about journeys and of loneliness. "Images of my childhood are linked to my adult life and to my cinema. The family was always on the move. The houses where we lived were so thickly crowded that I never had the chance of being alone with myself. My association with literature, music and painting pushed me into the realm of loneliness. This was painful at times but has also been creative in many ways," he reminisces. "Sometimes, wandering from one room to another was more than taking a journey, while flying from one country to another was not. The most important thing is to be able to relate to these — journeys and loneliness, and to try and discover how you respond to them. I can neither write nor make films without these two essential elements of my life. At times, they appear allegorical, but they are real, believe me," he explains.
Few people outside West Bengal are aware that Buddhadeb is a talented poet too. His inspiration comes from the simplest of ideas such as the cat whom his mother fed, his mother playing the piano and singing songs, a donkey, a brand of a slippery gooey fish called the Magur in Bengali and even a man trying to make conversation with his wife through a long-distance call from an STD booth. Among his published works are: Govir Araley, Coffin Kimba Suitcase, Himjog, Chhaata Kahini, Roboter Gaan, Sreshtha Kabita, and Bhomboler Ascharya Kahini O Ananya Kabita.`A0Some of his collections have been translated into other languages such as The Story of an Umbrella and Other Poems translated by Lila Roy and Other Forms of Death: the Poems of Buddhadeb Dasgupta. Novels penned by him are: Nikhiler Benchey Thaka, America America, Rahasyamay and Yasiner Ascharya Kahini. There is a compilation of essays called Swapna, Samay O Cinema.
`A0Buddhadeb is a typical product of the turbulent 1970s. The poet in him with pronounced pro-Left sympathies could not stay aloof to the volatile atmosphere of the time. Buddhadeb says that he never intended to be a political filmmaker. Little-known facets of Buddhadeb, such as his love for painting, the deep influence of poetry on his life and films, his love for music emerge at different points of Portrait, a 21-minute documentary on the filmmaker made by Sankho Ghosh.
"I have created 12 full-length feature films in my long innings of more than 25 years. I make a film only when I am convinced that I am ready for it. There is a long gestation period between one film and the next. For example, I have producers ready to produce my next project but having made three films in a row, I need to sit back, relax and think," he says. But this doesn't seem to be the case as he is not resting on his laurels and is all set to begin shooting a telefilm, Janala (The Window).
The journey continues.
Buddhadeb is the only Indian director whose five films have been screened in the Masters Section of the Toronto International Film Festival, which features the latest films of the top 10 filmmakers of the world.

He won the special director award for Uttara at the Venice Film Festival.

He is the first Indian filmmaker to get the Golden Athena Award at the Athena International Film Festival in 2007.

Most of his films such as Lal Darja, Mondo Meyer Upakhyan, Swapner Din (2004) and Kaalpurush (2005), have won the National Film Awards in India.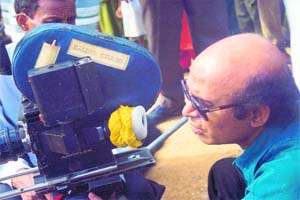 "All of us have a cherished dream for which we live. We begin the journey of life to fulfil this dream. But while some of us succeed, some don't. My films revolve around this quest for the realisation of dreams. Mondo Meyer Upakhyan is no different. Loti wishes to complete her studies and live a life of dignity and self-respect. Enlightenment through knowledge is the purpose of her life's journey. Rajani, on the other hand, dreams of money, of lots and lots of money. Natabar wants a friend he can pour his heart out to. He adores Loti, but his dream remains unfulfilled. Ganesh dreams of running away from a life of ignominy. But can he really escape? This constant vacillation between the real world and the world of dreams forms the crux of my characters in Mondo Meyer Upakhyan."
Dooratwa, Grihajuddha and Andhi Gali form a loose trilogy because the common thread that links the three films is the notion of disillusionment with idealism and political commitment and the spilling over of this discontent and restiveness into the personal lives of the characters concerned. Each film has an independent story, sourced from an original literary piece and re-scripted to suit the needs and interpretations of the director and his medium. Each film has its own statement, plot and theme. Each film is complete in itself. Yet, they are placed in a setting that has the same political history of extreme Leftist politics in West Bengal. The male protagonist in each of these films has a background of Leftist commitment. The present finds him trying to distance himself from this past. This 'running away' somewhere along the way, turns into a running away from life and from the responsibilities and relationships that form the core of life. Contrary to common expectations, the three films did not follow sequentially. Dasgupta broke the 'continuity' after his first full-length feature Dooratwa with Neem Annapoorna in 1979. He then made Grihajuddha and Andhi Gali in succession. The three films are set against the background of the Naxalite movement and depict the dimming of the flame of idealism and the lighting of the fire of respectability, kindled by the ardour of acquisitiveness