Owners of teams spent big bucks to buy big names from abroad, but many of the foreign players failed on all fronts and their teams couldn't make the grade. Ivninderpal Singh checks out some of these players' performances
Shahid Afridi
Deccan Chargers
$675,000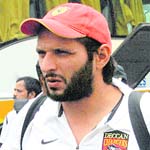 GUESS who holds the record for the fastest ODI century (37 balls) and has the highest career strike rate in the history of one-day cricket? It's "Boom Boom Afridi" with a superb strike rate of 109.38. The presence of such a player in the team might scare off any bowling attack. But in IPL it was the other way round. It was the bowlers who showed Afridi his place and never allowed him to dominate the proceedings.
Afridi, who played in the league for Deccan Chargers, managed just 81 runs in 10 matches. Whenever his team needed him to fire, he always came a cropper. In the entire league, he could face only 46 balls and failed to score even a fifty (his highest score in IPL is 33). Afridi played his first match in IPL against Delhi Daredevils. Chargers were struggling at 45-4 when he entered the Rajiv Gandhi International Stadium in Hyderabad amid huge applause. Fans were expecting a run-rain from him at the home ground. But he failed to weave any magic with the bat and succumbed to his suicidal tendency.
Otherwise known for his inconsistency, Afridi remained 'consistent' with his scores at 2, 10, 13, 1, 20*, 1, 33, 0, 1 in all innings he played. "Aided" by his "brilliant" performance, Chargers managed just two victories in 14 matches and went winless at home.
Matches: 10
Runs: 80
Misbah-ul-Haq
Royal Challengers
$125,000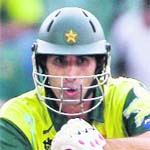 EVERY cricket buff in the sub-continent remembers the final of the T20 World Cup. In the final, Misbah-ul-Haq looked set for his golden moment as his lusty shots, laced with lazy elegance, threatened to take the match away from India. It came down to the last over and Misbah spooned the ball only to be caught at fine leg. The dream went sour, but Pakistan unearthed a new star. In the Test series in India, Misbah was again in sublime touch and defied Indian bowling onslaughts.
So when IPL was launched, it was an obvious thing for teams to go after him. Finally, the Bangalore franchise, owned by Vijay Mallya, signed him. He missed the initial IPL matches due to Bangladesh's tour of Pakistan. But even after he arrived, he was made to sit out a few games. His team got kicked left, right and centre, and that's when he was drafted in.
Big things were expected of him and for once the Bangalore fans, keeping nationalities apart, were rooting for their imported T20 specialist. But things went from bad to worse for the team and for Misbah. To say that it was a case of wrong man for the wrong team might not be an exaggeration. After all he, a T20 specialist, had joined a team deemed fit for Tests. But yet, his figures speak volumes to which IPL dented the "image" of our "heroes" and he is not the only one going down.
M: 7
R: 117
Herschelle Gibbs
Deccan Chargers
$575,000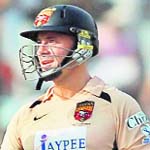 Remember South Africa vs Australia one-dayer on March 12, 2006, in Johannesburg when Aussies scored record 434. No body would have ever thought that this record will fall in a day. Herschelle Gibbs (175 off 111 balls) made it possible.
But that is history. In IPL it was a different Gibbs whose performance was below par and couldn't justify his stature as a world-class player. Nobody would have ever thought that the team, which has players like Gibbs, will perform miserably and will be at the bottom of the heap.
Gibbs became the first player to hit six sixes in one over in ODI history, doing so against the Netherlands in the 2007 World Cup. So his 165 runs in the entire league were too costly for the owners of the team. Throughout the league, the South African kept obliging the bowlers.
He went without even a fifty and never looked comfortable. Even in his last match of the league against Chennai Super Kings, Gibbs managed just eight runs.
His fielding too was far from being impressive. One of the best fielders at backward point, Gibbs was never a threat to the opposition who converted there singles into twos. Though he has earned a reputation in the cricketing world, but in IPL an out-of-form Gibbs struggled and failed to create his niche in Indian hearts.
M: 9
R:112
Jacques Kallis
Royal Challengers
$900,000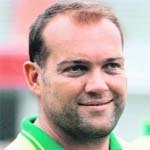 THE tag of the best all-rounder in world cricket doesn't come easy, and Jacques Kallis sure knows it. After enjoying the status, unopposed, for the past some time, he made a mistake; joined IPL. The South African selectors had left him out of the T20 World Cup team and going by his "exploits" in IPL, they were justified.
Any cricket buff would like to believe that an all-rounder is the most potent weapon for a team in the shortest version of the game. So when the Bangalore Royal Challengers got Kallis, the joy of their fans knew no bounds.
He was expected to anchor the innings, hit huge sixes to up the ante and pick crucial wickets. To say that he failed is not just an understatement; it is also a case of playing soft on harsh facts. Kallis was stuck in a team that looked a little out of place, but he should have left his mark instead of a blob. He along with Dravid were the biggest batsmen in the Bangalore-based team. They were to shoulder the crisis, if and when it came. Sadly for them, the world collapsed and they didn't know how to play Hercules.
He did try to settle into the fast mode of T20, but it was probably to fast for his ageing legs. He surely has cricket left in him, but he should try and use it where he is more comfortable. And a certain format of the game with white kits and a red ball might not be a bad place to start.
M: 11
R: 119
Scott Styris
Deccan Chargers
$175,000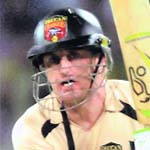 THIS Australian-born New Zealand cricketer is well known for his heroics with the bat and ball. His image as an allrounder fetched him a good deal in IPL. But his 112 runs in eight innings compounded the problems for the Chargers. And still worse; his scoring rate in the league is well below hundred in this quick-fire format.
His debut match in IPL was against Kolkata Riders at the Eden Gardens and Chargers were tottering at 47-4 when he walked in. But he was back in the dugout after scoring just six runs off seven balls. When it came to bowling, he went wicket-less in the stipulated four overs. In the last league match against Dhoni's boys, he tried his 'best' that Hyderabad remains a good host by losing all home games.
Styris never became a pivotal point in any match of the tournament except against Chennai when he remained unbeaten on 36 and played an important role in outplaying the Super Kings at their home ground. In almost all matches, Styris preferred prudence to valour, squeezing out a single or two. He managed just two sixes and nine fours in the 123 balls he played in IPL.
Although Styris was not a costly purchase as compared to other foreign players in his team, his presence failed to power the Chargers leaving them at the bottom of the eight-team league.
M: 8
R: 112