OFf the shelf
The world of a writer
V. N. Datta
A Writer's People: Ways of Looking and Feeling by V. S. Naipaul. Picador.
Pages 192. £10.99.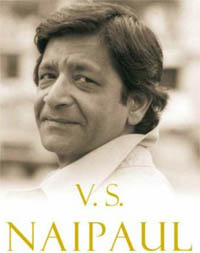 WHEN we review a book it is natural to ask, "What is the author's intention in writing his book, and what is the meaning and significance of his work. Is he saying something new, or saying what has been said or is he pouring the old wine in new bottle, of course, with changed labels." The author V. S. Naipaul, a Noble Laureate for Literature, makes it clear, "I wish only, and in a personal way, to set out the writing to which I was exposed during my career. I say writing, but I mean more specifically vision, a way of seeing and feeling" (p.41). But the author qualifies his statement, "Every kind of writing is a product of a specific historical and cultural vision."
Naipaul wants to share with his readers his own creative experience of how he grew into a writer, what authors he had read and how his interaction with some of them sharpened his skill, sensibilities and vision. In this illuminating work, he traces the various influences, including the imponderables which had worked on inexorably, influencing his personality and acting as a stimulus on his thinking. Naipaul writes, "English prose was the object of my writing ambition." Living in Trinidad, 'an agricultural colony', where educational facilities were inadequate, he took to learning the English language. His father, Seepersad Naipaul (1906-1953), did a few Trindad Indian life stories depicting how the transplanted people managed to live.
With his Hindi-speaking background, Naipaul started reading English poetry. Derek Walcott, the poet, who became later a Noble Laureate, fascinated him. He learnt some of Derek's poems by heart. Walcott's poems had a special appeal for the youth because of their sensuous flavour and literary beauty. At Oxford for four years, he read the works of Shakespeare and Marlow. Naipaul thinks little of what he got out of his teachers at school and Oxford. He was self-educated. He developed a special love for the colour, sound and meaning of words. He cultivated the habit of indulging in the habit of 'delicious word-play'.
Naipaul lays bare some of the difficulties that stood in his way of becoming an English writer: the lack of tradition in writing in Trinidad, his own Hindi-speaking background, and the existing social prejudice against those who had the ability to do some creative work. He had financial problems. His assignment with the BBC Caribbean Service rescued him from destitution. Later, when he settled in London, he began to review books for the New Statesman, which made it easier for him to live. He started writing for the Daily Telegraph, which brought him more money.
In the chapter An English Way of Looking, Naipaul comments on some of the English writers. He admires Anthony Powell, whom he regards "an important part of my education". Although Powell dealt with the external, not with the internal. On the other hand, Naipaul is dismissive of Graham Greene whom he thought banal, and Evelyn Waugh he regards flippant. In no case Naipaul would go in for Somerset Maugham. But he likes Mark Twain because he is clear. He respects his friend, the journalist Malcolm Muggeridge, for his ability to put his finger on the pulse of things.
Naipaul confessed, "I don't have a past that I can hold." He believed that "transported" Indians were fragile, rootless. He went to India for the first time in 1962. He felt attracted to Gandhi's autobiography, My Experiments with Truth, which made a profound impression on him. He found Gandhi's book, which he had dictated to his secretary Mahadev Desai in instalments by way of a small chapter every week, providing a key to his personality written in a direct and simple style. Naipaul read this autobiography several times, and every time he read it, he found in it something startlingly new and inspiring. Gandhi had wandered through the streets and fields of India, and understood the qualities of his countrymen, their weakness and problems which he tried to tackle in the light of his own experiences. His journey was like that of the Buddha, which Naipaul thought was opaque, but he found everything clear about Gandhi like the open sky.
Naipaul maintains that in his early political life, Gandhi had felt humiliated and sidelined which he took as a challenge and never lost heart, and struggled on. He was his own critic and censor, and every moment for him was a moment of self-analysis and scrutiny. He was clear-sighted to see the goal he set out to reach. According to Naipaul, Gandhi drew from sources, not only Ruskin and Tolstoy but Thoreau, from his mother's rustic religious ideas, the No Breakfast Association of Manchester and South Africa jail code! I think there were other decisive influences which had a tremendous impact on the shaping of Gandhi's personality and thinking like the Bhagavada Gita and Jainism.
There is much fascinating material in the book. Naipaul's prose is not grand or glittering but it is clear, neat, imaginative and flowing. His capacity to play with words and make phrases is astonishing. His penetrating intellect seized the best of Gandhi in his own way, which is inspiring, and is probably one of the best appraisals that this writer has read. In fact, Naipaul's insightful Gandhi's estimate is worth tomes of volumes written on him by historians and writers.