No rhona-dhona, please!
Anandita Gupta
If you thought women were watching only saas-bahu soaps, then you are in for a surprise!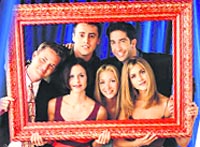 Let's face it. The saas-bahu sagas stand rock solid on TPR charts. We may grumble about these serials being so very unreal, hurl curses at Ekta and even refuse to sob when a Saagar or Vidya die, but soaps remain unshakable. So, we've sadly acknowledged these 'mid-dull' class entertainers as prime time maharanis.
However, don't give in to the prejudiced verdict: It's women who love sob soaps. For, city women surprise us by turning the verdict upside-down. So what triggers their adrenaline? We delve into their broadening entertainment spectrum.
Fashion Gyan
Reality shows are passé. And with music shows mushrooming everywhere, it is no longer music to the ears. It's rather fashion and entertainment that appeal to our swish set. "Fashion isn't about viewing a fashion show. It has to be more than grandiose clothes, maybe a show that's fun, unconventional and presented well," muses fashion stylist Kiran Grewal. Managing her company Balwaar, with 50 women kaarigars working on her crochet, phulkari and embroidered collections, the young designer simply loved Adventures of the Ladies' Tailor. "After Vir Sanghvi's A Matter of Taste, Discovery's done a smart thing by roping in popular designer Manish Arora as this show's host. This six-episode series took me on a colourful, splashy ride, deconstructing design the quintessential Arora way." What her mom Pretty Sandu loved best in the show was "the designer's chirpy and flamboyant nature along with the show's fast-pace."
Series vs serials
WOMEN today work, multi-task and live life the fast lane. Who has the time to keep track of who married or remarried? How many illegitimate children does Mihir have? Confirms HR professional Nidhi Bakshi, "I loved Ganges, Discovery's three-part series on river Ganga that was aired some time back. The special documentary on the epic journey of the life-sustaining river beautifully captured the spirit that binds the country. The focus on the economic activities that the river sustains in the towns located on its banks was particularly informative." Having recently returned from a Californian Ayurvedic retreat, she loves travel shows, "My latest addiction is Discovery's six-part series The Story of India every Wednesday, which reveals the diversity and richness of India, besides momentous events in world history."
High Life
Jewellery collector Gitanjali Gill can't get enough of glamour-laced lifestyle shows. "As the temperature rises, I cool off with the summer line up of luxury lifestyle. My perennial faves include Lifestyles of the Rich and Famous, while the recent add-ons are Limited edition and In High Spirits on NDTV Good Times. Focusing on all things luxe, these shows set the benchmark for what to covet, from million dollar-yachts to the finest chocolates!"
Rugged n' restless
City's young turks are game for watching travelogue-reality shows like MTV Roadies. Chirps 25-year-old Roopika Grewal, a social worker with Sikhya and Aasra Trust, "This reality show, wherein the participants roam around on Karizma bikes is interesting. I love the ruthless, weird tasks that participants have to perform, besides the tough-as-nails competition. Adds anthropologist Rajni Lamba, "The Oprah Winfrey Show is my favourite. I enjoy the edgy, in-your-face attitude of some participants here besides Oprah's quirky style. And of course, talking about young, how can we forget Friends? "While watching Friends, I forget it is a TV show and those are actors I'm looking at. They seem so real, every character in the serial has its own personality different from others," smiles Lamba.