Small village girl makes it big


Jalandhar, June 5
It was not an easy job for Manpreet Kaur to attain the mammoth score of 95.6 per cent (just one mark short of the local topper) in the recently held plus two CBSE examinations. Belonging to a remote village in the Bholath township, it is a huge accomplishment for Manpreet, especially given her limited resources and family background.
Young World
Seminar, rally mark Environment Day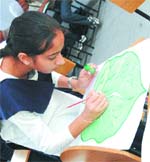 Jalandhar, June 5
The Punjab Pollution Control Board organsied a seminar on World Environment Day at Apeejay College of Fine Arts here on Thursday. Department of science, technology and environment secretary Dr A.S. Chhatwal presided over the function. He said, "While the figures speak of large scale environment damage all over the world, the good news is that the situation can be redeemed and for doing this no great steps are required".

A student of Manav Sehyog School paints a leave on World Environment Day in Jalandhar on Thursday. —Tribune photo by Pawan Sharma
'Save environment before it's too late'
Kapurthala, June 5
There is a dire need to save the environment from further degradation because the increasing levels of air, water, noise and soil pollutions are going to make human life virtually miserable. This was revealed by Prof Arun Deep Ahluwalia during a function organised on the occasion of World Environment Day at the Pushpa Gujral Science City (PGSC) on Thursday.