Mitigating quake misery
Arun Bapat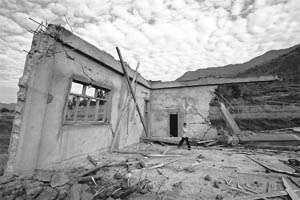 The 2005 Kashmir earthquake caused widespread destruction. — Reuters
Sometimes a scientific finding or observation has tremendous impact on safety and security of society. In case the severity of the impact is properly recognised and understood by society and administration, then the adverse impact of scientific findings could be reduced or mitigated to a reasonable extent. But if is neglected then society has to undergo acute stress and a possible gory scenario.
The authorised governmental agency for geological studies, the Geological Survey of India (GSI), after three years of field studies has come to a conclusion that the area in Uttarakhand is undergoing a high level of seismic probability. The geological and tectonic conditions are similar in Uttarakhand and Himachal Pradesh and the earthquake could occur in conglomerate of these two states.
An earthquake of magnitude 8.0 in the above region could adversely affect the neighbouring states equally. The destruction during earthquake is measured on Modified Mercalli Intensity Scale (MM Scale). If the highest intensity near the epicentre were around IX to X (in Uttarakhand or Himachal) then the area of about 40 to 60 km radius from the epicentre would suffer heavy damage. The area in the 60 to 100 km radius would suffer non-repairable damage. Beyond this distance the damage would depend on various factors such as quality of structure, design, maintenance, geology etc.
The area and the distribution of intensity in different neighbouring states will be in the range VI to VIII or so. The States and locations other than Uttarakhand and Himachal are: J & K (Udhampur and Kishtwar), Punjab (Pathankot, Hoshiarpur, Jalandhar, Ludhiana). Haryana (Yamunanagar, Panchkula, Jagadhari), Uttar Pradesh (Muzaffarnagar, Saharan-pur, Bijnore, Moradabad, Bareilly, Pilibhit). These are broad details and give the extent of likely damage.
In addition, Delhi, which lies at a distance of about 270 to 350 km from the potential earthquake epicentre would suffer an entirely different type of damage. In National Capital Region (NCR) only tall structures (height more than 17 metres could suffer heavy damage. Houses with one to three floors may not suffer or the damage may be minimal. Similar damage was observed at Ahmedabad located at a distance of 320 km from the epicentre of the Bhuj earthquake of 26 January 2001.
At present there is no mechanism to issue any seismic warning to common man. Most of the disaster management agencies come in picture during post-seismic period to clear the debris and corpses. The following is the list of short and very short-term earthquake precursors, which may help the common man to protect from the danger.
Water precursors: About two to four weeks in advance, the water level in the wells suddenly rises or the dry wells are filled with water. The flow in river, tributaries or nullahs suddenly rises. Similar observations were found prior to the Gujarat (2001) and Kashmir (2005) earthquake.
Thermal precursor: About three to four months before the earthquake the maximum and minimum temperatures go on rising. The readings are +1, +2.... etc (except on rainy days) and on the day of earthquake the temperatures are high by 7.0° to 12.0° C.
Seismo-electro-magnetic precursor: As the geo-magnetic field reduces, it adversely affects the propagation, transmission and reception of radio waves. About five to seven days before the occurrence of earthquake, the reception on radio shifts. Suppose a radio station is transmitting at 1000 kHz then the same programme would be received in the potential epicentral area at 1100, 1200,.....1500, 1600 kHz.
About three days before the earthquake the reception on landline would be of low quality. Telephones would suffer with repeated noise (Khar-Khar) and disturbances. The disturbances would rise till the time of the occurrence of earthquake.
About 10 to 15 hours before the earthquake the reception on television suffers from audio, visual and spectral disturbances. The number of disturbances goes on increasing till earthquake time.
About 100 to 150 minutes before the occurrence of the earthquake most of the mobile phones (cell phones) would start mal-functioning or non-functioning. This was observed prior to the Gujarat and Kashmir earthquakes.
Abnormal animal behaviour: About 10 to 15 hours before the earthquake all birds, animals, reptiles become restless and make noise. They will not eat or drink but show their restlessness. Domestic animals such as cow, buffalow, bullock, donkey, dog, goat, cat etc become restless and make noise. Birds will not sit on trees or nests but would fly in groups at low height with shrilling noise. Reptiles get frightened and come out from their underground hideouts and move aimlessly in a directionless manner. This has been prior to all earthquakes for last several years.
Prior to the earthquake and Tsunami of 26 December 2004, crabs, toads, snakes, turtles and some fishes were restless and came out of water. Ancient Indian scientist Varahamihir has mentioned about this precursor in his book.
Abnormal human behaviour: Human beings are also affected. About 10 to 20 hours before the earthquake, there is about five to seven times rise in number of delivery and OPD cases. People get restless and disease symptoms appear without any provocation. Sudden rise in blood pressure, irritation, head-ache, migraine, respirtory troubles etc. are manifested on a large scale in hospital.
The abnormal animal and human behaviour is due to rise in charged particles in the atmosphere.
The seismo-electro-magnetic, animal and human precursors are seen about 10 to 15 hours before the quake. If such precursors are seen then verify that similar situation exists in all houses and the check by telephoning nearby locations up to 70 km. If such observations are reported from an extensive area, then the probability of occurrence of an earthquake within next few hours could be assumed to be high. At this time switch off electric, water and gas connections in the house and sit in open space away from the collapse range of houses and trees with some food and a portable radio or television. Remember that in the present conditions, it may be difficult to hear any precursory warning from the administration. It is for the common man to watch and draw his own conclusions and save himself.
The writer is a research seismologist.