The aristocratic waistcoat makes a comeback in a new avataar. Make a style statement with these trendy mid-length pieces
Shahrukh wears one to the game show, Kya aap paanchi paas sey tez hain, Aamir's been floating it around at premiers, MTV VJ Ranvijay too makes a cool statement with it. Well, the aristocratic piece waistcoats makes a comeback. A little bit of altering and designing here and there and you have a brand new fashion statement.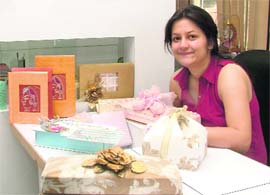 Cards, a matter of pride for Aditi
You can clearly see a dream wedding and so can Aditi Arora, a Chandigarh -based wedding card designer. "Wedding cards done artfully enhance the richness of the dream, says Aditi, who does exclusive wedding stationary, which includes designer cards for marriages, birthday parties, ring ceremonies and for occasions like baby announcement, mundan ceremony, house warming, jagratta, including designer boxes in exclusive designs with embellishments.

youth speak


All work & no play?
I haven't been to the gym for the sixth consecutive day now. As I struggled to button up my jeans, I noticed that, for once, laziness or lack of desire was not the reason. I haven't been sweating over a treadmill due to my hectic routine. Working out isn't the only thing that has taken the back seat; it goes for laundry and eating. Time restrictions are something that we all deal with.
Shirt Messaging Service
Got something to say, let your T-shirt do the talking
Don't we all want to make a statement- loud, screechy, weird, funny, sarcastic, humble ones? One out of the not too many options is the message T -shirts. While India's tennis star Sania Mirza chose to say things like 'Well behaved women seldom make history, 'You can either argue with me or be wrong', there are so many others who are succumbing to the temptation of message T-shirts.

Driven by passion & love for Punjab, Priya hopes to make Punjab, the new Mumbai
SHE loves challenges and describes building up teams as a fun-filled activity. Exploring an unknown territory is pure adventure for her, as for managing family and work, she does that with ease. A wife, mother, actor, director, creative head, anchor, producer, writer and more, Priya Paul Singh has now taken up a fresh task — to make Punjab a media hub. We chat up the COO and head programming of Just TV Punjabi and find out more about the channel and also what drives this Punjabi to work.
For laughs
Bindaas comes up with yet another rib tickling comedy kiss kiss bang bang featuring the eternal drama of men Vs women at the work place. KKBB telecasts every Thursday beginning June 5.
Add a SIZZLE
BEAT the heat with a steaming sizzler at Blue Ice-17.The sizzler festival offers a range of treats that are neither too heavy on stomach nor spell dismay for the weight watchers.
Sidelanes
Aussieland Unravelled


Australia is a great place where kangaroos, wallabies, koalas, ostriches, budgies and the deadliest snakes on earth are abound. DIL's brother worked there and certified it as one of the friendliest places on earth. Having many ancestors who were deported when not accepted by the parent country, (a euphemism for the British Empire) the Aussie's have a wild sense of humour, great courage and a down to earth attitude, which accepts all creatures great and small in all colours- pink, white, yellow, black, brown and combinations of all these. Shane Warne epitomises the Aussie attitude.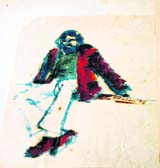 Easy on pocket, high on sentimental value & carrying the artist's signature — sketches emerge as an art investment
Collecting a piece of signature painting has become way beyond the means of most of us. A recent exhibition in the city showed how our homegrown artists like Madan Lal, Viren Tanwar, Brahm Prakash, Shiv Singh, Malkit Singh have grown in their chosen field, making us proud and sad at the same time. Sad, because when we saw the price tags of their works that read something like Rs 2 lakh and above, we realised that we have actually lost them to national and international buyers.
Creative Zone
Personality Talk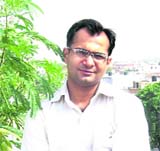 DO you subscribe to Dennis the Menace's tagline 'Nobody's perfect' and believe that there is always scope for betterment? Well, if yes, then help is just a bookshop away. It's in the form of Dr Anubhav Naresh's book Unveil Your Personality. Though the book is targeted at school and college going kids, anybody can benefit from Anubhav's observation on human persona.
Is anybody listening?
Plaguing our art scene is lack of raw materials, tell city artists
THAT Chandigarh has no buyers for art is an old grievance. Groups were formed, galleries mushroomed, exhibitions were organised periodically, budding artists blossomed into international fame, but the art scene remained exactly where it was. Exhibition venues still look deserted after the inaugural day; Government College of Art pass-outs still eye Delhi galleries for striking that dream deal.

Pure Beats
Sometimes the award and its recipient mutually reciprocate to the delight of distinction when a prestigious honour is bestowed upon the equally illustrious and deserving beneficiary. Rightfully decorated with the Punjab Sangeet Natak Akademy award at Amritsar by Punjab minister, Hira Singh Gabria, the city-based vocal classical maestro Pandit Yashpaul is undeniably the foremost custodian of Agra gharana today.
Green Drive
What better way to celebrate Environment Day than sharing experiences on nature with others. Prof R.C. Sobti, vice-chancellor, Panjab University inaugurated a photography exhibition at Student Centre.
Little Interview
PHIR Sarkar
After the disaster of Aag, Ramgopal Varma is back with his new film Sarkar Raj. The film is a sequel to Sarkar. RGV not only jumps genres with grace but also consistently redefines on the prevailing ones. "Sarkar Raj is the most satisfying film of my career", said RGV while speaking to Life Style. It has substance, grandeur and excellent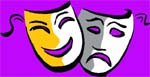 This Begum is a man!
Begum Varve, the name conjures up an image of a middle-aged woman with her trademark Paandaan in a Nawabi set up. But the Begum we are talking about is a man, a 60-year-old, living a dead dream. This is the plot for Umesh Kant's new play of the same title, which he is planning to bring up on stage by July end under the aegis of his Theatre Lab.
In Love ...
The scandal of her saucy photo shoot has barely died down and Miley Cyrus is back in the news again for all the wrong reasons - a reported relationship with an older man. Hollywood gossip site perezhilton.com reports that the 15-year-old 'Hannah Montana' star is seeing a back-up dancer named Marshall, who at 22 is seven years older to her. Cyrus came under flak for posing in nothing but a sheet for celebrated celeb photographer Anne Lebovitz.Shortly after that picture hit the stands in Vanity Fair magazine, it caused a mini uproar among her young fans.
Engaged?
Football star Cristiano Ronaldo's wedding rumours have been fuelled further, after his girlfriend Nereida Gallardo was spotted flashing a diamond ring on her engagement finger. Sources say that the Man-U ace had told Nereida that they would tie the knot later this year if Portugal wins Euro 2008. According to onlookers, they spotted what looked like an engagement ring on 24-year-old Gallardo's engagement finger as she was chatting on the phone in the street. —ANI