Bordering on a boom
With other townships in Chandigarh's periphery, like Zirakpur, Kharar and Mohali, already bursting at the seams, the border village of Mullanpur is set to emerge as the Mecca for land developers, writes Pradeep Sharma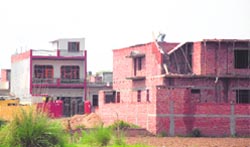 Mullanpur Garibdass is set to emerge as the new Zirakpur in Chandigarh's periphery. In fact, its proximity to Chandigarh is set to work in the village's favour, with big builders, bureaucrats and politicians making a beeline to purchase land there and cash in on the real estate boom in the region.

BRICK 'N' BORDER: Easy availability of land is making the Mullanpur area the new hotspot for builders. Photo: Pradeep Tewari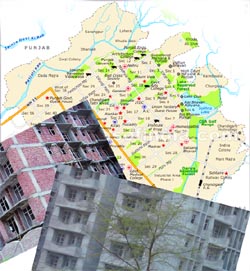 Mapping chaos
Umesh Dewan
Ever since Dehra Dun became the capital of Uttarakhand on November 9, 2000, the city has been witnessing tremendous growth, a constant increase in population and commercialisation. Though the city has progressed a lot in the past few years, what is worrisome is the fact that not only illegal construction activity is in full swing, but also that commercial establishments are coming up in residential areas without any check. And the main reason for this unregulated building activity is the government's failure to implement the masterplan. A perusal of the official files shows that the process of a new masterplan was started way back in 1999, when the state Urban and Rural Planning Department recommended a survey to assess the growth needs of the city over the next 25 years.
Room for more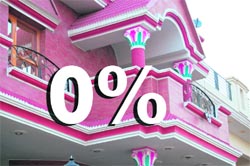 The demand for housing persists despite spiralling rents
R.P. Malhotra
Caught in a situation where the demand for housing persists but affordability is a rider, the realty sector is trying hard to bounce back. The tricity is facing skyrocketing rentals.
The concept of zero rentals is set to gain currency, for it offers benefits to both the home owners as well as tenants.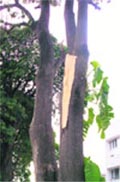 GREEN HOUSE
Prune prudence
Satish Narula
There is often confusion in the minds of gardeners and those engaged in planting on whether to prune a tree or not. Before deciding on this, one must understand the nature of a tree, when and in which case it needs to be pruned. There are two scenarios. One, when a tree is growing in the forest and the other, when it is part of an urban landscape. In the former case, it is free to spread its wings. There is no need to restrict its spread. In fact, most of the species create their own space.

Wrong pruning can result in the peeling of a tree trunk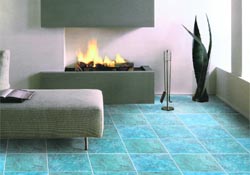 HOMES ALONE
Style with tiles
Harsimrat Kaur
If you are tired of the same old paints on your walls and want to get rid of the tedious job of colouring them frequently, then turn to tiles for lending a seductive look to your walls. Beautiful tiles will not only enhance the beauty of your floors and walls, but also make them durable. If fitted into your bathroom, they may even lure you into spending more time there, thus making you into a bathroom singer.
Tax tips
Claim apart
S.C. Vasudeva