THIS ABOVE ALL
Zia was all charm
KHUSHWANT SINGH


Khushwant Singh
Of the heads of many states that I interviewed in my long years as a journalist, the one who stands out for public relations is General Zia-ul-Haq, former President of Pakistan. It was not his Minister of Information or public relations officers, but only himself who left an indelible impression of warmth and goodwill on the people he met. Let me elucidate. My friend M.A Rehman, who I had known since my days in Lahore, wrote to me and asked if I would like to meet General Zia. I promptly replied in the affirmative. He was in the news for many reasons. The principal one being the sentence of death passed on his predecessor, Zulfiqar Ali Bhutto, whose fate was in General Ziaís hands.
An appointment was fixed for me. I arrived in Islamabad a day earlier and was put up in the best hotel. It was swarming with foreign pressmen, Americans, British, Germans, Voice of America, BBC, Deutsche Welle`85 you name it, it was there. Somehow they had sensed Bhutto was to be hanged the next morning. The evening papers also carried the news that an Indian journalist had been given an appointment to meet the President that very day. It was ploy to mislead foreign newshounds. The President was hardly likely to give an interview to an Indian after hanging Bhutto.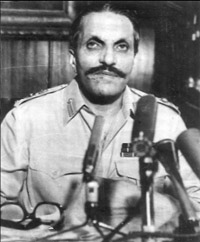 Zia was of average height. His 11-year rule was one of tyranny, which left the country in the hands of religious bigots from which Pakistan never recovered.

However, Bhutto was hanged early next morning. I was told to come back a few days later. I spent my time driving around Islamabad and Rawalpindi to see what the public reaction was. Apart from a protest march led by burqa-clad women and prayers for the dead, there was very little. Shops remained open. I flew to Karachi. Mani Shankar Aiyar, who was posted there, drove me around the city. Bazaars were open. Boys played cricket. There was no outward signs of mourning. I returned to Delhi.
A few days later I was back in Islamabad staying in the same hotel. In the afternoon a government car picked me up and drove me to the Presidentís residence in the cantonment. I was ushered in the sitting room and asked to wait a few minutes. On the table I found a pile of books written by me. I had no doubt that the President had not read them nor meant to do so. But they served the Presidentís purpose.
I had a list of loaded questions about his hanging Bhutto. All the venom I had stored inside me drained out. He came in dressed in silken salwar-kameez, shook my hands warmly and said: "Sardar sahib, before you ask me questions, please sign your books for me". Though much flattered, I did ask him: "General sahib, you could have shown mercy and commuted Bhuttoís sentence". He replied firmly: "Mercy is in Allahi domain, not in a manís. He was found guilty of murder and for the murder the punishment is death".
Zia was of average height with well-oiled hair, parted in the middle. Also, deep sunk dark eyes. They called him surmey wali sarkar (government with antimony in the eyes). After I had finished with my questions, his begum sahiba, a buxom fair lady, and their 12-year-old mentally-challenged daughter joined us for tea. When I left, General Zia opened the car door for me. No other head of state did that. A year or two later Rehman asked me to come to attend his sonís wedding in Lahore.
Although there was strict prohibition in Pakistan, in the shelf behind my bed I found six bottles of Scotch, courtesy General Zia. I wanted to visit Hadali, the village of my birth, 300 miles from Lahore. I was provided with a car and a heart-warming reception given to me by my fellow villagers. Again, courtesy Zia-ul-Haq. A year later my wifeís cousin Kuntaleen Kaur, who had married a Muslim, converted to Islam and became Noor Jahan begum. She asked me for help. Her ancestral property had been declared evacuee property and confiscated. I wrote to General Zia. Her property was restored to her.
When Swaran Singh, our Foreign Minister, called on President Zia, he and eight Indian diplomats were invited for dinner. After dinner Swaran Singh drove back to his hotel in the Presidentís car. Our High Commissioner drove off in his Embassy car. Dilip Mehta and Lamba had an Indian Ambassador car. Its battery failed and it needed to be pushed to get started. While Dilip and Lamba were pushing it out of the porch, President Zia joined them to push it. He then shook hands with the two and waived them off.
I have pleasant memories of General Zia-ul-Haq. Also a copy of Ghalibís poem, illustrated by Chaugatai, bearing the Generalís signature under my mis-spelt name. For me he was mard-e-momin (man of faith) and mard-e-haq (man of truth).
When Zia-ul-Haqís plane blew up on August 17, 1988, killing him, the American Ambassador and eight Pakistani generals and others, I was genuinely grieved. Nobody to this day knows who did it or why. I met his son at a dinner given by Minoo Bhandara, the only liquor baron of Pakistan. I asked him if he had any idea. He admitted his suspicions but no concrete proof of the identity of the assassins. Few people share my views. Most Pakistanis spit when they hear Ziaís name.
They say he became more than a willing tool in the hands of the Americans to arm Mujahideen and the Taliban to drive out the Soviets from Afghanistan. He allowed the Taliban to take over the north-western part of Pakistan and imposed the draconian Shariat laws on the country. His 11-year rule was one of tyranny, which left the country in the hands of religious bigots from which Pakistan never recovered. The most damning indictment now comes in the form of a powerfully written novel, A case of exploding mangoes, by a retired Pakistani Air Force officer, now head of the Urdu Service of BBC, Mohammed Hanif.
He portrays General Zia as a frightened little man scared of shadows, constantly consulting the Koran for hidden messages, a sadist who inflicted cruel punishment on anyone he suspected, including blind women, who created a scene when he was distributing cash to widows. He was publicity hungry and tried to get the Nobel Prize for Peace. Despite his religiosity, his eyes sought cleavages in womenís shirts to gape at their bosoms. He was a teetotaller. He justifies the man or men who put a time bomb in the crate of mangoes President Zia was taking with him on the plane. It is all dark fantasy but makes gripping reading.
Hanif is a born story-teller with excellent command over English. The publisher has assured it will be a best-seller but it is assumed that the book is likely to be banned in Pakistan. So every Pakistani and Indian will want to read it.
Please note: Khushwant Singh is on vacation. This
column will not appear for
the next two weeks.