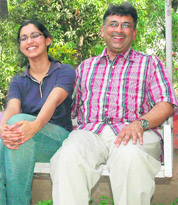 Advantage Girl
Increase in the number of families in the city with single girl child indicates that things are changing...
Much comes down to timing. The status of girls, which was synonymous with violence and discrimination, has seen an appreciable change, barring of course the areas where girls are considered lesser mortals. Coming back to the change, the city in particular has witnessed rise in the number of families with single girl child, and it goes without saying that they are more than happy and content with their caring daughters.
Dr Swami Dass Mehta with daughter Aditi. Photo by Manoj Mahajan
Cold comfort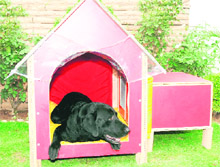 Doggies have their share of comfort, thanks to the air-conditioned doghouses
Comfort is going to the dogs, literally.

As the unseasonal rainfall brings about only a transient change in the discomforting dog days, air-conditioned kennels are fast finding their way into the hearts of pet lovers across the city. This is not all. Dogged to give the best to your pet; the not-so-dogmatic accessory manufacturers have also come out with special ice-gel jackets. If the idea is not gelling with you, there's exclusive ice-gel bedding for your doggie. Photo by Manoj Mahajan


Courtesan Chandigarh
Chandigarh is like a courtesan! Every year so many people come to her in search of satisfaction! Spend some gratifying moments in her company! And go away! But as they depart, they leave behind the city exhausted and robbed of beauty.

A date with tradition
Entertainment industry brings back Indian wear
It is hard to imagine life without colours, style and trends. Traditional outfits are passé, Gen-Y lives on the contemporary and westernized. Thanks to the daily soaps on television, working 24x7 to revive tradition, through the extensive display of Indian outfits adorned by the stars.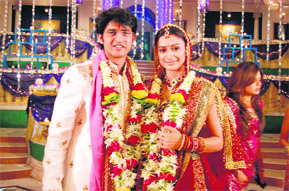 Telly Tales
Comeback of the 'X'
They come from nowhere and add yet another turn to the topsy-turvy plot
Widow remarriage, abortions, miscarriages, rape, adopting the second's wife son or daughter- yahan sab hota hai. You don't need to be a rocket scientist to guess what we are talking about. Welcome to the world of illusions, yahan kuch bhi possible hai. It's the world of homely K serials.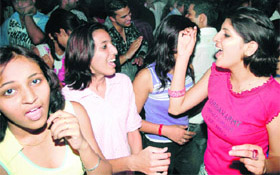 Where's the party tonight?
Here's your one-stop, self-help guide to the discs in and around the city. Take a look and decide where to go…
Wondering where to party this weekend. We get you a round-up of the discotheques in the city and around. So, all ya people let down your hair and dance till you drop dead or are virtually thrown out by the bouncers! Here, take a dekho.
Little Interview
Simply South
AFTER acting opposite Akshay Kumar in Saugandh and other Hindi films like Ikke pe Ikka, Phool Aur Angaar, Mere Sajna Saath Nibhana and making her presence felt in movies down south, actor Shantipriya is now all set to act in television. She essays the role of not only a goddess but also her various avatars, in the television serial Mata Ki Chowki on SaharaOne.
Bon apetit
Scream for ice cream II
THIS universal favourite appeals to people of all ages all over the world, both in the cold regions as well as in the Tropics. It is believed that Emperor Nero of Rome would send his slaves trudging miles into the mountains to retrieve snow, that was later mixed with nectar, fruit pulp and honey to create iced desserts.
KitKat Pleasure
Sip into this chilled chocolate treat
Confectioners across the city are adding the ingredient of ingenuity to thick shakes for blending taste with pleasure. And it's not just butterscotch-vanilla or chocolate-chip drink that they are offering. to give you the taste of something new. Digest this: They have come up with imaginative stuff like the "Kit-Kat" shake that simply promises to leave you craving for more.
Spice up
Refresh your skin
IT'S a good idea to keep one day in the week to give yourself a home facial. It helps to keep the skin in a good condition and also to counteract the effects of pollution and dirt, which are present in the air in most cities. It helps to refresh the skin and rejuvenate it after a week of stress, strain and fatigue.