Slice of rural life
Satinder K. Girgla
IIM—Ganjdundwara
by Rohithari Rajan. Indialog Publications. Pages 272. Rs 195.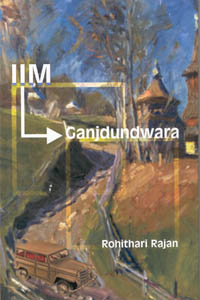 INDIA has two contrasting worlds—one that rests in its villages and the other that breathes in cities. The book is an attempt to bring both the worlds together. It gives a slice of rural life knit together by a number of mirthful incidents and characters who add colour to an otherwise simple story.
Two management trainees find themselves in a remote Indian village, experience an unknown world and try to make minor adjustments while they give shape to a rural initiative of an MNC.
As Rohit, the author, and Shyam, his partner on the project, set out for their rural stint, they hardly know each other despite studying at the same B-school. Shyam is a mature and focused man wanting to make a difference in the villagers' life, while Rohit, a befuddled youth, wants to make it big in life. He tries writing a book, but ends up with a number of abandoned attempts.
As the story moves ahead, the trainees develop a different kind of bonding despite having different temperaments. Although they do not see an eye-to-eye with each other on many things, they make a good team while handling various situations and characters, particularly their host, Martand Tewari, who leaves no stone unturned to look after them. Tewari's brother Anuj is kept at the guests' beck and call.
Character delineation is one thing in the book that calls for commendation. Many of the characters seem so real and lifelike that they leave an indelible impression on the reader's mind. One such character is Tewari, whose sole aim seems to stuff his guests with food even if they are full. His character depicts the hospitable nature of the rural folk who go to any lengths to keep their guests happy. Although his concept of hospitality seems strange to the author who tries to remain civil, yet fails in his attempts at times, particularly when he is woken up in the middle of a freezing night to have 'rabdi'. The story is replete with such incidents.
The story moves on smoothly but at a rather slow pace. Breakfast, bicycle rides, lunch, reading sessions, walks, dinner, sleep interspersed with long and frequent profound discussion on life, the universe, the book that Rohit plans to write and Shyam's love cover most part of the book. The monotony is, however, relieved by a number of incidents at intervals.
In one such incident when the city dwellers express their desire to buy bicycles for riding pleasure, it springs surprise on villagers as for them bicycles can only be used as conveyance and then follows the entire episode wherein a team of seven persons, including an expert, is formed. The party lands at a shop and after a lengthy round of introductions and discussions on family histories and politics, a cycle that looks more like a circus is bought.
In another incident, when Rohit and Shyam handover posters to the shopkeepers for their shops, they feel so delighted that they want to put them up in their homes. Such incidents not only lend comic touch to the story, but also bring out the simplicity of the rural folk.
The book also talks about some initiatives being taken by the government at the grassroots level. For instance, in order to prevent families from discontinuing their daughter's education, the government awards Rs 50,000 to parents who send their daughters to school till or beyond Class VIII. Also, there are passing references to schemes like micro credit, free distribution of books and mid-day meals.
The story heads towards a grim end as it touches the issue of honour killing. The story of two lovers—Lalu and Manju—runs parallel to the main story. Manju pays the price for being in love and is hacked to death. Lalu's friends plan his escape with the help of outsiders and the story heads towards a nail-biting finish. The reader's mind goes numb as he turns the last page.