Sentimental journey
Rajbir Deswal
Mr and Mrs Dutt: Memories of our Parents
by Namrata Dutt Kumar and Priya Dutt. Roli Books. Pages 200. Rs 695.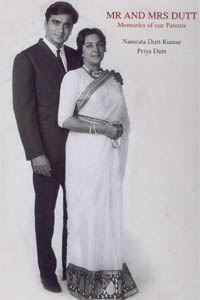 More moments of pain than deliverance are recounted in this book. All through the narrative, Namrata and Priya present insights into the life and times of the legendary actor-couple Nargis and Sunil Dutt with adulatory but honest references which are mostly taken, besides their own reflection, from the letters, souvenirs, documents and photos in the family memorabilia. The readers' interest is maintained by the information shared, as also by the pictorial sumptuousness.
While the travails of the Dutts evoke empathy laced with heaviness of sorts when it comes to their facing the painful events of accidents, injury, illness, financial lows and resultant agony, but what moved this reviewer the most is the description, when Sunil Dutt takes Sanjay Dutt's sisters for tying rakhi on his hand, in Thane Jail. The undertrial 'Munna Bhai' tells her sisters that he had nothing with him to offer as gift, and then he places on their hands, Rs 2 tea coupons which he had saved for offering them tea in the jail. Even Sunil Dutt could not help breaking down then.
Nargis—the name was given to Fatima by Mehboob Khan. Balraj Dutt changed his name to Sunil Dutt. Nargis came from a Bombayite environment of affluence and etiquette while Sunil Dutt was a son-of-the-soil who suffered the trauma of Partition and migrated to Bombay to support his family back home at Mandoli in Haryana. The story of Sunil Dutt saving Nargis from a raging fire during the shooting of Mother India is known to all, but the way the authors describe their mother's attending on Sunil Dutt almost as a doting nurse makes a very pleasant and soulful reading.
Any reference to the Nargis-Raj Kapoor 'futile' relationship could not have been even expected when the progeny chose to write about their parents. Nargis had acted in more than 40 films when Sunil Dutt had just begun his career in films. During a radio programme, when he was interviewing Dilip Kumar, Sunil Dutt was asked to give a screen test and was made to sign for Railway Platform. Till his last movie, Munna Bhai M.B.B.S, he had acted in about 70 films. His Yaden had only one protagonistDutt himself. Reshma Aur Shera, however, failed on the box office and the Dutts had to face a financial crisis when the family was in dire need of money.
The Dutts remained perpetually loyal to the Nehrus through the Indira Gandhi era up to Rajiv Gandhi and recently, till Sonia Gandhi's time. Nargis was awarded the Padam Shree and was also bestowed upon the status of being a member of the Upper House. The couple engaged themselves to social causes and organised programmes for the welfare of Army jawans in remote areas.
And then a deadly cancer of pancreas visited Nargis Dutt who had to be taken to New York for treatment. She died at a time when her pampered son Sanjay Dutt's (although he took most of 'yelling' from his mother) Rocky was to be released. The family took the tragedy in their stride but Sunil Dutt was a broken man. Sanjay's addiction to drugs followed by his alleged involvement in a terrorism-related criminal case in which he did come clean later, added to his miseries, but Sunil Dutt, a minister in Manmohan Singh's Cabinet had already gone by then on May 25, 2005. `A0The man, with his favourite daughter Priya, undertook several pad yatras in trying times in the true dedication of a patriot who felt for his country and his people.
In their Foreword to Mr And Mrs Dutt, Namrata and Priya describe their work as a "celebration and tribute to the exceptional people who we knew as Mom and Dad. To friends and admirers, they will always be the most remarkable and social people. Seen from the eyes of their children, an objective and impartial view is perhaps an unrealistic expectation. In all humility and quite simply, this book is a sentimental journey through cherished memories." And so it verily is.