The name's Bond, James Bond
Sarah Churchwell
Devil May Care by Sebastian Faulks brings back the superspy created by Ian Fleming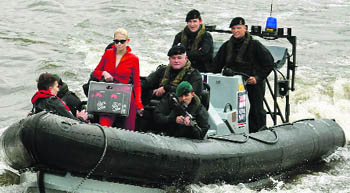 The first copies of Devil May Care were delivered under military escort from the printers to Waterstone's store in Piccadilly, London. Seven of the books were brought up the Thames by a Royal Navy speedboat, escorted by two helicopters. — Reuters
More than 40 years after the last adventure, a new James Bond book, Devil May Care, has arrived with its writer, Sebastian Faulks, warning that the spy is "not a slick superhero." According to a 1958 New Statesman review of Dr.No, the James Bond novels consisted of "three thoroughly English basic ingredients: sadism, frustrated adolescent, and the crude, snobbish cravings of a suburban adult." These ingredients no longer seem particularly English. Sex, snobbery and sadism are a global phenomenon, while the schoolboy bully, frustrated adolescent and snobbish suburban adult sound like Hollywood market research. Umberto Eco once likened Fleming's plots to a chess game, in which the same moves occur in the same pattern as two conflicting forces (not just characters, but also ideologies and value systems) battle it out.
It is hard to disagree: the Bond stories are catalysed by conflicts between individualism and authority, loyalty and betrayal, heterosexual desire and misogyny, and luxury and sacrifice, to name just the most overt, and the most enduring, of the themes. But sex, snobbery, and sadism remain the bedrock of the Bond mystique.
It seems unlikely that Sebastian Faulks' eagerly awaited Devil May Care, with its rumoured Middle East setting, heroin-running plot and presumably double-dealing female (wonderfully named Poppy), will deviate far from this formula.
Faulks has said that in writing the novel he had followed Fleming's advice from his essay How to Write A Thriller, which advises drafting 2,000 words without re-reading them, in order to avoid getting distracted by such bagatelles as whether your prose is any good or you've got your facts straight which might explain the critical disdain for Fleming's books.
He famously described Casino Royale to his publisher as banal and miserable, and told Raymond Chandler (a terrific stylist, at his finest): "Probably the fault about my books is that I don't take them seriously enough ... if one has a grain of intelligence it is difficult to go on being serious about a character like James Bond."
The question, as ever, is whether Bond can continue to register with a new generation of audience.
The immense global success of Daniel Craig's first cinematic venture as Bond suggests that it is, ironically, in returning to Fleming's basic formula that Bond will find his 21st-century audience. Sex, snobbery and sadism were all manifest in Casino Royale, but the snobbery was diminished as the plot's emphasis shifted from baccarat to high-stakes poker. Fleming would have deplored the vulgarisation, but the change reflects a shift from games of strategy to those of skill (both requiring a healthy dollop of luck), thus returning Bond to a character defined by expertise, which is surely the new valour.
But what brought Bond back to life in Casino Royale was the fact that for the first time the sadism was equally directed at Bond, allowing his suffering both to humanise him and to emphasise his virility in surviving direct attacks against it. Only a complacent age can enjoy a campy hero; ours need to be made of sterner stuff.
Actually, the reinvigorated James Bond looks rather more like his American counterpart with the same initials, Jason Bourne. Like Bond, Bourne exemplifies expertise, savoir faire (unconscious, in his case), and the triumph of the individual against institutions. Robert Ludlum's three books about Bourne, which span the decade of the Reagan years from 1980 to 1991. The primary difference between the two heroes is that Bourne has a far more adversarial, not to say homicidal, relationship with the CIA, reflecting America's post-Watergate distrust of its own government.
Although Bond often breaks rules, he never really breaks ranks.
With no signs that sex, snobbery or sadism have lost their appeal, there may yet be a new formula emerging: suspicion, suffering, and survival. And sex.
By arrangement with The Independent
Sebastian Faulks says his Bond, just like Ian Fleming's original creation, is a down-to-earth guy. "I had his (Fleming's) man in mind. His Bond was quite different from the film guys. He is not an invulnerable superhero surrounded by whizzo gadgetry," he said.
"He is a very solitary, unarmed guy in a smart suit and soft shoes with one really, ridiculously under-powered weapon. That's what makes the books so exciting; you feel he is in desperate trouble all the time."
Although Faulks had more fun writing this book than any other, he said would not want to write another Bond adventure: "Once is fun, twice silly and three times a smack."
Faulks, a literary writer, who usually focuses on his characters' inner lives rather than an adventure story, admitted Devil May Care had been challenging to write, saying: "It's like asking someone who writes complex, symphonic music to write a pop song. It's not as simple as it looks."
To prepare, Faulks read Fleming's books in quick succession and imitated the writing style. "I copied Ian Fleming's style which was easy to do. I trained as a reporter, as did Fleming, at Reuters. The basic journalistic style with lots of short sentences, no semi-colons and nothing fancy was quite easy. What was harder was to capture the slightly snobbish tone, but I hope I have done that as well," he said.